Bee Leader buzzes its way into Windows and Windows Phone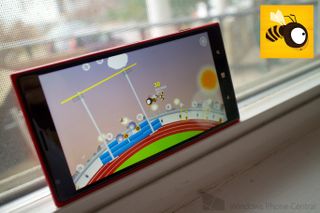 Game titles from iOS and Android keep coming to Windows Phone. Here's another one. Bee Leader is a beautifully designed game with a cool flight model & fun physics. You're a big bee flying around the world and hovering over flowers to collect nectar. Want to play it on a bigger screen? The Windows version has also just been released.
Head past the break to watch our gameplay video.
You earn points when turning nectars into honey. Enemies and bad weather will try to get in your way. Bee Leader has already been downloaded millions of times on other platforms. Will it be a hit on Windows and Windows Phone 8?
There are different ways to control the big bee. Under the settings, you can choose joystick, touch or tilt. We find the joystick mode easiest to use, but try them all out to see which one works best for you.
The goal is to collect as much nectar as you can before the sun sets. The faster you get nectar back to your hive, the more honey you'll make. There are plenty of bonuses on each level - nectar, honey, time, and bee buddies. The more bee buddies you find, the more nectar you'll collect. More nectar means more honey.
There are 16 levels over 5 different worlds: Just Desert, Country Life, City Heights, Island Time and London Fun. Each world has different obstacles, enemies, flowers, bonuses and other interactive goodies. The great visuals and sound make this game really enjoyable.
Bee Leader is available at the Windows Phone Store for $1.49. Unfortunately, there is no free trial. This could be a good time to use that $20 store voucher if you have recently purchased a Lumia device. The Windows 8 (opens in new tab) version costs $1.99.
Is this your type of game? Let us know in the comments!
Windows Central Newsletter
Get the best of Windows Central in in your inbox, every day!
This is not a puzzle game.

And then if you don't like it?

Then drink and get high? lol

I would totally download that if it had xbl built im

This was a free app of the week a few months ago I think. I didn't like this one either. Good for the Kids Corner for those who need some games for that section of their phone.

Glad that they released it for WP but its free on iOS and costs $1.49 on WP.

Is this game also paid on ios and android?

If it is free on other platforms, I wonder if it is free 'with ads'? Anyway, while the price of the game is not exorbitant, it's still a good idea for developers to offer a trial as it is important for users to be able to determine if the performance is acceptable on their device before paying for an app/game.

+1. I hate it when people complain that it's 'not free', as I'm more than happy to pay for a good game. But I want to make that assessment myself before I buy it.

But you must admit that it's bullshit that other platforms have this game for free

How will you know that it is good when there is no trial or ads version? I don't trust reviews like this unless I'm playing the game myself. That being said, WP games are much more expensive in terms of missing ads based "free" games.

I´d rather have a free game with ads than to buy it. In this way android apps are quite better imo

Yes, but as you say that's 'in your opinion'. Many people such as myself abhor ads and would gladly pay for them to be removed.

The best would be if there were two version of some app - one paid without ads and one free with ads. That would satisfy everyone

Yep. Doesn't have to be two versions though, because then we're back in the old iOS/Android 'lite' days. It's easy enough to achieve this with one version of the app and the Try/Buy system of WP, or an IAP if you want your app to appear in the store as 'free'.

I've got to agree with that! That'd be great.

Waiting for ss,tr2 for 512 MB.nd gta sa

All will come... Will need to wait for few weeks... :)

Why would they make it some weird number too?$ 1.49, if I buy a gift card I don't want some irregular number left over.

Not bad for $1.49. So what that in other OS it is free. There is plenty of reason for that. Nothing is free. I wonder what Android and iOS are doing for the developers! Anyhow I am happy that it is now at WP.

Always happy to see another title come to WP. The more love WP gets the easier it is for me to convert others to the platform. I personally don't mind the paid games, but I agree the try option is very valuable. On occasion when I read the reviews on WPC I am convinced to buy based on it alone. Anyway, keep'm coming!!

Hi, we're the developers, Flightless - thanks for the great review, Mark :) Responding to a couple of comments; no, currently there's no trial but given the interest we'll see if we can get one released soon. We can appreciate that a lot of people would like to try before they buy, even at the low-tier pricing. The Windows and Windows Phone Stores and their markets are new to us, so we'll keep an eye on feedback and release updates and add new features as we can. Bee Leader is also available for iOS & Mac - currently iOS is free with ads, Mac is paid. The iOS version was originally paid as well (~same prices as WP) but we shifted to free with ads mid-2013 for an Apple promotion. There is currently no Android version but it should be out early next year. It will likely be ad-supported given the state of the Android paid game market. Ideally, we'd prefer to be consistent across all the platforms we release on as it makes things simpler for anyone interested in the game and for us, but at the moment the markets are quite different so we have to approach them differently. As indie devs we can change how we approach things pretty quickly and easily, though, so we'll listen and learn as best we can. If you have any other feedback, suggestions, etc. then feel free to email us or tweet @flightlessnz. Have fun :) cheers, // Greg & John, Flightless

Dear Greg & John,
I'm the one that wrote the comment on the store. I don't want to be mean, I really want to play this beautiful game but unfortunately I can't.
Like I said the game can't load correctly on my 1520, I can't see the game elements, I only see the bg but after a while the game freezes.
Can you help me?
Thank you

hi Daniele, sorry to hear your 1520 is having problems with the game and thanks for letting us know. As mentioned below, we'll get working on tracking down the problems and fixing things asap. If you have any other info or feedback please let us know, beeleader[at]flightless[dot]co[dot]nz.

Hi. Please make this great game available here in the Brazilian Windows 8 and Windows Phone Store. You can use PEGI/ESRB certificates to do that. I can help.
Just upload one of these certificates in the DJCTQ row in the WP Dev Center.

hi Guilherme, thanks for the tip :) We'll try adding our existing ESRB/PEGI certificates to that slot in an update and see if MS approve it.

Good! Thanks. Please let me know when the game becomes available so I can spread the news with the Brazilian users. :)

Haha! You never know who is reading. @dev thank you for coming to WP. Like yourselves I am new to WP platform. I recently made the switch from iOS and I am loving WP. See what you can do. Please continue updating this App. I paid the $1.49; but I don't care I am glad that you have developed for WP. Thanks

This is off subject, but speaking of the 1080p screen of the 1520... It's just like I said about said about the 768 screen if the 920.. I could see how 1080p would be a huge benefit on a future WP device.. Shure most people argued that 1080p wasn't necessary, and that it would be impossible to tell the difference, but fast forward to today, and my 1520 makes my 920's 768p screen look tiny, and low resolution.. Now, my experience using the 1520 has been a joy, but I can still see how the 1080p screen can be improved on..
So, dare I say, I am all for a 2k screen on a future WP device❕. Lol❕.. I'm serious.. Actually, I'm expecting my next device, sometime in late 2014, to have a 2k screen... I hope some of you understand that WP in no way should ever be deprived of the best technology just because "it doesn't need that".. I hate that attitude with a passion.

wow you have the 1520 and already thinking in buying a new device by the end of 2014? i thought that the 1520 is at least a 2 years device

It all depends on what comes out.. I'm on at&t's upgrade every year plan... What if they release a 1530❔.. Lol❕❕.. I'm spoiled.

@rodneyej what? Why are you breaking up an intimate moment with some developers new to the WP OS platform. You are way of topic.

Who cares❔ Are you new to WPC❔... We're always off topic on Sundays.. Get over it.

Are YOU new to WPC? If you haven't noticed, there is a fully functional forum here where you can share your deepest feelings....every day of the week.

You must be new,, because you actually think Rodney cares about what you have to say.. Really❔

If it had Xbox Live I would buy without trial. This needs a trial version still.

I bought it without a trial, but sadly it stucks on my HTC 8x on the level loading screen :( I am hoping it will be fixed, because I really would like to try out this game :)

thanks - very sorry to hear about your problems - we'll see what we can do about various devices not working and release fixes as soon as we can. The port itself is in Unity so we're somewhat in their hands for lower-level support/compatibility. Thanks for letting us know the device you're using. If you have any other info or feedback please email beeleader[at]flightless[dot]co[dot]nz.

Thanks for the quick response :) The 8x is actually the equivalent of the Lumia 920, so I would not say that it is lower level, not nearly Lumia 1520 level, but it is decent :) Anyway, waiting eagerly then :) Best regards :)

We've released an update that should fix the loading problems. Let us know how it goes :)

Works OK on my HTC 8X which has all the latest updates (update 3). Running using NZ language/region.

I have the same problem on my Lumia 620. Game stucks on level loading screen. I've tried reinstalling, but no results :(

What language/region are your phones using, and do you have latest WP updates?
Windows Central Newsletter
Thank you for signing up to Windows Central. You will receive a verification email shortly.
There was a problem. Please refresh the page and try again.