Beginner's guide to PC water cooling fittings
When putting together a water loop in a PC, you need the correct fittings.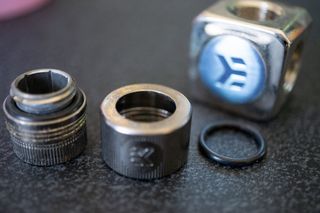 (Image credit: Rich Edmonds / Windows Central)
In a PC, fittings are what hold all your tubes together and connect water blocks to pumps and radiators. It's not enough to simply attach a soft or hard tube to a block and call it a day. You need to add a fitting to create a water-tight seal. When working with electronics and liquids, you need to be double (and triple) certain no leaks will occur. There are a number of fitting types available, as well as sizing and materials.
Here's what you need to know.
Getting started with PC water cooling fittings
Much like other parts of a water-cooling loop inside a PC, choosing fittings for your system is a simple process. But you need to bear in mind the materials used to make said fittings. It's not recommended to mix material types. If you have a copper radiator and water block but nickel fittings, you'll be fine. Copper and nickel are usually OK to use together, but when you throw aluminum or silver into the mix, things can get messy with galvanic corrosion.
The second consideration is size, which needs to match your tubing. Both tubing and fittings can be purchased at the following sizes. ID and OD stand for inner diameter and outer diameter, respectively.
Swipe to scroll horizontally
ID
OD
3/8-inch
10 mm
1/2 inch
13 mm
3/8-inch
10 mm
5/8 inch
16 mm
7/16-inch
12 mm
5/8 inch
16 mm
1/2-inch
13 mm
3/4 inch
19 mm
Match the fitting size with the tubing and blocks, and you're good to go.
Soft tube fittings
For soft tubing, you have two choices. The first is the barb, which simply allows the tubing to wrap around a point and create a seal. This is useful for inlets and outlets, or when you need to add or extract liquid from the loop. It's not great for a longterm installation due to the lack of compression on the seal. You will need to install a clamp of sorts to keep it on the fitting.
But if you don't want to mess around with clamps, this is where a compression barb fitting comes in, which is essentially a standard barb but with a locking ring. This keeps the tube secured around the barb. Barb fittings can be plugged in without much effort, while compression barbs need to have the collar placed over the tube prior to inserting the bar, which can then be screwed onto the fitting to secure it.
Barb fittings come in a single size, which represents the ID. A 3/8-inch (10 mm) ID barb fitting will work with 3/8-inch (10 mm) tubing. Compression barbs should match both the ID and OD of tubing.
Hard tube fittings
For hard tubes like acrylic and glass, you can't use barb fittings and need to go with either push-in or HD compression fittings. Usually, you'll find them made of silver or nickel, but you should be fine with copper components, too. Push-in fittings are different than barbs because they use two o-rings to create an air-tight seal once the tube has been pushed into the fitting. Hard tube fittings are usually listed with only the OD, which needs to match the OD for hard tubing. The most common sizes are 1/2 inch (13 mm) and 5/8 inch (16 mm).
As for HD compression fittings, it's a similar setup to the barb compression counterparts, but these are designed for use with hard tubing. There are two o-rings: one in the base and another in the locking collar.
More on PC water cooling
Windows Central Newsletter
Get the best of Windows Central in your inbox, every day!
Rich Edmonds was formerly a Senior Editor of PC hardware at Windows Central, covering everything related to PC components and NAS. He's been involved in technology for more than a decade and knows a thing or two about the magic inside a PC chassis. You can follow him on Twitter at @RichEdmonds.