Beginner's guide to redstone in Minecraft: Windows 10 and Xbox One
Use redstone in Minecraft to create wonderful machines.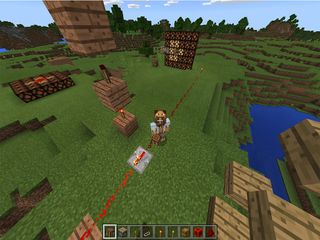 Redstone is an amazing resource found in the Minecraft world that lets you create basic or complex contraptions. Create a hidden door to help protect your castle, or create a functioning calculator to help you with your homework. While some of these contraptions are incredibly difficult to build, we're here to help you get off to a good start with redstone!
Where to find redstone
Redstone ore blocks are found in the bottom 16 layers of the Overworld. Use either an iron or diamond pickaxe to mine the block.
Each block of redstone ore, when mined, will drop four or five pieces of redstone. If you're not into mining that deep, you can also get redstone from killing witches, trading with villagers, or looting chests found throughout the world. There is also 15 pieces of redstone in every jungle temple.
How redstone works
Redstone is used in plenty of recipes, but using it to create contraptions is where things really get fun. When you place redstone on the ground, it creates a line of redstone dust that can transmit power.
Redstone dust can turn 90 degrees.
Redstone dust can climb one block at a time.
You must attach a power source to the redstone in order to power it. Power can be transmitted up to 15 blocks away. The light in the redstone dust dims until the last piece becomes completely unpowered.
Power carried by redstone will transmit to blocks adjacent to it.
Some power sources also give power to other blocks. As you can see below, the blocks around the block the lever is attached to also receive power.
If one of the redstone lamps that are lit up were, say, a piston, it would be extended because it is receiving power.
Common power sources
You don't necessarily need actual redstone to create a powered contraption. You can, for example, craft a lever, attach it directly to a piston, and switch it on. Redstone really comes into play when you need to link several small devices together to create a complex contraption. Here are a few sources of power that you'll use most when experimenting with redstone.
Redstone torch: Craft one of these from a stick and a single piece of redstone. These provide constant power.
Button: Buttons are great when you want to activate your redstone contraption for only a few seconds.
Lever: Place a lever in a redstone contraption when you want to be able to turn it on and off.
Pressure plate: Pressure plates can be used to trigger redstone contraptions. Try one of these with a door so that you can enter your home with ease when you approach.
Redstone block: Craft one of these from nine pieces of redstone. A redstone block will power the blocks around it.
Blocks not compatible with redstone
Pretty much every block in Minecraft will let you put redstone on it and will conduct power. A good general rule to follow is if you can't see through it, it works. There are, however, some exceptions:
Chests
Glass
Glowstone
Hoppers
Pistons
Slabs
Stairs
If you're building a contraption and can't figure out why your power isn't where it's supposed to be, ensure all the blocks you're using are compatible with redstone.
Tips and tricks
Here are a few tips and tricks to help you build a great redstone contraption.
Extend your power
If you need to extend the range of your redstone power, you can use a redstone repeater.
This will carry the current another 15 blocks past the repeater.
Create a tower
Sometimes you need power on the upper floor! Creating a stack of blocks with redstone torches between lets you transfer power straight up. Hitting the lever at the bottom will cause the torches to all switch on or off, so plan accordingly.
Use a daylight sensor to create automatic lighting
Want your house to light up when night falls? All you need is a daylight sensor, some redstone, a redstone torch, and a redstone lamp.
The torch is on by default, so when it receives power from another source, it turns off. When night falls, the power to the torch will stop, and the polarity will change — the torch will turn on again and the redstone lamp will light up.
Your redstone contraptions
Have you gone to great lengths to create a complex contraption? What was its use? Let us know in the comments section below!
Windows Central Newsletter
Get the best of Windows Central in in your inbox, every day!
Senior Editor, Laptop Reviews
Cale Hunt is formerly a Senior Editor at Windows Central. He focuses mainly on laptop reviews, news, and accessory coverage. He's been reviewing laptops and accessories full-time since 2016, with hundreds of reviews published for Windows Central. He is an avid PC gamer and multi-platform user, and spends most of his time either tinkering with or writing about tech.
you can use slabs to send power up in a 1x2 blocks area.

My most complex Redstone contraption is my Lumia 1020.

Do you have Redstone in your Lumia 1020?

I refuse to play because you can't make a damn boat.

huh?
I've lost count of the number of boats I've left scattered about the coast

You can :D Take a shovel and a couple of planks, and craft it together ;)

You can? How? It must be different then the way you do in regular Minecraft then.

wooden shovel & 5 planks
http://minecraft.gamepedia.com/Boat

Yeah, it's different, but the same as in pocket edition. You need to put a wooden shovel in the middle of the second row, between the two planks.

Nice guide. I hope to see a 'Part 2' some day. I can't take credit for the design, but I created an automatic chicken cooker based on designs from YouTube. Very handy in survival.
Windows Central Newsletter
Thank you for signing up to Windows Central. You will receive a verification email shortly.
There was a problem. Please refresh the page and try again.