Benji Bananas, a fast paced action game joins the Nokia Collection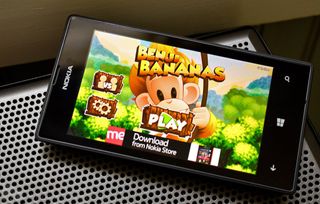 Benji Bananas is a new action adventure game that has landed in the Nokia Collection of the Windows Phone Store. The game has you playing the role of Benji who has to navigate his way through the jungle by swinging from vine to vine.
Along the way Benji must collect bananas and avoid the dangers of the jungle that will ruin his day. Benji Bananas has fantastic graphics, an up tempo pace and is a enjoyable game to pass the time with.
Benji Bananas' main menu is straight forward with options to jump into the game, play the "VS." Mode and access the games' settings. Settings cover sound, music, a help screen (with tutorial), an about screen and your gaming stats.
The "VS." gaming mode is a pass/play, multi-player game where you can compete in three game modes. A race to see who can get Benji to his girlfriend first, a race to see who can collect more bananas, and a race to see who can swing the furthest.
The main game has Benji swinging through the jungle to see how far he can travel while tackling a few missions. Mission include a variety of goals that includes travel distance, bananas collected and the number of swings Benji makes. When you first start playing, Benji Bananas will walk you through a gaming tutorial to give you a feel for the gaming controls. If you ever need to revisit the tutorial, you can find it in the settings under the help section.
You swing from vine to vine by tapping to grab hold of the vine and releasing your screen tap to let Benji soar through the air to the next vine. The more momentum that Benji can build in his swings, the further he soars.
As Benji travels from vine to vine, he can collect bananas that can be used to purchase power-ups and gear in the game's store. You can also use in-app purchases for many of these items or to buy bananas.
Dangers include spikey plants, snakes, tigers as well as gravity. The game pace has a bit of zip to it and animations are fantastic as Benji soars through the air. The game reminds me a little of Rainbow Rapture but in a colorful jungle environment and a flying monkey. Benji Bananas is an entertaining game and a quality addition to the Windows Phone gaming library. My only nit so far... I wish there was an option to buy out of the on-screen ads.
Benji Bananas is a free, ad-supported game for your Nokia Lumia Windows Phones, including the 512 MB devices. The game was also released recently on iOS after being on Android for awhile (nice to see Windows Phone catching up) and we're not sure how long the Nokia exclusivity will last.
You can find Benji Bananas here (opens in new tab) in the Nokia Collection of the Windows Phone Store.
Thanks, everyone, for the tips!
George is the Reviews Editor at Windows Central, concentrating on Windows 10 PC and Mobile apps. He's been a supporter of the platform since the days of Windows CE and uses his current Windows 10 Mobile phone daily to keep up with life and enjoy a game during down time.
Ah nice I remember one of my android friends asking if this game was available on my phone and getting disappointed when I saw it wasn't (which happens quite often)

Wait a sec, in the article you say it was released this past week on ios and android but my friend has been playing this game for a really long time on his android...

Looks like it just arrived on iOS after being on Android for sometime.

Nice to see some original games coming up.

The screens remind me of the first Donkey Kong Country. I can still hear that beat.

ad supported -> auto plonk

"Benji Bananas is a free, ad-supported game for your Nokia Lumia Windows Phones, including the 512 MB devices."

Thanking you in advance for all future articles - please note in the article if the apps are for ALL Nokia WP devices (WP7, WP8) or if the app only works for on a single, specific version of the OS. No complaints from me that the app is not available for WP7, 7.5, 7.8 Lumias; but it is incovenient to scan the QR Code only to be informed that the app is not available for your device.

Chimpact and Tiki Towers are two of my favorite games and they both have monkeys in them. So I'm gonna try this. :D

Good to see some games coming to windows phone! However for this one it is little to late for me, already been addicted to this on my girlfriends galaxy tablet and unlockd all the upgrades to max. Is a pretty fun game though, I do recommend it.

Ad on the screen quite big to click on it during gameplay. I do not mind ads=free, but must be convenience.

No wp 7.8 :(:(:(:(:(:(. Please care for it.

oooooohhhh BANANA JOEEEE.
This looks gorgeous!

Not for WP 7.8 . Why you made apps?

Unfortunately WP 7 has a completely different technology than WP 8, so BB will not be ported to it.

Oh, nooooo :-( Marcus, please - bring it to wp 7.5/7.8 devices... What about a paid application? Please, don't abandon us now, come on.

Hi! You can purchase anything in the banana store to get rid of the ads forever. Best regards,
Marcus Alanen
CTO, Tribeflame (developers of Benji Bananas)

Please Marcus, think about it (WP 7 version) - because others deserve to enjoy games too. :-(

Will WPCental be doing a full fledged review + Achievement guide for this game too? This game is just awesome and I have got addicted to it. But stuck at World 6. Not able to clear it.
A detailed guide would be well appreciated.
Thanks.
Windows Central Newsletter
Get the best of Windows Central in in your inbox, every day!
Thank you for signing up to Windows Central. You will receive a verification email shortly.
There was a problem. Please refresh the page and try again.