Best Buy Surface Duo preorders delayed for many
Many people who ordered the Surface Duo through Best Buy won't receive their device today.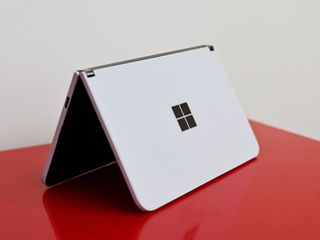 (Image credit: Daniel Rubino / Windows Central)
Update, September 10 (11:15 am ET): At least one person has received a $50 from Best Buy due to the delay of their Surface Duo order.
What you need to know
Surface Duo preorders from Best Buy are delayed for several people.
People from across the U.S. are seeing delays regarding their orders.
Some people are purchasing a Surface Duo in a physical store instead.
Microsoft's Surface Duo starts shipping today, but some unfortunate people will have to wait to receive theirs, even though they preordered them. Several people on Reddit report that their Surface Duo preorders aren't arriving today.
The status of Best Buy Surface Duo preorders seems to range quite a bit. Some people just see a status that says, "preordered." One person reports that their order states that it's "arriving today," but that UPS hasn't picked up the package yet. Others see various delays and shipping dates.
Some people are resorting to buying a second device with the intent to return their original order when it arrives.
The order delays don't seem to be related to a specific region, as people across the U.S. appear to have delayed orders.
At this point, it's difficult to tell how widespread the delays are, but there are a significant number of people reporting delays on the web. Some people have also reported similar delays from the Microsoft Store.
If you are lucky enough to receive a $50 credit due to the delay like some people have, you might want to put it towards one of the best Surface Duo cases. These cases will help your Surface Duo stay pristine, even if you have to wait a few days to receive the device.
Order today
(opens in new tab)
Two screens are better than one

Microsoft delves into the future of foldables with an ambitious dual-screen device, featuring two ultra-thin 5.6-inch AMOLED displays bound by a 360-degree hinge. This pocketable inking-enabled Android smartphone marks the latest in the Surface lineup, geared for mobile productivity.
Main
News Writer and apps editor
Sean Endicott brings nearly a decade of experience covering Microsoft and Windows news to Windows Central. He joined our team in 2017 as an app reviewer and now heads up our day-to-day news coverage. If you have a news tip or an app to review, hit him up at sean.endicott@futurenet.com (opens in new tab).
Took a while for MS to update my online acct with the shipping/estimated delivery information. Went straight to the source - my FedEx account. Then FedEx shipped the package from KY to IN, talk about failing pre-K American geography, going north to go south (I live in FL)... Yes, they have a sorting facility in IN, but it could have just as easily gone to Memphis or straight to FL to save 7.5hrs of travel time...

Mine left Louisville, KY north to Independence, KY. I live in Tennessee... I could have just driven up to Louisville at this rate. Like what the hell Fedex. I'm pretty sure they put it on a semi in Independence to drive it down to Nashville. It's so odd because of course it says arriving today. Fat chance I say. We preordered just under a month ago. You would think with how shipping has been during the pandemic they would have sorted this out.

I'm more familiar with UPS's distribution but this sort of thing isn't surprising, especially anything that goes next day or 2 day air. I've had packages go from Ohio to Kentucky to my house in Michigan. Seems like a step backwards but they ship all air packages through Kentucky. In the end, it's cheaper than sending on package on a plane from Ohio to Michigan, or in your case, KY to FL. I suspect that all air packages from Kentucky went to IN (and probably from other states, if not everything east of the Mississippi) and then everything flew out from there. As long as it's at your local distribution hub by the time they load the trucks the day of delivery, that's all that matters from a customer standpoint. We see this in air travel. I've gone from Michigan to Atlanta to California, not exactly a direct route. There wasn't enough traffic to justify the direct flight. So a bunch of people from across the East effectively met in Atlanta to fly to California. The only time I've seen air packages take the completely wrong route is when ground service is just as fast. Shipped ground, most UPS stuff shipped to me from somewhere else in Michigan goes right to my local distribution hub on another hub somewhere in Michigan. If my neighbor shipped me something UPS Air, it's going from my local hub to Kentucky and eventually back to my local hub. But then next day air says that your package is going in the air.

This had been happening since the covid-19 Pandemic. We've had packages leave the states, go to Hawaii then back and other wierd tracking destinations and quite often so I don't think it's on BestBuy or anyone but the carriers.

pre-ordered mine from Microsoft store and the accessories shipped but no status on the Duo. didn't they have enough time to get this right?

Hey Windows Central!!! Thx for being the ONLY source of information on the issue with Best Buy!! I searched several differnt topics to try to find info and yours was the only one that has information on the issue! None of the Best Buys have them in the Dallas/Fort Worth area! I called Best Buy after finally getting a shipped message from Fedex. Best Buy said it was a carrier issue that they didn't pick them up when they were supposed to. So now it shows it'll be here on Saturday. Thx again for being awesome and being informed!!! -Droptini

My package isn't arriving until tomorrow (bought from the Microsoft Store). It's kind of frustrating as it just arrived at my local distribution hub. It wouldn't take terribly long for me to drive there and get it. Unfortunately, I don't know my local FedEx hub very well and if they can pull packages like that (they don't publicly list their number either).

My Best Buy pre-order was there on time. Got an e-mail on the evening of the 9th it would be available at opening on the 10th. It was.

I pre-ordered from the Microsoft store a while ago and they said they would not charge me until it shipped. I received the SIM card, pen, and Office 365 Etc a while ago. It's the evening of September 12th 2 days after launch, I still have not received my Surface Duo. Apparently FedEx hasn't received it yet either according to their website, however I've was billed for it on the 10th. The tracking number originally said I would receive it by 8pm in the evening on the 10th but now it states that they don't know when I'll get it because they haven't got it yet. I called Microsoft support and after half an hour on the phone they said that they'll escalated to see what they can do and maybe I'll get it on Monday or Tuesday next week. I asked them about getting a $50 credit like Best Buy was giving for delayed shipments, but they didn't think I would get anything like that. Maybe I should have ordered it from Best Buy?
Windows Central Newsletter
Thank you for signing up to Windows Central. You will receive a verification email shortly.
There was a problem. Please refresh the page and try again.