Best free PC games on Steam 2021
No need to spend anything on these PC gems available from Steam.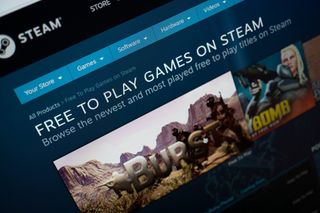 (Image credit: Windows Central)
The best free PC games on Steam range from competitive first-person shooters to card games; if you're just getting started with PC gaming, you can save a whole lot of money and still have a ton of fun. Some of these games get a whole lot better (with a whole lot more content) if you do pay for a "full version," but most will land you hours of enjoyment without spending anything. Here are nine of the best free PC games on Steam that will pair up nicely with the best gaming laptops, custom gaming PCs, or pre-built desktops.
Halo Infinite
Halo Infinite's multiplayer and campaign segments released separately, with the former part being free-to-play. The new Slipspace game engine is gorgeous and there's new gear to enjoy (namely the grappling hook), but you'll feel immediately at home if you've played Halo games in the past. The same frenetic action is here, all played out in a sandbox that's bigger than ever. Map design is excellent, guns feel as good as ever, and there are tons of people to play against.
The multiplayer progression has been off to a rocky start — the free-to-play aspect means money needs to be coming from a battle pass — but the developers have been tweaking things to ensure players aren't left feeling a bit sore. If you love casual multiplayer shooters with fast action, Halo Infinite should get some attention.
Halo Infinite multiplayer is confidently one of the best shooters in recent history. Halo has never looked or felt better.
Destiny 2
Destiny 2's base game (without expansions) went free-to-play on PC a couple of years ago, giving everyone a shot at the storyline and PVP combat. It's a looter-shooter with RPG and MMO elements, meaning you're going to be doing a whole lot of grinding to upgrade your gear. Yes, it's still worth playing in 2021, with the developers evening out some of the grind to accommodate new players just arriving after years of game content.
Destiny 2 has three classes to choose from, each with 10 different subclasses that you can move between any time you want. The base game has a ton of content to enjoy for free, and when you reach the "end" you can choose whether or not you want to continue with paid expansions. If you love loot that comes from shoot and can get behind a sci-fi story, this is a great pick.
Enjoy Destiny 2's (base game) story, missions, PVP, and PVE without spending a dime. Start shooting and don't forget the looting.
Star Wars: The Old Republic
Star Wars: The Old Republic is an MMORPG with free and paid subscription options. You can essentially carve out a story for yourself in the Star Wars universe, playing as the character you want. Whether that's a Jedi, Sith, bounty hunter, smuggler, or any other classic Star Wars role is up to you.
The Old Republic has been around for more than eight years, delivering five different expansions with a ton of extra content. Explore planets, run missions, and make meaningful decisions as you live out life in the Star Wars universe.
Star Wars: The Old Republic
Feel like you'd rather see what's going on in the Star Wars universe? The Old Republic is an MMORPG where you get to choose the Light side or the Dark side as you craft your own narrative.
Path of Exile
Fans of the action RPG (aRPG) genre should pay close attention to Path of Exile, an online game that has been under constant development since its release in 2013. It's the classic tale of waking up on an island shore with nothing but rags and ending up a powerful demigod after countless hours of play. There are new leagues all the time, each with a new gimmick and gameplay loop that brings back players for another run at glory.
Instead of asking players to pay for each new update, Path of Exile makes its money off of entirely optional cosmetic upgrades. You can play all parts of the multi-act story with any one of the myriad character classes, you can collect any of the countless items of gear, and you can have fun with all your friends without spending a cent … at least unless you want to really change your look.
This is a game that will suck you in and not let you go, and it's a great way to kill time while we wait to see whether Diablo 4 is a return to aRPG greatness.
Start your journey with nothing but some rags and a toothpick and end it any way you please. This aRPG has countless hours of fun for free.
Counter-Strike: Global Offensive
If you mention the words "first-person shooter" (FPS) to a PC gamer, chances are they will think about Counter-Strike. Global Offensive is the latest version of the game, and it's the most-played game on Steam most of the time. It's a competitive five-versus-five shooter that's been honed down over the years to what we have now, a game that millions of people every year either play or watch. With iconic maps, iconic guns, and a steep skill curve that makes you question your own sanity, CS:GO will suck you in and not let you go until you reach Global Elite.
It was switched over to free-to-play a couple of years ago, and indeed you can have a ton of fun without spending any money. However, you can still buy a "Prime" version of the game to exclusively play with other Prime members. In any case, CS:GO makes most of its money from cosmetics, just like lots of other games in this collection. Ultimately, this is a great game for anyone who likes some classic bomb timer/hostage rescue competitive play.
Counter-Strike: Global Offensive
It's the go-to competitive shooter on PC for a reason. If you'd like to see what the terrorist vs. counter-terrorist gameplay is all about, you can try it now for free on PC.
World of Warships
World of Warships is a lot deeper than it might first seem (see what I did there), and I know some people who only play the game despite owning plenty of other games. It's free to play, making its money from cosmetics. This online multiplayer game plops you down in the sea and makes you fight it out against other massive ships and submarines, all from the WWI and WWII era.
There are more than 400 vessels to command and upgrade as you play, whether solo or with friends. Play PVP or PVE, and learn what it takes to keep your ship afloat. If you're not really one who goes in for fast-twitch competitive gaming, this one has more of a focus on strategy and execution than reflex.
Naval warfare has never looked so good (or been so cheap). World of Warships is a perfect free game for anyone who fancies themself as an admiral.
Apex Legends
We're all still riding the Battle Royale wave, and only the best are still pulling in big numbers. Apex Legends, from Titanfall and Titanfall 2 developers Respawn Entertainment, is considered one of the best Battle Royales out there, no doubt helped along by its free-to-play structure. Like many other games, it makes most of its money from cosmetics that allow you to show off to your friends.
Apex Legends features distinct characters with different abilities and devices, and teams of three can come up with some interesting strategies to make it to the final circle. Ultimately, it will still come down to what loot you find and how well you are handling it against other teams who also want to get the elusive win. If it's a battle royale experience you want from Steam, this is the way to go.
Team up and drop-in; if you can find what you need and know how to handle it, chances are you're going to go far.
Warframe
Warframe is a massive game, both in terms of player counts and content. Released 2013, it's been continuously expanded with new content, picking up new players along the way. You pick from one of more than 40 "Warframes" (the avatar you'll be playing as), each with different abilities that can also be customized. Pick a weapon, then head out into a huge world where you kill, kill, kill.
You can play solo in the online world, or you can team up with three other players for some group fun. There's a story to follow, but the real draw is the endless grind that MMOs are known for. Warframe is totally free, but there are cosmetics you can buy to help the developers.
Choose a Warframe, choose a weapon, and choose a playstyle. This is some free looter-shooter grinding at its finest, playable solo or with free friends.
Dota 2
A best free Steam games list wouldn't be complete without Dota 2. Whether negative or positive, most reviews on Steam are from players with thousands and thousands of hours of play. This is a game from the multiplayer online battle arena (MOBA) genre and is a sequel to the original Defense of the Ancients mod for Warcraft 3. You and your chosen hero join a team with four other players and face off against another team of five, each team attempting to reach and destroy an Ancient.
Each hero has a set of unique abilities, and the real draw here is teamwork and PVP combat. This game has a massive competitive following and is one of the most-played and most-watched PC games out there. It's completely free to play, with money again coming from optional cosmetics.
Choose a hero, find a team, and battle it out until an Ancient is destroyed. This game will suck you in and not spit you out until your playtime is into four digits.
GWENT: The Witcher Card Game
A few years ago, there was a little game called The Witcher 3 — our pick for best PC game — that had inside a separate little game known as Gwent. Gwent, which drew its cards from the world in which it was nested, became so popular that developer CD PROJEKT RED decided to release a standalone version for free.
Whether or not you've invested in the Witcher universe, GWENT does a great job of introducing characters and their backstories. There are tons of cards to collect, craft, and upgrade, and the competition is fierce. Play online or against AI and try not to come back for just one more hand.
GWENT: The Witcher Card Game
GWENT was so popular in The Witcher 3 that it just had to become its own game. Collect, craft, and upgrade cards until your deck is unbeatable.
Brawlhalla
Being able to pay to win in an online brawler is no bueno; luckily, Brawlhalla keeps paid content to cosmetics and lets talent speak for itself. It's a cross-platform game with a huge player-base, and it mimics a lot of what makes Super Smash Bros. great. Up to eight real or AI players start on a "stage" with the goal of knocking every other player off the platform.
Characters all have special abilities, plus extra gear and weapons fall during the stage. There are tons of characters to choose from (including plenty from outside the Brawlhalla world), and the at-first simple gameplay will keep people coming back in an attempt to master it.
Want to check out a competitive brawler but don't have a Switch for Super Smash Bros.? Definitely give Brawlhalla a try.
War Thunder
War Thunder is a bit like World of Warships in the sense that it delivers online historical battles for free, but unlike World of Warships, you can climb out of the ocean onto land and into the skies. War Thunder has more than 100 maps to play around in, with more than 2,000 tanks, ships, planes, helicopters, trucks, and more from the WWII, Cold War, and modern eras.
It included PVP and PVE gameplay, it's cross-platform with a huge player base, and it even works with VR headsets if you really want to feel like you're in the cockpit.
Get the Windows Central Newsletter
All the latest news, reviews, and guides for Windows and Xbox diehards.
Senior Editor, Laptop Reviews
Cale Hunt is formerly a Senior Editor at Windows Central. He focuses mainly on laptop reviews, news, and accessory coverage. He's been reviewing laptops and accessories full-time since 2016, with hundreds of reviews published for Windows Central. He is an avid PC gamer and multi-platform user, and spends most of his time either tinkering with or writing about tech.