Why the best microSD memory card for Surface Go is not the most expensive one
If you need a microSD card for the Surface Go, you should avoid the more expensive options. Here's why.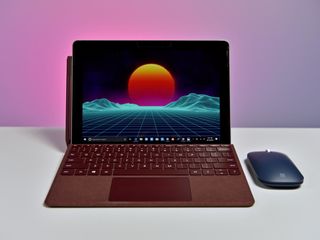 (Image credit: Windows Central)
For some users, the included 64GB or 128GB of internal storage found in the Microsoft Surface Go may not be enough. Thankfully, unlike Apple and its iPad, Microsoft included the option to expand that storage with a microSD slot.
For the purposes of this story, we focused on 64GB memory cards. So which one should you get? The fastest and most expensive (Delkin, $80 (opens in new tab)) or the best-selling and cheapest (Silicon Power, $15 (opens in new tab))? And what can you do with that card in Windows 10 and the Surface Go?
Check out this new Surface Go guide to microSD cards for answers.
How to expand Surface Go storage using microSD
Why you can trust Windows Central Our expert reviewers spend hours testing and comparing products and services so you can choose the best for you. Find out more about how we test.
Using a microSD card on Surface Go is very simple. You just slide it into the slot under the Surface Go's kickstand.
Windows 10 will recognize the drive, and you can begin using it right away. However, if you want to use it for apps, games, and more you need to tell the OS to do so.
What can you do with expandable storage in Surface Go?
Back in the day, SD memory cards were treated merely as external storage that you could keep photos or media on but not install apps or games, limiting their usefulness. By contrast, Windows 10 lets users mainly do anything they want with an SD or microSD card.
By heading to Settings > Systems > Storage > Change where new content is saved, you can choose to have the following put on a microSD card for the Surface Go:
New apps.
New documents.
New music.
New photos.
New movies and TV shows.
Offline maps.
If you already have apps or games installed to the primary drive on the Surface Go, you can navigate to Settings > Apps > Apps & features and move existing software to the newly-mounted microSD card (see above image).
There are limitations, however. So-called Windows 10 "inbox apps" like Mail, Camera, and Calculator, cannot be moved. Likewise, a developer can flag their app or game as not installable to an SD card due to degradation in performance (the popular YouTube app MyTube! is one example).
If you use the app or game frequently, keep it on the main drive and put rarely used apps or games on the microSD card. Even better, try to keep all apps and games on the main drive with just media (music, movies, photos, and documents) on the microSD card, because the performance hit is inconsequential for those items.
The fastest microSD card isn't always the best
Surface Go owners obviously need to pick which card to purchase. Like all flash media, microSD cards range in speeds, class, size, and more.
For this test, we bought three microSD cards to use on the entry-level 4GB Surface Go:
The Silicon Power and Lexar options are both Class 10 cards, but the Silicon Power is Ultra High-Speed Phase-1 (UHS-1), and the Lexar is UHS-II. UHS refers to the bus interface for the SD card, and UHS-II or even UHS-III is faster than UHS-1.
The Delkin is the most expensive and is a UHS-II Video Speed Class 60 (V60) meant for 4K video, high-speed photography, and more. It has theoretical read and write speeds of 285MB/s and 100 MB/s, respectively, compared to the "professional" Lexar with 150MB/s and 45 MB/s.
Going by the rule of computers faster is always better, right?. But splurging for the $80 Delkin likely isn't the best choice here.
Using CrystalDiskMark we measured all three cards for sequential read and write speeds.
microSD card comparison
Swipe to scroll horizontally
| Device | Price | Size | Read | Write |
| --- | --- | --- | --- | --- |
| Silicon Power | $15 | 64GB | 79 MB/s | 44 MB/s |
| Lexar Pro | $60 | 64GB | 85 MB/s | 55 MB/s |
| Delkin | $80 | 64GB | 70 MB/s | 54 MB/s |
While the $60 Lexar is technically faster than the $15 Silicon Power, the price difference hardly justifies the gains. Meanwhile, the most expensive card – the $80 Delkin – had slower read speeds than the $15 Silicon Power on Surface Go.
In real-world file transfers between the Lexar and Silicon, we saw the following results using the Surface Go 4GB with 64GB of eMMC internal storage.
Transfer from card
Silicon Power: 1.80GB (2x files) took 33 seconds to eMMC.
Lexar Pro: 1.80GB (2x files) took 29 seconds to eMMC.
Transfer to card
Silicon Power: 1.80GB (2x files) took 49 seconds to SD.
Lexar Pro: 1.80GB (2x files) took 34 seconds to SD.
The Lexar is faster, but the differences are minor.
Surface Go storage speed comparison
Another real-world test is playing a 10GB MP4 video file in the Windows default video player. Both cards loaded up the video instantly and scrubbing (using the slider to jump to different parts of the movie) works without buffering or delays. There was no discernable difference.
Swipe to scroll horizontally
| Device | Size | Type | Read | Write |
| --- | --- | --- | --- | --- |
| Surface Go | 64GB | microSD | 70 to 85 MB/s | 44 to 55 MB/s |
| Surface Go | 64GB | eMMC | 260 MB/s | 145 MB/s |
| Surface Go | 128GB | SSD | 1,185 MB/s | 133 MB/s |
The Lexar and Delkin are not bad cards. The issue is the Surface Go does not seem capable of hitting more than 85 MB/s for read speeds (and 55 MB/s for write) on any card. That is likely a hardware issue although software or firmware could play a part too.
For comparison, the Delkin, when used with the Surface Book 2 (using the SD adapter), managed a respectable 224 MB/s for read and 69 MB/s for writes, confirming our suspicion about Surface Go hardware limitations.
That makes any purchase of an SD card for use solely with Surface Go with over 105 MB/s (anything above UHS-1/Class 10) not worth it.
Therefore, our recommendation is to buy the cheapest UHS-1/Class 10 micro SD card you can find with the storage amount you want (up to 512GB) for use exclusively with the Surface Go. Buying something that is faster or more expensive does not yield significantly better performance and is a waste of money.
The Silicon Power 64GB card (opens in new tab) used here has a 4.6-star rating on Amazon, ships free with Amazon Prime, and performs just as well as a more expensive card for casual use with the Surface Go.
See at Amazon (opens in new tab)
Windows Central Newsletter
Get the best of Windows Central in your inbox, every day!
Daniel Rubino is the Editor-in-chief of Windows Central, head reviewer, podcast co-host, and analyst. He has been covering Microsoft since 2007 when this site was called WMExperts (and later Windows Phone Central). His interests include Windows, laptops, next-gen computing, and for some reason, watches. Before all this tech stuff, he worked on a Ph.D. in linguistics, watched people sleep (for medical purposes!), and ran the projectors at movie theaters because it was fun.
I love it when articles don't advise you to get the fastest card and properly explain why. I've seen so many articles in the past where they tell you to grab the "best and fastest" card you can afford for a device that cannot possibly read/write that fast (most cell phones and the Nintendo Switch)

Yeah, but the Delkin card "seems faster." =p

Same here, this is article works on multiple levels imo:
1)as it proves that buying the most expensive item is not always the best solution. 2)nor is brand loyalty when it comes to storage (we have seagate and western digital to thank for that 😐). 3) it helps new and potential Surface Go owners find the best solution in terms of prices vs performance 4) for us prosumers provides enough technical detail that confirms that the 4 gig ram + emmc Surface Go has more than enough performance to address light computing tasks - word processing, web browsing, media consumption, apps and most store app games. We've come a long way from xp netbooks lol and their mind numbing slow performance as many had 5400 rpm hdds coupled with 1 gig ram and a very slow atom cpu...

The thing is if your copying stuff from sd card to the Surface Go base model I would be surprised if the internal drive is going to be a bottle neck. May well be worth doing the same test on the Surface Go models with ssd.

We did, it just wasn't that interesting to report: 1.80GB (2x files) took 23 seconds from card to SSD (fast card; 8GB GO) 1.80GB (2x files) took 32 seconds from card to SSD (slow card; 8GB GO) It's not a world of difference. The limiting factor here is the SD reader speeds, not the internal storage. While there is a difference of a few seconds, it's not that jaw-dropping. SSD and eMMC have basically the same write speeds on the Go. And since both have the same SD reader, system bus, and drivers, there's really no difference.

Thanks Dan, this proves again the Surface Go lowest end version has more than adequate performance for almost everyone. Wish the LTE version hurry up and get here lol.

I recently got a 128 GB class 10 UHS-3 Samsung microSD for my camera for $34

Samsung makes good memory, obviously, but UHS-3 and its read/write benefits won't matter at all here. Point is buy the cheapest memory with the storage you want and don't get fixated on UHS and read/write speeds.

Well the most important thing is random speeds and not all can deliver that especially cheap ones. Samsung cards are usually known for good random write speeds. Even random write speeds of SanDisk are poor

All these tests I suppose are done with the default formatting of the card, which usually is exFat. If you plan on leaving the card in the slot or moving it around only Windows devices, I recommend reformatting to NTFS. I noticed a speed improvement when I did that. It also have a better use of the space if you use many small files. NTFS have 4 kb clusters while exFAT on huge partitions usually at 64 kb clusters or more therefore wasting lots of space with small files.

Interesting. Will see if I can muster the energy to try some before/after to see if that's the case here.

It's worth mentioning that sequential reads and writes aren't necessarily what impacts performance the most when using a micro SD card if applications and/or operating systems are installed on them. There are a number of low cost single-board computers that use micro SD as their main storage (Pine64, etc.) and those have shown that slower random small write speed can affect a system enormously; some cards can be 10x slower at this than others, even though both are rated UHS-1. Until recently I always bought SanDisk, but after realising that some Ultras have such shockingly bad small write speeds that Android systems installed on them are unusable, now I always buy Samsung EVOs.

I've read posts here in the past and tried searching around... Do you have a post about best miscro sd for the surface book 2 right now? For some reason I'm not seeing it and I want to get the fasted microsd I can since I work with Lightroom and have too many photos for my SSD but want to be portable and not use an external.... :)

Good question and we don't, IIRC. Off the cuff, buy the Delkin we mention here. It does get very good read and write times of the bunch.

The Samsung Evo Select line (http://a.co/1EZszqp) has been my go-to for years. Phones, cameras, laptops/tablets, everything. It's the perfect sweetspot of performance, reliability & cost.

Good news that you can install apps on the Go microSD card. However,
"For comparison, the Delkin, when used with the Surface Book 2 (using the SD adapter), managed a respectable 224 MB/s for read and 69 MB/s for writes, confirming our suspicion about Surface Go hardware limitations."
If Microsoft can throttle down microSD card performance they can also throttle down the write performance in the Go 120 GB SSD, which they did, and that is not good news!

It's likely the interface UHS I v II etc, not actual active throttling.

It might be a firmware issue or controller issue or a driver issue. In short it could be many things... It's not feasible to test everything without programmatic testing. Not giving Microsoft a free pass here, just saying it's not possible without the tedium of programmatic testing (they fired that division along with the quality assurance team in one of the rounds massive lay offs they had). But discussing the past ad nauseum gets us nowhere as it neither changes the past and it's time wasting. As well as mentally exhausting to field the same questions over and over again. We have to focus on the past so mistakes can be learned from and then move on. But cyclical focus on the past will drive anyone potty, as the generally accepted definition of insanity is doing the same thing over and over again to expect different results. Plus from experience I can tell you not all the Surface Go's made will have the same brand of ssds, just like a laptop will not have the same brand of ssds or hdds. It will be a range of suppliers. However ones that fall within a performance range thus providing similar or near the same experience to the end user.

Dan,
How does the microSD memory card handle OneDrive storage? This is very important to me as I have an Office 365 subscription which includes a terabyte of cloud storage and I keep all my photos and data on OneDrive. I just now ordered the 128 GB version of the card on Amazon for $27.

very helpful. still waiting on the Go LTE

It is also good to encrypt the SD card, to prevent data exposure when stolen or lost.

One other thing though about SD cards is the reliability and life expectancy of the cards. I have to say that in my own personal experience, generally the more expensive cards will last longer. I've had plenty of cheaper cards die on me where more expensive ones I find do stand the test of time.

So the SD card reader in the surface go is on usb2. 0 bus.

How is it possible to transfer a 180 Gb file from a 64 Gb microsSD to a 64 Gb eMMC?

A useful article although I took the opposite to be the case, to me it shows the Sandisk to be better value as the write speeds are almost 50% faster. If you are transferring 50GB or more (even smaller amounts, extrapolating out from the data transferring 18GB would be approximately 2 and a half minutes faster) of video/audio files (not unreasonable in this day and age) that is a petty huge difference.

Seriously, cut the chase already! MS is nowhere visible in the mobile and tablet marketshare. NADA yet you guys keep saying how big of a success is Surface...:)))
http://gs.statcounter.com/vendor-market-share/mobile-tablet/worldwide/#m...

Uhh You do realize that there is a class of SD card called A1 and A2 right and A2 are specifically designed for this purpose. Here are the type of cards you want. Wow... Do you due diligence people: edit: I tried posting a link I did not have enough rep... Search for this on Amazon: SanDisk 128GB Extreme microSD UHS-I Card with Adapter - U3 A2 - SDSQXA1-128G-GN6MA This is the best for windows tablets period. Be careful going above 128 GB not all tablets will be able to read it. A2 Cards are specifically for this but be careful they are more prone to write errors over time. None of the cards listed here were even specifically designed for tablet usage there are many other brands that are A2 but I selected this one due to it being the one I use in mine.