Best Monitors Larger Than 30 Inches
What is the best monitor that's bigger than 30 inches?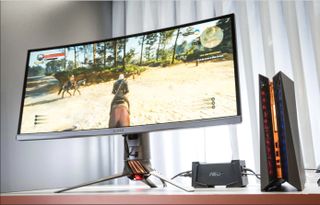 PC monitors come in all shapes and sizes, but if you have the room and the budget, getting something that's larger than 30 inches can make a huge difference for gaming, multimedia editing, or just plain old web browsing and word processing. No matter what you use the monitor for, we rounded up the best of the best big monitors that will dominate your office or gaming room.
BenQ BL3201PH
Why you can trust Windows Central Our expert reviewers spend hours testing and comparing products and services so you can choose the best for you. Find out more about how we test.
One of the best things about a big monitor is how great 4K looks when you don't have to scale it down, and this 32-inch option from BenQ is a perfect example. The IPS panel has excellent viewing angles and plenty of ports, including one DisplayPort, two HDMI, one Mini DisplayPort, an SD-card reader, and five USB 3.0 ports.
Chosen by The Wirecutter as the best 4K upgrade pick, and well-reviewed by PCMag, the former site had this to say:
A sensor can tell when the room is dark or bright and adjusts accordingly, and built-in speakers deliver decent sound. If you need a big, multipurpose 4K monitor, consider the BenQ BL3201PH. It starts at about $700 (opens in new tab).
See at Amazon (opens in new tab)
Dell UltraSharp U3417W
Ultrawide monitors are fantastic for multi-tasking; you can set up multiple windows side by side, effectively removing the need to switch back and forth. Dell decided to add a curve to its 34-inch UltraSharp monitor to make it easier to see edge to edge. The wide, IPS panel display has a 3,440 x 1,440 resolution and a five millisecond response time.
PCMag was impressed enough to award this monitor with an Editors' Choice, stating:
With great color and contrast and a stand that can rotate, tilt, and twist to accommodate most desks, this should be on your short list if you're looking for an ultrawide curved monitor. It starts at about $775 (opens in new tab).
See at Amazon (opens in new tab)
BenQ XR3501
Gamers often don't need a super high resolution; a 2,560 x 1,080 resolution allows for better framerates and games still look great on a 35-inch curved AMVA display. The BenQ XR3501 has a 144Hz refresh rate for silky gaming, it has built-in speakers for when you aren't wearing a headset, and the color is spot on. The 21:9 aspect ratio lets you see more at once, and ports include two HDMI, DisplayPort, and Mini DisplayPort.
Tom's Hardware named this monitor the best 35-inch gaming monitor out there, stating in its review:
If you don't mind not having G-Sync or FreeSync in your monitor, this is a strong choice for big and bad gaming. It starts at about $630 (opens in new tab).
See at Amazon (opens in new tab)
Acer XR382CQK
Sometimes only the biggest will do when it comes to gaming, and in that case you probably want to check out the Acer XR382CQK. This 38-inch curved monitor has an IPS panel, 21:9 aspect ratio, 3,840 x 1,600 resolution and is compatible with AMD FreeSync.
PCMag awarded it an Editors' Choice award in its review, where the site said:
The stand allows for easy rotation, tilt, and swivel, and ports include four USB 3.0, two HDMI, and DisplayPort. If you want a big gaming monitor with a 75Hz refresh rate and five millisecond response time, this is it. It starts at about $1,450 (opens in new tab).
See at Amazon (opens in new tab)
LG 34UC79G
Gamers out there with AMD graphics cards might be looking to take advantage of a monitor with AMD FreeSync, technology that significantly reduces screen tearing and delivers an overall better picture. This 34-inch curved monitor has an IPS panel, a 21:9 aspect ratio, 2,560 x 1,080 resolution and a 144Hz refresh rate.
PCMag gave the LG 34UC79G a favorable review, and Tom's Hardware awarded it an Editors' Choice, stating:
Toss in plenty of ports, including two HDMI, two USB 3.0, and DisplayPort, and you're getting a great deal on a FreeSync-enabled monitor that starts at about $600 (opens in new tab).
See at Amazon (opens in new tab)
ASUS ROG Swift PG348Q
While AMD has its own FreeSync technology that helps deliver a smoother picture, NVIDIA GPU owners will want to look at a monitor that is compatible with G-Sync, like the ASUS ROG Swift PG348Q. This 34-inch curved monitor has an IPS panel, a 3,440 x 1,440 resolution, a five millisecond response time and a 100Hz refresh rate.
Tom's Hardware named this monitor the best 34-inch option with G-Sync, and PCMag reviewed it favorably, claiming:
The built-in speakers aren't going to blow you away, but a 3.5mm jack lets you plug in a headset, and there are also two HDMI ports, two DisplayPorts, and a DVI port. This monitor starts at about $1,200 (opens in new tab).
See at Amazon (opens in new tab)
Acer Predator XB321HK
If you love a big monitor but don't exactly like the curved trend that is frequently seen in these sizes, the Acer Predator XB321HK might be for you. This 32-inch, 4K monitor comes equipped with G-Sync for your NVIDIA GPU, deep colors and great contrast, and a 9.2 millisecond response time.
PCMag awarded this monitor an Editors' Choice award, and Tom's Guide had this to say in its review:
For a big 4K monitor that delivers outstanding performance and doesn't have a curved display, check out the Acer Predator XB321HK. It starts at about $1,400 (opens in new tab).
See at Amazon (opens in new tab)
More great monitors
Don't see exactly what you're looking for on this list? Check out our other roundups of the best monitors available.
Windows Central Newsletter
Get the best of Windows Central in in your inbox, every day!
Senior Editor, Laptop Reviews
Cale Hunt is formerly a Senior Editor at Windows Central. He focuses mainly on laptop reviews, news, and accessory coverage. He's been reviewing laptops and accessories full-time since 2016, with hundreds of reviews published for Windows Central. He is an avid PC gamer and multi-platform user, and spends most of his time either tinkering with or writing about tech.
Just wow 😲 thanks for this article

Personally I just connect my computer to my hi-def plasma TV via HDMI. I don't really see the point of using a monitor.

TV's aren't compatible with Freesynch/G-synch, and usually have a higher response time. Monitors are also usually more accurate with color.

It looks as if I am using an ad blocker. Dear Windows Central Team, with all due respect:
On some of my browsers and lower power Windows systems
I do use an adblocker. And I do it for a reason.
The Windows Central site appears to me as extremely heavy.
The site does not load correctly on lower powered Windows systems.
Also Edge likes to crash/stall on your site. The function for commenting oftenly is a pain in the neck and much lower to use
and thus oftenly makes it not worth the effort. I do understand very well where you are coming from
when you show visitors the door
when they come with an adblocker enabled. I honestly do not know how to appropriately resolve this stark conflict of interest here. However, I just would like you to know:
I am very much compelled
to not show up again if I am bounced
too often from the doorman of this site. I am just a single individual, so no worries here. However, I have also been a humble contributor
to your endeavor in form of comments.
And that is also part of the equation. So, worry not,
but you may find that I will not show up at the Windows Centrals front door anymore.
Not that anyone would note. But, hey, anyways, at least I did let you know. . .

Here's the $510 40" 4k monitor I use. Gorgeous display. Blows away my old 30" cinema 2560x1600 display. If cost is a factor (when isn't it?), I think this Seiki is among the best deals: https://www.amazon.com/gp/product/B00RVGXZ08?tag=hawk-future-20&ascsubta... I have two negatives with it, neither of which are significant: 1. It takes 6-7 seconds to wake up from sleep, vs 2-3 for my other monitor (the 30" noted above) 2. The audio appears not to work over the DP connection. Could be a defective unit or could be that I didn't do something right. I only tried for a few moments, because I use a surround sound set up through an amp and have no interest in using the monitor's speakers anyway. But the beautiful display and price more than make up for those.

I loved my U3415W, but needed the higher 4K resolutions. I now use the BL3201PH at work. Just want to see a 34" curved at 4K resolution.

Now to wait until prices for these larger types of monitors to go below 500 dollars. Well there is the Benq BL3200PT for 349 currently on Newegg. I think its orig price was 799? It's a 10 bit 1440p 32in VA panel. Ordered one for a hackintosh I'm working on. Hopefully it'll work out nicely.

I'm really happy with the LG 34UC79G, works great with my Rx 480 xfire rig, great picture quality.
Windows Central Newsletter
Thank you for signing up to Windows Central. You will receive a verification email shortly.
There was a problem. Please refresh the page and try again.