Best budget monitors for gaming 2023
Modern gaming visuals without emptying your bank account.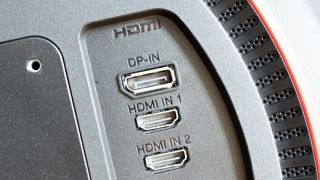 (Image credit: Windows Central)
Enjoyable PC gaming requires consideration of more than just your monitor size. Modern models support high refresh rates for smooth on-screen movements, and resolutions up to 1440p and 4K improve image quality. It might seem unlikely to find high-quality monitors on the cheaper end of the scale, so we found the best budget monitors for gaming, like the fantastic Monoprice Dark Matter, for that competitive edge without upsetting your wallet.
Monoprice Dark Matter 24-inch
Best for 1080p
Reasons to buy
+
144Hz
+
AMD FreeSync & NVIDIA G-Sync
+
1ms response time
For gaming on a budget, it's perfectly reasonable to aim for 1080p. This smaller resolution allows for a lighter workload on entry-level graphics cards, focusing on smoothing out jagged edges with anti-aliasing. The Monoprice Dark Matter is a 24-inch monitor sporting a 144Hz refresh rate, which nicely offsets the lower 1080p resolution with smooth movement, supporting AMD FreeSync and NVIDIA G-Sync tech to prevent screen tearing.
Pair the adaptive refresh rate compatibility with its 1ms response time, and this Dark Matter monitor has an attractive deal for a reasonable price. The DisplayPort 1.2, HDMI 2.0, and HDMI 1.4 ports provide modern high-speed GPU connectivity, and a bonus 15W USB-C port for charging your devices is also neat. The display has a max brightness of 286cd/m2 (or nits), which is decent for a budget monitor since anything over 250 nits is reasonable for indoor use.
A single audio output is available should you need it since the Dark Matter does not include built-in speakers, which generally helps keep costs down. Monitor speakers are rarely much to write home about, so you could use this 3.5mm socket to connect some budget PC speakers instead.
AOC 24G2 24-inch frameless
Best 1080p alternative
Reasons to buy
+
144Hz
+
AMD FreeSync
+
1ms response time
Reasons to avoid
-
Default settings exhibit ghosting
AOC offers a similar solution to 1080p gaming at 144Hz with its 24G2 frameless monitor, this time with a height-adjustable stand. It includes DisplayPort 1.2 and two HDMI 1.4 ports for connectivity, officially supporting AMD FreeSync for reduced screen tearing. HDMI and DisplayPort cables are included to get started right out of the box.
It's worth noting that although AOC officially recognizes its support of AMD FreeSync with this gaming monitor, it also works with NVIDIA G-Sync technology, as do many others. So if you have a compatible GeForce GPU, you can still enjoy the same benefits of reduced tearing on fast-moving objects. Pair this with the 1ms response time, and it's an ideal 1080p gaming monitor for fast-paced gaming.
The default settings reportedly exhibit ghosting on moving images, so adjust them to your liking using the AOC G-Menu software. Overall, the AOC 24G2 is an excellent choice if you're not interested in any resolution higher than 1080p for the following year. The adjustable stand is perfect for comfortable gameplay, and the sleek black and red aesthetic looks fantastic in a gaming setup.
LG 27QN600-B 27-inch
Best for 1440p
Reasons to buy
+
350 nits brightness
+
AMD FreeSync
+
HDR10
Although 1080p still appears in Valve's Steam hardware surveys as the most common resolution today, 1440p is gaining popularity as an attainable in-between. It's perfect for PC gaming, offering more than standard Full HD without requiring a high-end GPU designed for 4K. The LG 27QN600-B offers a budget-friendly method to experience 1440p gameplay by sticking to a 75Hz refresh rate, bolstered by AMD FreeSync support for smooth movement.
DisplayPort 1.2 and HDMI 1.4 ports connect to a beautifully bright IPS panel capable of reaching a brightness rating of 350 nits, paired with HDR10 support for stunning contrast. Although the 75Hz refresh rate might lock the frame rate to around 60 FPS, it's still a fantastic monitor with a gorgeous 27-inch screen, taking advantage of its larger 1440p resolution.
A slightly higher-than-normal response time of 5ms isn't noticeable unless you're testing for it, so don't let the number worry you. Any higher than 5ms, and you might need to start considering your options, but this LG monitor is a fantastic way to enjoy 1440p gaming on a budget. If you want the balance of a higher resolution with 60 FPS gaming, this is the screen for you.
BenQ EL2870U 28-inch
Best for 4K
Reasons to buy
+
1ms response time
+
HDR10
+
AMD FreeSync
Pushing resolution further to 4K means considering more powerful PC components, so this BenQ monitor supports true 3840x2160p while sticking to 60Hz. It's yet another screen supporting AMD FreeSync anti-tearing tech, so you'll at least be able to enjoy your games without irritating image sync problems, even if capped at 60 FPS. It's suited for any PC gamer with a mid-range GPU, capable of hitting the 4K resolution but sticking to a more realistic frame rate.
Considering the 4K resolution, BenQ manages to keep the response time down to 1ms, so this is about as fast as a budget 4K monitor can be. Connect either DisplayPort and HDMI ports to a compatible GPU, and you'll enjoy HDR10 content plus the 3.5mm jack port compensates for the lack of built-in speakers.
This monitor is one of the cheapest ways to enjoy 4K 60 FPS gaming on a PC without sacrificing other specifications, perfect for a mid-range build aiming for 2160p. You'll enjoy the perks of Ultra HD gaming and HDR for a low price, as long as you're happy with 60Hz for now. BenQ has triumphed with the EL2870U, an incredible deal for 4K.
ASUS TUF Gaming VG30VQL1A 30-inch
Best ultrawide
Reasons to buy
+
1ms response time
+
AMD FreeSync
+
HDR10
So, you've got plenty of desk space and want an ultrawide monitor without breaking the bank? ASUS has answered with their TUF Gaming 30-inch curved 21:9 panel, with the caveat of using 2560x1080p. It's about as big and wide as you should get with this resolution before noticing the difference to Ultra HD. Fortunately, it counters reliance on a smaller resolution with plenty of other visual luxuries.
Officially supporting AMD FreeSync, it's compatible with most NVIDIA G-Sync tech, with a refresh rate up to 200Hz. Combined with a 1ms response time, this trinity of image processing means you'll enjoy super-smooth gaming over a cinematic aspect ratio without pushing your GPU too hard. DisplayPort and HDMI join two USB 3.0 ports for charging, with the usual 3.5mm audio jack for speakers or headphones.
It might be pushing the limits of 1080p, but this 30-inch TUF Gaming monitor still has plenty to offer. If your gaming desk has space to fit an ultrawide screen and you want to keep the spending reasonable, look no further. Its resolution will serve you fine for a few years, keeping any mid-range GPUs viable for 21:9 gaming at high frame rates.
ASUS TUF Gaming VG259QM 25-inch
Best for 240Hz
Reasons to buy
+
AMD FreeSync & NVIDIA G-Sync
+
400 nits brightness
+
HDR10
If we're going for maximum frame rates on a budget, we're sticking with ASUS. The TUF Gaming VG259QM is another 1080p monitor suited for mid-range graphics cards, but this time with a refresh rate up to 280Hz when overclocked. Its full potential might be a pipedream for a budget build, but 1080p @ 240Hz is reasonable, depending on the game.
For a 25-inch monitor, 1920x1080 will be acceptable compared to the fabulously high frame rates possible, around 240Hz. Certified for NVIDIA G-Sync tech and a 0.5ms response time means it's one of the fastest monitors available at this price point. This monitor is for you if you must have peak performance over resolution. Competitive gamers will feel at home pushing their games to 240 FPS and beyond for the ultimate advantage.
Still offering HDR support with DisplayHDR rated for 400 nits makes it a beautifully bright IPS panel, if slightly underwhelming contrast. The usual DisplayPort, HDMI, and audio jack ports are present, built into a sleek design aiming for a gamer aesthetic. Impressive performance from a budget monitor, you'll reach immense frame rates with a suitable graphics card without spending too much cash.
Choosing the best gaming monitor on a budget
Why you can trust Windows Central Our expert reviewers spend hours testing and comparing products and services so you can choose the best for you. Find out more about how we test.
Pushing your cash to the limit might allow for some of the best computer monitors around, but budget PC gaming doesn't need to be ugly. Plenty of modern gamers still use the Full HD 1080p resolution, pushing instead for higher frame rates. That's why the Monoprice Dark Matter 24-inch took the top choice for the best budget monitors for gaming, and it's the perfect mix of features and value.
If you prefer to aim for 4K or higher refresh rates, then you have plenty of options, as long as your rig can handle the extra strain. Building a gaming PC doesn't need to be so expensive if you cut costs on unnecessary hardware and enable lesser-known features, like NVIDIA G-Sync on a FreeSync display.
Get the Windows Central Newsletter
All the latest news, reviews, and guides for Windows and Xbox diehards.
Ben is the channel editor for all things tech-related at Windows Central. That includes PCs, the components inside, and any accessory you can connect to a Windows desktop or Xbox console. Not restricted to one platform, he also has a keen interest in Valve's Steam Deck handheld and the Linux-based operating system inside. Fueling this career with coffee since 2021, you can usually find him behind one screen or another. Find him on Mastodon @trzomb@mastodon.online to ask questions or share opinions.