Windows Central Best of CES 2018 Awards
These are all the best things we saw at CES 2018!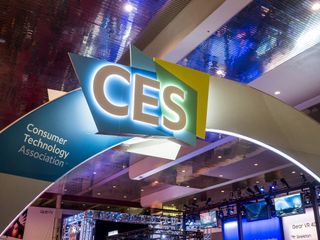 CES always brings crazy, cool, interesting, and awesome tech. Some of it is already hitting store shelves, others might be years away from release — or it may never see the light of day. It's always been that way at CES, and the 2018 edition of the world's largest tech show was no different. Windows manufacturers always put on a good show at CES, so there was a lot to choose from when selecting our favorites.
But here goes.
Dell XPS 13: Best of CES 2018, Best Design
Why you can trust Windows Central Our expert reviewers spend hours testing and comparing products and services so you can choose the best for you. Find out more about how we test.
We've always had a soft spot for the Dell XPS 13 — just look at it. Plus. it brings huge power to that beautiful, compact package. The 2018 edition of the XPS 13 kicks things up a notch with a complete redesign that brings the latest modern tech to one of our favorite Ultrabooks.
Razer Project Linda: Best of CES 2018, Most Innovative
It's a laptop from Razer. Except it doesn't have a processor or RAM ... or even run Windows. This is Razer's Project Linda, which is the best iteration we've ever seen of a phone that can dock into a laptop. Take Razer's hyper-powerful Razer Phone, drop it into the spot where the trackpad would normally be, and bam! you've got a powerful and snappy Android laptop with Razer's signature quality design. The only problem is that this is one of Razer's concepts, so who knows if it will ever be released.
Lenovo ThinkPad X1 Carbon: Best of CES 2018
Lenovo's ThinkPad brand conjures images of clunky old black slab laptops, but the X1 line is no such dinosaur. The updated ThinkPad X1 Carbon carries over a lot of the award-winning design of last year's model, but with a few nips, tucks, and upgrades that impress all around — especially the gorgeous new 14-inch WQHD HDR display.
Dell XPS 15 2-in-1: Best of CES 2018
Last year, Dell gave us the 13-inch version of the XPS convertible, this year it is going big with the XPS 15 2-in-1, which Dell is touting as "the most powerful 2-in-1 ever." Sporting high-end specs that beat, well, every other 15-inch 2-in-1, yeah, we believe those claims. With a 4K display, up to 32GB of RAM, and a 45W Intel Core i7 processor with AMD RX Vega M GL graphics, the power is undeniable.
Lenovo ThinkPad X1 Yoga: Best of CES 2018
If you love the idea of a ThinkPad X1, but you really want a touchscreen, this is the option you should go with. The ThinkPad X1 Yoga offers all of the same capability and gorgeous looks as its traditional laptop counterpart but throws in a full 360-degree hinge for convertible magic. It doesn't hurt that it has the same 14-inch WQHD HDR display, but this time it's with touch and pen support.
HP Spectre x360 15: Best of CES 2018
The first laptop to bear the fruits of the burgeoning Intel + AMD partnership is the new HP Spectre x360 15. This update to its big convertible laptop brings the Kaby Lake-G hybrid chip with a powerful Intel CPU paired with a beastly AMD GPU for powerful and efficient performance. It also brings an updated design and — in a rarity for a convertible — a "numpad!" OK, maybe that doesn't excite you, but a thin, light, powerful, and efficient 15-inch convertible laptop? That should.
Lenovo Miix 630: Best of CES 2018
If Intel partnering with AMD to make high-power, better chipsets is one end of the spectrum, then on the other end is Qualcomm's recent entry into the Windows market via Windows 10 on ARM. While this isn't the first Qualcomm-powered Windows 10 device we've seen, the Lenovo Miix 630 is one of the nicest, with a clean and solid design and worthy specs. And thanks to that Qualcomm silicon, this sucker seems to sport incredible battery life and always-on cellular capabilities.
Dell Mobile Connect App: Best of CES 2018
You have your phone. You have your laptop. They're largely two distinct devices. But Dell wants to bridge them with the new Dell Mobile Connect app for both Android and iPhone. This app lets you put your notifications, messaging and phone calls right on your PC — and if you're using an Android phone it will even let you control apps on your handset! And it does all of this over Bluetooth and Wi-Fi Direct, so as long as you're in range you'll never miss another call or message.
Lenovo ThinkPad X1 Tablet: Best of CES 2018
Previous iterations of the ThinkPad X1 Tablet were kind of the red-headed stepchild of the X1 line. No longer — the 2018 ThinkPad X1 Tablet offers all of the same power as its permanent-keyboard siblings but in a slick 2-in-1 tablet form factor. Lenovo's also stopped messing around with its design, leaving behind the interesting but ultimately impractical expansion modules and switching to a traditional flip-out kickstand. The result is a tidy, solid, and powerful Windows 10 tablet.
Razer Mamba HyperFlux: Best of CES 2018
Wireless mice aren't a new concept. But Razer wanted to make one that's truly wireless, and the fruit of that venture is the Razer Mamba HyperFlux. A traditional wireless mouse contains a battery that you have to plug in to charge up every now and then. The Mamba HyperFlux, however, comes with a special wireless power mousepad (the Firefly HyperFlux) that continuously and wirelessly transmits power to the mouse — to wires, no batteries. And it still manages to have slick Chroma lighting and gaming-grade a 16,000 DPI sensor.
Windows Central Newsletter
Get the best of Windows Central in your inbox, every day!
Derek Kessler is Special Projects Manager for Mobile Nations. He's been writing about tech since 2009, has far more phones than is considered humane, still carries a torch for Palm, and got a Tesla because it was the biggest gadget he could find. You can follow him on Twitter at @derekakessler.
Would be cool to have some indication if those devices support WMR Ultra...

the dell xps 15 2in 1 has the best gpu AMD RX VEGA M GL. even has full E GPU support

Windows laptops - and a mouse - were not the most interesting things at CES. Perhaps in 2005, but this is 2018.

We're not interested in whatever phones were launched, or drones, or cars. We're there to cover the new Windows devices. And Razer's craziness.

But if Microsoft had phones and drones, you would then magically be interested.

Laptops still cool but for your information in this CES 2018 i see a lot of toys for zombies.

Does anyone know if the xps 13 2 in 1 is getting the full monty treatment like the 15 2 in 1? I would love to have a 13 2 in 1 white for the the wifey, and I am getting the 15 2 in1 for myself.

Best laptops of 2018. You can recycle this article!

Razer's Project Linda would be awesome with a WM10 device with Cshell.... I really need to stop discussing my ideas openly... it feels like people are eavesdropping as all my ideas are materialising LOL.

Aside from the fact Microsoft clearly wasn't listening ;-)

Damn, project Linda seems interesting and I have to agree with comment in the video. It is the best take on docking and using a smart phone as a laptop. Using the touch screen of the phone as a mouse pad is brilliant in this manner. Now MS's Continuum able phones could be used as a trackpad as well, but this is the best implementation for such a use. Depending on how you look at it, having to use only the Razor phone to do this might be a deal breaker for some. It is also one of the reasons why the Motorola version of this from years ago never took off. While implemented brilliantly, IMO, it locks you into that particular phone. That's the only drawback to the design. It's probably why MS opted for the docking method.