Windows Central Best of CES 2017 Awards
These are Windows Central's Best of CES 2017 winners!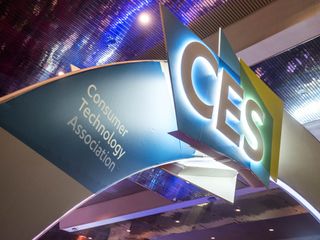 CES always brings a flood of new gadgets and laptops and insane tech that'll never see the light of day — and the 2017 edition of CES was no different. In fact, we might say it was the best CES we've ever seen for Windows tech; there's simply a lot of great stuff coming this year that was unveiled this week in Las Vegas.
As we are wont to do, we wanted to take a moment to recognize the greatest reveals at CES that we covered this year. From crazy concept laptops to sexy PC desktops (who ever thought we'd put those words together in a row?) to VR and AR and everything in between, there's a lot to recognize, so let's get right to it!
Best of CES 2017:Razer Project Valerie
There's something to be said for just going all-out crazy, and that's exactly what Razer did with Project Valerie. This concept laptop design takes the powerful and beastly Razer Blade Pro laptop and grafts on an additional two 4K 17.3-inch displays that slide out to either side of the main panel. It's utterly ridiculous and thoroughly amazing and everything we ever wanted out of life on this planet.
Best of CES 2017:Lenovo ThinkPad X1 Carbon
Who said business laptops have to be staid and boring things? Lenovo thinks that's dumb — or at least that's the indication we get from the very attractive ThinkPad X1 Carbon. It's still clearly a ThinkPad — from the logo to the red pointer stick in the middle of the keyboard — but it's also an attractive, powerful, slim, and light laptop. ThinkPad's long carrier a stodgy business rap, and Lenovo does make some stodgy business laptops, but the ThinkPad X1 is no such beast.
Best of CES 2017:Dell 8K monitor
How many pixels does your monitor have? Doesn't matter, this one has more. Dell's 32-inch UP3218K monitor doesn't look like much until you start looking closer and you realize that it's sporting 33.2 million pixels — that's four times as many as your typical 4K monitor. It's a breathtakingly sharp display, and it'll have a breathtakingly high price when it launches in March 2017: $5000.
Best of CES 2017:HTC Vive Tracker
HTC's Vive is a fantastic VR headset, and the addition of the new HTC Vive Tracker that you can stick on any real world object to bring it into the real world will make it even more so. Slap a Vive Tracker on a baseball bat or a gun or even the prototype hand tracker that brings your entire limb and down-to-the digit tracking into virtual reality, and suddenly it's a big thing. Especially with the new TPCast wireless Vive adapter.
Best of CES 2017:Dell Canvas
If a Surface Studio-style pen-and-touch display appeals to you, but you've already got a competent PC, Dell's fulfilling your dreams with the Canvas, a 27-inch QHD IPS display that offers full pen and touch support. Dell's even built their own take on the Surface Dial, dubbing them "totems". It won't be cheap (pen and touch at this size never is), but once the Windows 10 Creators Update lands it'll unlock a huge amount of creative power.
Best Design of CES 2017:HP Envy 34 — Best design
The all-in-one PC is often an underappreciated segment of the PC market, but HP's working to change that by applying the same fantastic industrial design that's led to some fantastic laptops to their desktop line and the likes of the HP Envy 34 with its curved ultrawide narrow-bezel display. This all-in-one PC isn't just beautiful — the base is home to four speaker drivers and dual passive arrays, all tuned by Danish audio house Bang & Olufsen.
Best of CES 2017:Samsung Notebook Odyssey
Samsung has long produced excellent laptops, but they've only dipped their toes into gaming-class machines in the past. With the new Notebook Odyssey 15 and Notebook Odyssey 17 they're jumping in feet first, landing with a generally restrained design (at least for a gaming laptop) and middle-range gaming specs in the form of an Intel Core i7 processor and the new NVIDIA GTX 1050 GPU.
Best of CES 2017:Dell XPS 13 2-in-1
Dell's XPS 13 has always been one of our favorite Ultrabooks, and now the Dell XPS 13 2-in-1 is poised to be one of our favorite convertibles. Sporting a gorgeous 13.3-inch QHD+ InfinityEdge touch display mount to a pair of 360-degree hinges, the XPS 13 2-in-1 brings almost everything we love about its traditional laptop namesake to a laptop-and-tablet form factor.
Best of CES 2017:HP Spectre x360 15.6-inch
For as much as we like the HP Spectre x360 13.3-inch convertible laptop, sometimes you need more space. That's where the updated 15.6-inch HP Spectre x360 wins — this beast of a convertible comes with a stunning 4K display, minimized bezels, and an updated 7th-gen Intel Core i7 processor.
Best of CES 2017:Lenovo Entertainment Hub
The only piece of pure software on this list, the Lenovo Entertainment hub is for the most part a pretty innocuous block of code. But open up a first-person shooter game and hit the VR button — even if the game's not designed for VR, and suddenly it's a whole new ballgame. It's actually pretty clever — Lenovo is taking the head motion being sent in from the VR headset and mapping that to the aim controls in the game. Turn your real life head left and the aim point in the game goes to the left. It's kind of a hack, but it's a smart way to overcome the biggest issue facing VR right now: a lack of a comprehensive content library.
Best of CES 2017, Most Innovative:Razer Project Ariana
This is not a desktop, or a laptop, or even a sweet hi-res monitor. This is a projector. Razer's Project Ariana is a two-fold system: extending Razer's RGB Chroma keyboard lighting to other things in your house, such as connected lightbulbs, and this crazy projector that images your room in 3D and then projects an extension of your game onto the wall around your display. It's something others have played with in the past, but Ariana takes the whole concept up a notch.
Derek Kessler is Special Projects Manager for Mobile Nations. He's been writing about tech since 2009, has far more phones than is considered humane, still carries a torch for Palm, and got a Tesla because it was the biggest gadget he could find. You can follow him on Twitter at @derekakessler.
Project Valerie is nuts. In a good way.

Doesn't it defeats the whole purpose of a laptop (ie portability)

Depends on whether or not you can find a bag big enough to stuff three monitors and a gaming PC into it. This thing will seem pretty portable to you then. :P

So Razer shouldn't push the boundaries? Crazy ideas is what pushes technology along.

It's the battery life...that's the victim here ;)

Absolutely nuts. But I love it.

I will go with project Arianna! and the Dell Canvas! Great ideas!

How does anyone play a shooter woth a controller ?
KB and mouse I'm very good...trying a XB1S and can't do it. Gonna return and put $$$ into a new PC.

It's easy when you know how.

But mostly auto aim and a lot of practice.

Just takes practice to get comfortable controlling aim with the sticks. Eventually, it becomes second nature, just like with a mouse (though probably never quite as accurate).

Generally console games are quite liberal with their use of auto aim, which can be incredibly frustrating when you can't turn it off (some games don't let you).

HTC tracker. Can it be used with hololens;")

HoloLens is already entirely wireless

Razors Ariana is just Illumiroom 4 years later. MS realised Noone would buy Illumiroom. Nice concept, but consumers weren't interested. For those unaware, MS came up with the technology years ago.

Yeah I remember this. They had a ball or something tp control I think, with ability to have a customized walls with pictures and stuff, all of that apart from media etc

So, an Echo class device with adaptive beamer capabilities would find no market? Errm, no, the lack of visuals is my greatest grief, actually. Microsoft had no vision, no application and not the technology to roll out a real product when they studied Illumiroom.

Mate what you on about. They had it at E3. And all the media said it was a dumbass idea. It won't sell. I was hyped for it 4 years ago. Funny to see it rear its head again under a different name.

The guy picutured on Vive Tracker needs to learn firearm safety. Finger off trigger until ready to shoot. Stock on shoulder not in armpit.

He's not an American. In the UK we don't handle guns over breakfast ;-)

Except for when you're doing your best Rambo bad-ass impression.

Nobody's going to mention the shape of the touchpad on the Samsung Notebook Odyssey?

They've gotta change something, right?

The touchpad is regular shape I think. Samsung just put some light-up parts on either side to be 'fancy,' looks more obvious on the black one.

I can picture a real baseball bat with a vive tracker being interesting inside the living room

Then someone stole razer's ...
So sad.

A 3-panel laptop?!? As fun as all this stuff is, for 99% of consumers it's just over-the-top silliness and useless. Just more examples of engineers designing in a vacuum. It would have been SO much more interesting to see a new Windows Phone come out of CES. Or some interesting news, like a partnership with Blackberry for instance.

The Project Valerie prototype was stolen @ CES 2017. https://www.cnet.com/news/razer-prototypes-stolen-ces-2017/
Windows Central Newsletter
Get the best of Windows Central in in your inbox, every day!
Thank you for signing up to Windows Central. You will receive a verification email shortly.
There was a problem. Please refresh the page and try again.