Razer's interactive projector fills your room with your games
By Derek Kessler last updated
Light it up. And by "it", I mean everything.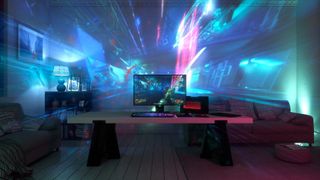 Razer's opening up their Chroma lighting platform to new partners, bringing color-changing RGB to a range of devices from other manufacturers.
This isn't just a bunch of Chroma-lit keyboards from other manufacturers — Philips Hue smart lights, Antec PC cases, Wicked Lasers… lasers, and even Lenovo are on board. In fact, the Lenovo IdeaCentre Y900 RE gaming desktop sports Chroma lighting, as do some of their gaming-focused displays.
By tying more things into Razer Chroma, the lighting effects can extend beyond just your keyboard and display. Razer Chroma can be set up to be reactive to your gaming experience — now instead of just your keyboard turning red when you're under fire in Call of Duty, your entire room can turn red.
Razer's enlisted several initial partners, all plan to use the Razer Chroma Module chip and software API:
Antec
Lenovo
Lian Li
Looking Glass
Nanoleaf
NZXT
Philips Hue
Wicked Lasers
But that's just the start of where Razer imagines Chroma can go beyond just your keyboard. They've pulled together a concept called Project Ariana of a full-room interactive RGB lighting and video projection set-up. Using dual depth-sensing cameras, Ariana scans the entire room, aligns and calibrates everything to your monitor, and fills the rest of the space with visuals broadcast by a 4K projector with a 155-degree fisheye lens — mounted on your ceiling, the desk, or wherever.
Project Ariana has multiple modes, including a gaming mode where developers can map immersive activity across an entire room, ambient mode to pull what's on the monitor across the rest of the room, and even a standalone projector mode. While Chroma right now is just RGB lighting, Ariana is a glimpse into where Razer wants to take the tech to "bridge the gap between gamers and games," as co-founder and CEO Min-Liang Tan said.
But this is still just a product concept, the likes of which Razer is still developing. The purpose of their CES 2017 unveiling on Project Ariana isn't to set the stage for a possible production product, as with Project Valerie — it's to get feedback from media, analysts, partners, and fans as to where they can take it.
Derek Kessler is Special Projects Manager for Mobile Nations. He's been writing about tech since 2009, has far more phones than is considered humane, still carries a torch for Palm, and got a Tesla because it was the biggest gadget he could find. You can follow him on Twitter at @derekakessler.
Glad to see others are trying to get this to consumers, unlike Microsoft. I'm judging only by this articles picture, but Microsoft implementation looked much more detailed and cleaner.

Press images are designed to sell a product. Razer will actually sell this. Microsoft actually probably will not.

Glad someone else remembered Microsoft's idea similar to this, although it had clearer imagery. There are of course advantages to Razer's version as I can imagine it being less distracting. Still would love to see Microsoft's interactive room cone to life someday.

Was thinking the same thing an attachment for the xbox one or part of Scorpio

If this is true then under the table they are just NDA licensing the tech patent from microsoft since it's basically their idea and finally dropping It's to consumer price budget hopefully. One of the main reason that Microsoft couldn't bring it to customers was because of consumer price level but maybe its finally happening!

I hope they sell this as a addon to projectors... I have a few 720p to 1080p projectors that work perfect, never mind you could buy a used 1080p projector on ebay for under $200. It would be epic if I could buy a $150 addon that I could do that with a projector.... Microsot created something like this but of course it was prototype only and will never be released but, this will be released... and should be an experiance to own..

a 4k projector seems a bit overkill for something meant to be backround noise.

MS called. They want their IllumiRoom concept back.

Came here to say the same thing.

And I thought I was the only one who still remember this. It was a great concept.

That was one of the reasons I initially purchased an XBOX One. Hoping this would come to fruition. I guess the jokes on me. :)

Microsoft worked on something like this with the Xbox years ago

Hey Microsoft, don't show stuff you don't intend to release otherwise don't be surprised when someone else beats you to market with your idea.

Being a company unlike Apple, Microsoft has always willingly shared and promoted new ideas. After all it is the success of their OEM partners that make them successful. Good to see finally due to Microsoft recent efforts that suppliers are finally again thinking outside the box and pushing out boundaries again. After all they did get a bit lazy there for awhile when we had so many 'me too' laptops and PC boxes. It was bad that OEM's got lazy but great that Microsoft started showing the way again. The next few years are going to see some wild stuff, especially now we have full Windows on ARM.

Here's a more sensible solution that can be done withing withing an evening: https://www.youtube.com/watch?v=oCoPgSwmoQc
It's not plug and play ( some soldering and minor code editing required ) but it's well worth doing it and personally I couldn't live without it anymore.
Windows Central Newsletter
Get the best of Windows Central in in your inbox, every day!
Thank you for signing up to Windows Central. You will receive a verification email shortly.
There was a problem. Please refresh the page and try again.