Razer's interactive projector fills your room with your games
Light it up. And by "it", I mean everything.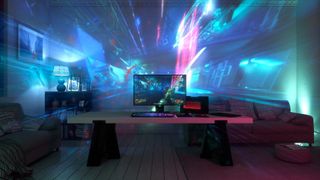 Razer's opening up their Chroma lighting platform to new partners, bringing color-changing RGB to a range of devices from other manufacturers.
This isn't just a bunch of Chroma-lit keyboards from other manufacturers — Philips Hue smart lights, Antec PC cases, Wicked Lasers… lasers, and even Lenovo are on board. In fact, the Lenovo IdeaCentre Y900 RE gaming desktop sports Chroma lighting, as do some of their gaming-focused displays.
By tying more things into Razer Chroma, the lighting effects can extend beyond just your keyboard and display. Razer Chroma can be set up to be reactive to your gaming experience — now instead of just your keyboard turning red when you're under fire in Call of Duty, your entire room can turn red.
Razer's enlisted several initial partners, all plan to use the Razer Chroma Module chip and software API:
Antec
Lenovo
Lian Li
Looking Glass
Nanoleaf
NZXT
Philips Hue
Wicked Lasers
But that's just the start of where Razer imagines Chroma can go beyond just your keyboard. They've pulled together a concept called Project Ariana of a full-room interactive RGB lighting and video projection set-up. Using dual depth-sensing cameras, Ariana scans the entire room, aligns and calibrates everything to your monitor, and fills the rest of the space with visuals broadcast by a 4K projector with a 155-degree fisheye lens — mounted on your ceiling, the desk, or wherever.
Image 1 of 6
Project Ariana has multiple modes, including a gaming mode where developers can map immersive activity across an entire room, ambient mode to pull what's on the monitor across the rest of the room, and even a standalone projector mode. While Chroma right now is just RGB lighting, Ariana is a glimpse into where Razer wants to take the tech to "bridge the gap between gamers and games," as co-founder and CEO Min-Liang Tan said.
But this is still just a product concept, the likes of which Razer is still developing. The purpose of their CES 2017 unveiling on Project Ariana isn't to set the stage for a possible production product, as with Project Valerie — it's to get feedback from media, analysts, partners, and fans as to where they can take it.