Dell announces all-new redesigned XPS 13 (9370) with 4K display, even thinner bezels
Dell has finally redesigned the XPS 13 for 2018 and it's gorgeous. Not everyone will love the changes, but there's a lot to love here.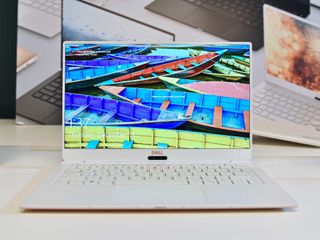 There's no better time to shop and save money on a new laptop. Be sure to check out our continuously updated article on the best Dell XPS 13 Black Friday deals.
Dell doubles down on its popular XPS 13 with the just announced XPS 13 (9370) an overhaul of the aging ultra-thin laptop, which was revised in 2017 with a new processor.
We spent some time with the shiny new wedge laptop and came away impressed. Not everyone will love the changes, but Dell is finally pushing the line forward making it more future proof than ever.
Moreover, there's no waiting for this model as you can now order it today right from Dell.
Dell XPS 13 (9370) – What's new?
Dell has completely rebuilt the XPS 13 for 2018 and beyond. There are new port changes, updated Intel processors, improved displays, and we finally get Windows Hello infrared (IR) facial recognition as well.
Oh, and those InfinityEdge bezels are now even thinner.
InfinityEdge display: the 4mm border is 23% thinner than the previous generation, resulting in an 80.7% screen-to-body ratio
InfinityEdge display: this is the next-generation that can now go to 400nits of brightness (up from 350), higher resolution 4K (vs QHD), 100 percent sRGB color calibrated, and a new anti-reflective coating
New ports: USB Type-C including two Thunderbolt 3 ports, and one USB 3.1
microSD: Ditching the full SD reader the 9370 now uses a microSD reader instead
Now in white and gold: Dell is debuting an all-new alpine white woven glass fiber interior; the original carbon fiber version is also still available with silver
New thermals: Dual heat pipe and dual fan solution and the first to use GORE Thermal Insulation (silica aerogels)
Far-field Cortana capable: The XPS 13 responds to your voice from up to 14 feet away with four built-in microphones
Windows Hello: HD web camera is now in the middle (though still below the display) and supports IR facial recognition; a second, optional, fingerprint reader can also be added to the power button
Dell is using the same Intel 8th generation quad-core processors (15W) found in the latest revision to the older XPS 13 (9360), which I recently reviewed, but the thermals and power management are said to be better with this new model due to the redesigned chassis.
Swipe to scroll horizontally
Category
Dell XPS 13 (9370)
Processor
Intel 8th Gen Core i5-8250U
Intel 8th Gen Core i7-8550U
Display size
13.3 inch
UltraSharp 4K (3840x2160), 100% color gamut
FHD (1920 x 1080) touch display, 72% color gamut
FHD (1920 x 1080) non-touch display, 72% color gamut
RAM
LPDDR3 4GB-8GB at 1866MHz
16GB at 2133MHz
Native graphics
Intel UHD Graphics 620
Discrete graphics
None
Ports
2x Thunderbolt 3 with PowerShare
1x USB-C 3.1 with PowerShare
microSD card reader
headset jack
Storage
128GB (SATA); 256GB, 512GB, or 1TB (PCIe)
Wireless
Killer 1435 802.11ac [2x2] + Bluetooth 4.1
Intel 8265 802.11ac [2x2] wireless for vPro + Bluetooth 4.1
Miracast capable
Biometric
Widescreen 720p webcam with 4 array digital microphones; Windows Hello compliant infrared camera; Far Field Cortana capable
Optional Windows Hello compliant fingerprint reader in power button
Battery
52WHr
Dimensions
7.8-11.6 x 302 x 199 mm (H x W x D)
Weight
Starting weight: 2.67 lbs (1.21 kg) for non-touch
Starting at 2.68 lbs (1.21 kg) for touch
Starting price
$999.99
Availability
January 4, 2018, globably
Dell.com, Microsoft.com
Users will be able to configure the XPS 13 (9370) with either a Core i5 or Core i7 processor, with RAM up to 16GB and a 1TB PCIe SSD. The bad news is for pushing forward Dell is also making some changes. For instance, there is no USB Type-A port any longer, nor a full-sized SD card reader – both aging technologies that other companies have already abandoned.
Likewise, the RAM will no longer be user upgradable and instead soldered to the motherboard.
And for you Linux folks, there an Ubuntu-based developer edition of the XPS 13 with Linux preloaded starting at $949.99 as well.
Thoughts and impressions
In my time with the XPS 13 (9370), I can tell Dell has given considerable thought to the changes made – which will be controversial for some, and one reason the company has been conservative with this line till now.
Image 1 of 2
The new white woven glass fiber version is stunning and feels very different – in a good way – from the traditional "soft touch" carbon fiber version. The feel is more tactile and akin almost to linoleum. Dell was concerned obviously with dirt, but the materials can be easily cleaned even if you wrote with a Sharpie pen and left it for a month to dry. It's impressive stuff.
Here is what Dell says about the white woven glass:
It's kind of like the opposite of Microsoft's Alcantara.
Image 1 of 2
Of course, not everyone likes white laptops, so the traditional silver and black scheme is still there for the purists.
The usage of all USB Type-C ports is where laptops are going and lets Dell save a lot of space for battery and more. Those two Thunderbolt 3 ports are 4x PCIe lanes too as the company is finally all in making these ports with the full 40 Gbps bandwidth for external GPUs.
The display though is the real stunner. Did we need to go from QHD (3200x1800) to 4K (3840x2160)? Probably not, but it looks fantastic with those 23 percent slimmer bezels. The tech behind the IGZO panel is also new with a higher level of brightness, better viewing angles, improved contrast ratio and a new anti-glare coating.
The display is still glossy, but now just reflects less light than before. Color accuracy is also now 100 percent sRGB. For those who prefer more battery life, the full HD version (in touch or non-touch) is also still an option.
Speaking of battery, Dell reduced the size from 60WHr to 52WHr in this model. Due to the more efficient CPU and thermals battery life should still be around the eight-hour mark for the 4K model when used as a regular PC, close to 11 or 12 hours for the full HD model. There is also USB fast charging when needed.
Image 1 of 2
There are even changes to the keyboard with a whole new mechanism being used for the first time. Travel is still 1.3mm, and the keys are backlit, but the experience will feel a bit different. Dell is also – thankfully – keeping the Precision Touchpad, which felt better than the current model.
Dell XPS 13 9360 (2017) review
All that makes the Dell XPS 13 (9370) the smallest 13-inch laptop on the market. Dell says this model is now 24 percent smaller by volume than the 9360 from 2017 and at 2.7lbs (1.21kg) you'll struggle to call it heavy.
We'll be reviewing the Dell XPS 13 (9370), but for now, you can feast your eyes on our photos, or order one yourself. The new XPS 13 is available globally beginning today on Dell.com, Microsoft.com and at your local Microsoft Store, starting at $999.99.
Get the Windows Central Newsletter
All the latest news, reviews, and guides for Windows and Xbox diehards.
Daniel Rubino is the Editor-in-chief of Windows Central, head reviewer, podcast co-host, and analyst. He has been covering Microsoft since 2007 when this site was called WMExperts (and later Windows Phone Central). His interests include Windows, laptops, next-gen computing, and for some reason, watches. Before all this tech stuff, he worked on a Ph.D. in linguistics, watched people sleep (for medical purposes!), and ran the projectors at movie theaters because it was fun.
Any mention of an upgraded USB-C Docking station? Nothing wrong with the current one, but I'm sure the upgraded model deserves one. At least in white right?

Yes! We'll do more of that soon. But all the accessories for the white version are in white, including the cable/adapter, cover, etc.

Daniel, Do you know if they are going to be giving older machines Mobile Connect access? RIght now they say only devices purchased after jan 1st.

I've heard yes, but will confirm at CES.

Thanks Daniel. One more quick question if you know...Is the functionality the same with IOS and Android using mobile connect?

Lets hope in 2018 Instead of 4gb ram options pc oem's start offering Snap Dragon 845+8gb ram+ 128 ufs storage options.

And people say that Ms are killing surface in two years ha.. Every windows manufacturer are making more and more elegant and well designed machines.. 2018 is off to a great start

They really are. Dell, HP and Lenovo's new stuff are all just gorgeous. I see some real thinking outside the box/careful consideration of features. The Dell team were very detailed with this update, didn't feel like paint by numbers, felt like art.

Hopfully they take the same path with the 13 2 in 1. Make it just as powerful as the non foldable xps, and in white for da wife.

Not interested at all due to its nose-cam.

I visited Dells site just now and spoke to a chat representative both saying they are in fact NOT available yet. Is there some secret link you have that I don't?

Check now. Preorders are up.

DELL! You've done amazing things with the XPS line. Now, you have to advertise it like crazy! Market it like it's a new Avengers movie!

I love it! All the changes are great minus the non-upgradeable ram. More jacked to hear and see the XPS 15 now.

Hoping for more configurations this time. ie 16GB memory with FHD screen.

Unfortunately it is currently missing :/ I just want to have 16GB of ram, I don't need 4k.

If they had moved the camera, it would've been perfect for me, but I think it's still worth buying. The white one looks great.

How many lanes for the thunderbolt ports? And is the barrel charger still there? And when we will see the 15inch version of this?

No, USB type 3 charging port. thank God. I had to send my current XPS13 back to dell 3 times because the barrel connector port kept failing

I expressly state it has 4x lanes for Thunderbolt. No barrel charger. It's Type-C.

Daniel, I hate to be picky but did you expressly confirm this with Dell? Your statement as phrased seems to be based on the 40gbps specification, which is misleading - 40gbps does not mean the ports are 4 lane - Dell has used this on their 2 lane models as well as a representation of the total bus bandwidth. If you search you will find an article explaining this expressly because they got flak for misleading advertising. I have been unable to find any material confirming 4-lanes as they haven't updated their documentation yet.

"I hate to be picky but did you expressly confirm this with Dell?"

It's 4x lanes and yes, did confirm with them directly and the PM of the XPS line. Had a good convo about it, actually. This is not the same as the 2x situation from the past. They re-engineered the board, hence why it could be done this time.

Awesome, thank you, I really appreciate the detailed reply. Next time you talk to the PM tell them to put it on the site explicitly like they did with the old models, I know a few enthusiasts who would love to see this and it's great to have the info up front. :) As a photographer I hate that they got rid of the full SD slot, but my old original generation XPS13 was stolen last year and this otherwise looks like a great upgrade.

Yeah, they were the last holdouts on full SD, end of an era. I'll talk to them about the TB3 bit ;) I'm sure they'll talk up eGPUs more and we'll cover it in our review.

I'd rather see Dell come with XPS 14 inch. You see this size of screen coming more and more. It combines the portability with a decent screen size for day to day work. Just bought for that reason a Yoga 920 with 4k screen. To me I don't need 2 laptops anymore, one for on my desk and the other for travel.

4K on a 14 inch screen, can the human eye tell the difference between that and QHD or QHD+? Personally, i narrowed it down to Surface Book 2 15 inch and Lenovo Carbon X1 - Think I will wait for the next gen X1 to and see whats what.

Smaller battery, sharper display. Doesn't sound like a great combination.

When you leave the part out about new chipset, optimized thermals and cooling, sure. Luckily, that's not the whole story.

TBH im soo disappointed with Intel and the latest bugs that I'm holding off all tech purchases until the new chips ship without requiring an OS slowdown. Perhaps Microsoft has a perfect window of opportunity to launch the Surface device and new machines, not holding my breath though.

Where's all the hate of not having a USB Type A port like the Macbook Pro got hate for? Oh that's right, it's Windows Central...

Actually, it's 2 years later and the market is riper. Did you really think the market would never move beyond Type-A in 2 years? Additionally, Dell is selling the old model through summer 2018 to let people have a choice. Let's act like adults here.

It's actually 1 year later. But hey, there will always be excuses.

I know you're just a jackass, Engineers, and therefore enjoy the responses to your type of trolling.. But ya, lets do this.
Apple makes changes too early. They removed the USB port and the headphone jack, and SD card slots.
All of those were still being used by a majority of people, and the transition period was next to nothing. Even a year later, it seems a bit early for headphone jacks and SD cards, but the USB port is much easier to get around. Just this morning, I had a lady at work not able to listen to a voicemail that came through email because her Apple headphones only have their proprietary connector instead of the standard headphone jack. Screw Apple. They charge more and you get less. And they intentionally design their devices (and accessories/dongles) to lock people into their ecosystem and make it very difficult to leave. Then they slow down their devices intentionally so the sheep feel like they need to go buy a new device when their old one should have been perfectly fine.

The first all USB-C MBP shipped in 2016
Then they refreshed it w/ Kaby Lake in 2017
Here we are in 2018.
No matter how you cut it, it's more than 1 year later.

The webcam ("nosecam" as some have dubbed) is the killer for me. I'd be willing to live with more of a top bezel in order to move the webcam.

To me, this is a bad copy of ACER laptops, with a major difference, the AMD processors are better than Intel processors.
Actually, the new laptops seems they are made at the same factory as Surface.

Personally, I can't say I'm a fan of Acer. It's why you never see me really review them.

I am a fan of acer for cheap, reliable computers. But there is NOTHING in the acer lineup to come close to the XPS. Another comment...when it comes to USB...since USB is used to charge, connect etc using the xps. Just get the dock. One plug into the notebook and it's connected to everything and charging. Right now, since my dell does not charge through or even have a USB C port, I have to plug in my touchscreen monitor USB, HDMI and power to use as my desktop. I would love to just plug in one C port and go!

Paulo, while I was a fan of Acer in recent years for what appeared to be great strides in style and build specs, I had the insane displeasure of replacing components in my MiL's 15" touch model (spacing on the name right now) over X-mas. Oh.Dear.Lord is that a horrifying experience. Not only was there about 5 out of 10 steps in which you could permanently snap something, there were 10 **** steps to replace a drive. I have torn down 6-figure servers with less fear than screwing with this thing. Even something as simple as swapping memory was fraught with more complexity (seating was so finiky) than necessary. I compare that to replacing a WiFi card in my XPS 9560 and that was cake in comparison ... and that's ironic if you have un-dainty hands trying to replace these itty bitty WiFi cards these days.

Is the camera still at the bottom?

Really? This is clearly stated in the article. Even the photos give it away.

I am waiting to see what they do with the 2 in 1. If they give the 2 in 1 the internals, and white color option my wife, we will have two of these.. I love the XPS lineup.

Would love to see te full review...

The SD card reader is not aging technology! I am very disappointed they got rid of it.

Any new s about xps 2in1 with intel 8th gen cpu? But only if they'll use the U and not Y

Hello Dan, sorry for posting this somewhat off topic question here, I was trying to post this question on your article "How to upgrade the Wi-Fi in the Dell XPS 15 (9550)" but apparently I don't have enough reputation to post on an older article. I'm looking to replace my Dell XPS 15 wireless card and just looked up the Intel 9260 Wi-Fi card that was mentioned in the article but it looks like it is only a 2x2 design and not 3x3. Would you recommend any other wireless cards that are 3x3 and would work for the Dell XPS 15 (other than the Killer 1535)? I also just found this 3x3 Intel wireless card, do you think this would be a good choice for a Dell XPS 15? It's the Intel Centrino 633ANHMW.