Dell XPS 13 re-review: New eighth-gen quad-core delivers performance, outstanding battery
Still clinging to its iconic design, the new XPS 13 with 8th Generation Intel processor again nails the fundamentals.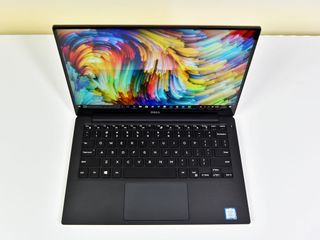 Dell is a bit more conservative than I would like when it comes to its XPS line, hardly changing the design in the last few years. Nonetheless, it's a bit difficult to find anything glaringly wrong with the design of the XPS 13 or 15 – save for the oddly placed web camera.
For late 2017, Dell is playing it safe again with the refreshed XPS 13 9360 by upgrading the processor to the new Intel 8th generation Core i7-8550U. While clocked slightly below the latest Surface Book 2 13 the XPS 13 for Fall 2017 still benefits from those extra cores.
The RAM is also faster now with 2,133MHz instead of the slower 1,800 MHz from last year and users can opt for a solid 1TB of PCIe NVMe SSD for storage. The fingerprint reader for Windows Hello is still extra, but well worth the $25.
Dell XPS 13 specifications
Swipe to scroll horizontally
Category
Dell XPS 13 9360
Processor
Intel Core i3 or i5, 7th Gen
Intel Core i7 8th Gen (NEW)
Internal Storage
Up to 1TB SSD
RAM
4GB, 8GB or 16GB
LPDDR3 2,133 MHz
Display
1080p matte non-touch
QHD+ glossy full touch
Graphics
Intel HD 620
Ports
USB 3.1, 3.5mm jack, SD Card, USB-C Thunderbolt 3.1
Wireless
Killer 1535
Bluetooth 4.1
802.11ac (Miracast enabled)
Battery
60WHr
Weight
2.8lbs (1.27 kg)
Dimensions
11.98 x 7.88 x 0.33-0.60 in
304.29 x 200.15 x 8.38-15.24 mm
Colors
Silver, Rose Gold
I spent the last few weeks with the XPS 13 (9360), and it's hard to not like this device. Not only is the processor better now – including running cooler and quieter – but the battery life is outrageously good.
With the dazzling IGZO QHD+ display pushing over 10 hours on a single charge is a cinch. All that power plus leaving the charger at home is incredible.
I think Dell could do better with the keyboard by at least improving it a bit and maybe squeezing in a Windows Hello IR camera. But the company is comfortable with the XPS 13's design, and it still gets the basics right for display, typing, and that Precision Touchpad.
For those looking for an ultra-compact traditional laptop, the XPS 13 still sits in our top rankings.
CPU
Geekbench 4.0 benchmarks (higher is better)
Swipe to scroll horizontally
| Device | CPU | Single core | Multi core |
| --- | --- | --- | --- |
| Dell XPS 13 (9360) | i7-8550U | 4,690 | 14,334 |
| Razer Blade Stealth | i7-85550U | 4,567 | 14,095 |
| Dell XPS 13 (9360) | i7-6560U | 4,120 | 7,829 |
| Surface Book 2 13 | i7-8650U | 4,862 | 14,694 |
| Surface Laptop | i5-7200U | 3,725 | 7,523 |
| HP EliteBook x360 G2 | i7-7600U | 4,496 | 8,435 |
| Samsung Notebook 9 15 Ext | i7-7500U | 4,316 | 8,320 |
| Lenovo X1 Carbon | i5-7300U | 4,139 | 8,311 |
| HP Spectre 13 | i7-7500U | 4,100 | 7,469 |
It's quite evident that the new i7-8550U processor gives a big boost to the multi-core score due to the new quad-core design. Moreover, the single-core score gets a nice boost too. The new Microsoft Surface Book 2 13 edges out the XPS 13 slightly, but that's due to the higher-clocked chip found with the i7-8650U.
GPU
Geekbench 4.0 OpenCL (higher is better)
Swipe to scroll horizontally
| Device | Compute score |
| --- | --- |
| Dell XPS 13 (NEW) | 22,555 |
| Surface Laptop | 19,256 |
| HP Spectre x360 15 | 28,868 |
| Samsung Notebook 9 15 Ext | 23,207 |
| HP EliteBook x360 G2 | 21,512 |
| Lenovo X1 Carbon | 20,932 |
| Dell XPS 13 (OLD) | 19,410 |
| Surface Book HD520 | 18,197 |
| Dell Latitude 7280 | 17,827 |
Although this is still the same HD 620 graphics for the updated XPS 13 we can see even the OpenCL score gets a slight overall boost compared to last year's model.
PCMark
PCMark (Home Conventional 3.0)
Swipe to scroll horizontally
| Device | Score |
| --- | --- |
| Dell XPS 13 i7 | 3,280 |
| Surface Book 2 13 | 3,341 |
| Surface Laptop Core i5 | 2,494 |
| Samsung Notebook 9 15 Ext | 2,998 |
| Lenovo X1 Carbon Core i5 | 2,965 |
| HP EliteBook x360 G2 | 2,916 |
| Dell Latitude 7280 | 2,829 |
| HP Spectre x360 15 | 2,472 |
Again, we can see how the new 8th generation Core i7 processors significantly outpace last year's models. Both the Surface Book 2 13 and XPS 13 make large strides in PCMark 8.
SSD
CrystalDiskMark (higher is better)
Swipe to scroll horizontally
| Device | Read | Write |
| --- | --- | --- |
| Dell XPS 13 (NEW) | 1,368 MB/s | 847 MB/s |
| Dell XPS 13 (OLD) | 1,287 MB/s | 794 MB/s |
| Surface Book 2 13 | 1,411 MB/s | 1,202 MB/s |
| Surface Laptop | 423 MB/s | 237 MB/s |
| Lenovo X1 Carbon | 1,518 MB/s | 1,188 MB/s |
| Samsung Notebook 9 Ext | 1,365 MB/s | 1,213 MB/s |
| HP EliteBook x360 G2 | 1,129 MB/s | 916 MB/s |
| HP Spectre x360 15 | 1,128 MB/s | 862 MB/s |
Dell is still using well-sourced Samsung SSD's in many of the 512GB and 1TB options for the XPS 13 resulting in above average storage performance.
Pricing still starts at $799, but that's for the older 7th generation Intel Core i3 model.
The new 8th Generation Core i7's start at $999.99 and goes up to $2,125 with 16GB of RAM, 1TB SSD, and fingerprint reader. Luckily, Dell lets you configure the XPS 13 with basically whatever you want. Oh, and that Rose Gold option is an extra $50. Bling ain't cheap.
Check out our new benchmarks, watch the video review, and read my older full review of the XPS 13 (9360) for all the nitty-gritty details!
What do you think of the Dell XPS 13? Still a great buy for straight up laptop in 2017? Let me know in comments!
See at Dell (opens in new tab)
Pros:
Still excellent design.
New 8th gen CPU is awesome.
Dazzling QHD+ IGZO display.
More configuration choices.
Outstanding battery life.
Cons:
Higher models can get expensive.
Still awkward web cam.
No pen support.
Windows Central Newsletter
Get the best of Windows Central in in your inbox, every day!
Daniel Rubino is the Editor-in-chief of Windows Central, head reviewer, podcast co-host, and analyst. He has been covering Microsoft since 2007 when this site was called WMExperts (and later Windows Phone Central). His interests include Windows, laptops, next-gen computing, and for some reason, watches. Before all this tech stuff, he worked on a Ph.D. in linguistics, watched people sleep (for medical purposes!), and ran the projectors at movie theaters because it was fun.
I have a Dell XPS 13 (9360) core i5. The only problem I have with it is the touchpad. It's not responding well at all in any Windows Apps (Edge, News, etc.) The touchpad works very well with any other App, very smooth in Chrome or Firefox. But just not usable in Edge with the 2 fingers scroll, feels like scrolling in molasses .

Not necessarily. It's perfect on my Surface. It could be a different driver. I had the 2015 Dell XPS 13 and scrolling was just as great and seamless as on my Surface. Chrome on the other hand didn't do that well because it didn't support smooth scrolling and still doesn't do rubber band.

Defenantly a windows issue. Edge goes from blazing fast, to molasses in no time flat. My dell is not as bad as claude's, but I do sometimes get lag using edge....and not chrome or IE. However, I do use edge for most things unless it's something that wont run in edge.

Wow what a comment, so helpful

What battery life you getting? Also does this newer model have whine coil noise?

He said 10+ hours. Coil whine*

Thanks. I skimmed through quickly.

Hey Dan, you mentioned a few weeks ago that you were waiting on the new 13 inch Spectre X360 to come in. Best Buy has the i7 8550U, 16 GB RAM and 512 GB Samsung SSD configuration on sale for 1k tomorrow. Is that review coming soon?
Thanks

Yeah, been using it. We're swamped with laptop reviews. It's coming soon though i.e. next 2 weeks. Tough to shoot all the videos and write 'em up.

I'm using the XPS 13 9365 and am loving it. The build quality on the xps series is outstanding. My only gripe is that the camera is only 720p but I only use it for windows hello, but I can see where it would be a draw back for others.

You should put the specs as '2 lane' thunderbolt 3 as it is a notable shortcoming for anyone considering what they can do with this port.
Hope they fixed the 'expanding battery' feature that tech support will tell you is "normal", totally not a serious safety hazard.

Dan, Is the 2 in 1 xps the same internally as the normal laptop?

Honestly, don't know. Never used or looked at that one :/ Will try though.

Thanks. I am deciding whether to get the 2 in 1 xps, or go with a surface book 2. I really wont use the book 2 in tablet mode...and the 2 in 1 has pen support. Also, I love my dell machines now. So...hmmmmmm so many great devices out right now.

If you have the budget, the SB2 is a safer bet overall. More versatility, better performance, better overall display/track pad/keyboard. The XPS 2in1 has a lower performance processor and you lose out on graphical prowess as well. You wouldn't be disappointed with the 2in1 I don't think, but I'd always choose the Book 2 in everything except straight value.

Well brought up points Zachary. All valid. The only thing is if I do get the dell, warranty (if needed)...I have yet to use warranty on any device besides Asus (multiple times), and HP (multiple times), would be a come to my door thing instead of sending the book 2 back. Other than that, it's all good. I don't think I would really ever use the book 2 as a true tablet. I have my ipad for that since it has the apps that I would use a tablet for. I had a surface 3 and I could not do everything I do on my ipad. Yes, there are emulators, but they are not ideal. Money is not a concern since spec for spec, the book and the XPS 2 in 1, are expensive so it's what device would I enjoy more. Ahhhhh hell. If i feel in the mood, I will probably buy both. ha ha!

Thanks Dan for the review! I love my (2yrs-old) XPS13 and am thinking of getting the new one. Can I use the thunderbolt 3 to charge my laptop and use an external monitor at the same time? And is the disadvantage of the 2-lane-thunderbolt-3 that I cannot use an external graphics gard? thanks!

Yeah, you should be able to charge/use display, not an issue. Problem is eGPU and maybe running multiple 4K displays at 60Hz (haven't tried though).

Forget dell and xps Windows 10 don't handle 4K and DELL XPS have a hinge clicking problem, look youtube

I just bought Hp Spectre x360 i7 8th gen and I can tell so far that's the best machine ever! Stunning screen (4k), blazing fast (16gb/512 SSD m2), works great as tablet and 8-9h battery life in real life use. Totally recommend!

Just got one last week from Costco. They're on sale right now for $1299.99, with eighth gen i7, 16 gb ram, and 512 PCIe hard drive. So far I like it a lot. I'm coming from a Surface Pro 4, and have no complaints. After a while with the Surface, I realized I only ever use it in laptop mode anyway, so why not go with a clamshell. The build quality is very good, but not quite excellent. For example, the trackpad is not completly evenly mounted. This is not just my unit, but most that I have seen have this issue. Also, the power button on some, isn't mounted flush or evenly. These are little things that don't bother me much, but it would be nice if they would address these minor imperfections. Other than those small problems, everything works great. It is a power house, especially comparded to my i5 Surface Pro 4. Also, the camera isn't in the best place, but I thought it would be a lot worse based on the reviews. It isn't that bad, just look down a little bit. If I did video confrencing or anything else that needed the camera a lot, I'd just add an aftermarket camera. I just never use web cams for any of my work or play. On another note, I considered the HP Spectre line. But everything HP I've bought, just dies in a year or two. If I see consistent improvements in HP relaibility, the Spectre's are a good competitor to the XPS.

I gave this a serious look after the very positive review, but the 3:2 ratio on surface laptop/book is a huge plus. If the Dell didn't have a 16:9 I'd probably pick it up, because it has everything else going for it!
Windows Central Newsletter
Thank you for signing up to Windows Central. You will receive a verification email shortly.
There was a problem. Please refresh the page and try again.