Best PC cases 2023
Only the best chassis will do.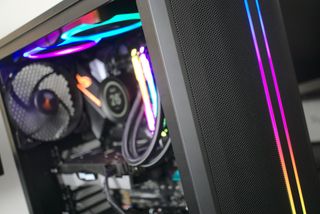 (Image credit: Windows Central)
Building a great PC starts with the case. It's what determines how you'll build your new rig, which parts you can use, and how easy it'll be. We've gone through some of the best PC cases and picked out a select few that we feel really shine above the rest in various categories. Whether you need a case for maximum airflow or water-cooling capabilities, we've got you covered.
What are the best PC cases?
Why you can trust Windows Central Our expert reviewers spend hours testing and comparing products and services so you can choose the best for you. Find out more about how we test.
Choosing the best PC case for you largely comes down to personal preference. Mostly, it's about the look of the case, which is entirely subjective. We may have a soft spot for the excellent Lian Li PC-O11 Dynamic, but it may not be to your liking. We will focus on the best PC cases on paper instead of in this collection, so we take into account how many fans you can screw into the case, what size motherboards you can install, and more.
If you want the most space available, you're going to want to choose a full-tower case, something like the Thermaltake Tower 900. For more compact PC builds, an ITX case will do the job just fine, which is where the excellent NZXT H210i comes into play. Other shortlisted PC cases cover specialist categories like airflow, where the be quiet! Silent Base 802 excels.
But again, the choice of a PC case is largely down to what you want to build. Take a look at our recommendations here to kick-start your creativity in putting together a PC representing who you are as an individual. Be sure to also check out our PC case deals roundup to see whether you can save on any of our favorites below.
When choosing a PC case for your next build, you'll need to consider a few factors. First, do you want a large or compact design? Does it need to support a beefy 360mm radiator for your all-in-one CPU cooler, or are you planning to maximize airflow with all the fans in the world? Once you've got a rough idea in mind, you can start browsing specific categories and form factors.
The more you spend on a case (and some of our choices here are fairly pricey), the better the construction, materials, finish, and features usually are. By going with a barebones $10 basic case, you'll likely have issues with effectively managing cable routing (though it's still possible to do a good job), you may not be able to create a custom water-cooling loop, and chances are it'll not have a fancy glass side panel.
Motherboard size doesn't matter too much since that largely boils down to how many onboard features you require and whether you intend on installing more than a GPU to use up all the PCIe expansion slots. ATX is generally a good size to go with, though if you really want that compact PC case, microATX is a great substitute that doesn't sacrifice too much on functionality.
---
Lian Li PC-O11 Dynamic
Best overall PC case
Specifications
Motherboard:
ATX, microATX, Mini-ITX
Reasons to buy
+
Gorgeous design
+
Plenty of fans and radiator mounts
+
Excellent customization
+
Great airflow
+
Supports up to ATX motherboards
Reasons to avoid
-
No fans included
-
Somewhat sluggish front I/O
There are some stunning PC cases out there, but if you want something exceptional, you'll want to check out the Lian Li PC-O11 Dynamic. Not only does this case look good, but it's also straightforward to build a PC inside of, supports water cooling with plenty of radiator mounting options, and can even take two PSUs.
On paper, the Lian Li O11 Dynamic looks like your everyday PC case, but it's not. This sleek and well-designed chassis is a gorgeous piece of engineering. It's not all about looks either. Since Lian Li brought DER8AUER on board, you know it's going to perform well. With enough space for up to three 360mm radiators, there's plenty of room for a custom water-cooling loop.
You can throw up to nine 120mm fans inside the O11 Dynamic from Lian Li, allowing ample air to be pushed through the four filters. There are also a few variants of this chassis, with our own review taking shape inside the Mini, a more compact version that's still able to take a full-sized ATX motherboard (though you do lose out to an SFX PSU.)
As well as rocking a striking design made up of steel, tempered glass, and aluminum, the HDD cage can be removed for a second PSU to be installed. Lian Li made sure to include plenty of cable management features, and you can easily create a clean PC with powerful hardware. Overall, the PC-O11 Dynamic is simply sublime, especially if you choose the Mini.
---
NZXT H210i
Best Mini-ITX tower pick
Reasons to buy
+
Gorgeous design
+
Compact size
+
Good airflow
+
Excellent cable management
NZXT makes some compelling PC cases, and the company has tried shaking the industry up with concepts like the NZXT H1, but for our Mini-ITX tower pick, it has to be the H210i. This small form factor chassis has plenty going for it, rivaling features found in larger cases. It's our favorite Mini-ITX case because of its exquisite design, expansion, and cable management. It's available in black, black and red, and black and white.
Because it only fits Mini-ITX motherboards, you'll only be able to use two PCI slots, but this should fit most GPUs considering the clearance available hits up to 325mm before you're going through the front panel. It may be a compact package, but NZXT managed to work in up to two front 140mm fans, a single 120mm on top, and another in the rear.
You could even get away with up to a 240mm radiator in front, 280mm up top, and 120mm in the rear. There are plenty of configuration options here, allowing you to utilize more than one AIO loop (one for the CPU and another for the GPU). There are also two dust filters, one in the front and another for the PSU intake.
The H210i is quiet, allows your components to run cool, and looks great. Throw in some RGB lighting you can control from within Windows 10 using NZXT CAM software, and you've got a winner. This is a sound option for anyone wanting to put together a Mini-ITX build that won't be housed inside a cube.
---
Best PC case for maximizing airflow
Specifications
Motherboard:
E-ATX, ATX, microATX, Mini-ITX
Radiators:
up to 280mm radiator
Reasons to buy
+
Minimalist design
+
Plenty of fans and radiator mounts
+
Excellent customization
+
Great airflow
+
Supports up to E-ATX motherboards
Reasons to avoid
-
Cable management
-
Awkward case feet
-
Colossal size
The be quiet! Silent Base 802 is the case to buy if you value noise dampening over all else. It's a subtle case that doesn't scream gaming and the focus on airflow and cooling makes it one of the best around if you want the lowest system temperatures. You can buy this case in black, black with a window, white, and white with a window.
This behemoth of a case supports motherboards up to E-ATX, has nine PCI slots on the rear for all your GPUs and expansion cards, and comes rocking plenty of 2.5 and 3.5-inch drive bays for an insane amount of storage space. The best part is the mesh front panel, which allows for a substantial amount of cool air to be sucked into the chassis.
be quiet! also made sure to include two dust filters to keep the insides clean, with one being on top and another on the front. I get the call that top-mounted dust filters are a little silly due to the top vents usually being used for exhaust, but this does help trap dust as it falls onto the case when not in use.
There's so much room inside the Silent Base 802 that you can easily put together a custom water-cooling loop, but even if you don't go down that route, the result will be a whisper-quiet PC build. It's pretty massive, so this case will only be suitable for you if you don't mind such a thing being located on or underneath your desk. Additionally, if you ask us, the version with the side panel window is well worth the additional $10.
---
Fractal Design Define 7
Best PC case for silent builds
Specifications
Motherboard:
E-ATX, ATX, microATX, Mini-ITX
Reasons to buy
+
Minimalist design
+
Plenty of fans and radiator mounts
+
Great airflow
+
Supports up to ATX motherboards
Reasons to avoid
-
A little too bland looking
Not everyone wants blinding RGB lights, nor do they desire a jet engine sitting next to their desk, which is precisely where the Fractal Design Define 7 comes into play. It's subtly designed with good use of steel, but some may find the look to be a little dated and somewhat dull. But as we mentioned before, this will be subjective.
Should you dig the design, you'll be greeted by quite the specification list. It may be mid-tower chassis, but you can cram up to six 2.5 or 3.5-inch drives inside, up to nine 120mm fans or some 140mm blowers, and some radiators to boot. I'm talking up to 360mm on the front, up to 360mm on top, 120mm on the rear, and up to 280mm on the bottom.
The GPU and CPU clearance is good enough for larger cards to be installed alongside beefy CPU air coolers. It's a rather spacious mid-tower case, allowing you to fit in plenty of kits. What sets the Define R6 apart from the competition is the sound dampening materials used. Even with this many fans installed, you'll barely hear any noise.
Even though the design may be a little understated, this Fractal Design case is ideal if you want a simple PC build that's easy to put together and barely makes a whisper once you're up and running. As a bonus: A fan controller is present that'll let you play with temperatures to get everything running just right.
---
Best value PC case
Specifications
Motherboard:
ATX, microATX, Mini-ITX
Reasons to buy
+
Gorgeous design
+
Plenty of fans and radiator mounts
+
Great airflow
+
Supports up to ATX motherboards
+
Cable management
The Lian Li Lancool 205 Mesh is a fine example of the company successfully branching out into the more affordable PC case segment. It's towards the higher reaches of the mid-range, but it's still an affordable PC case. Better still, it's an affordable PC case packed with that premium Lian Li style.
This mid-tower is capable of holding inside an ATX, Mini-ITX, or microATX motherboard. For cooling, you can install up to five 120mm fans or four 140mm fans (with one 120mm rear blower). Radiator support allows for the installation of up to two 280mm units. It's a mesh case with filters on the front, bottom, and top panels.
It's a clean-looking, yet highly functional case. You could throw inside a power-hungry Intel Core i9 or AMD Ryzen 9 processor and not have any cooling issues. So many times have we seen manufacturers try to stand out from the crowd by going for form over functionality. Thankfully, Lian Li knows how to make excellent cases.
---
Phanteks Eclipse P360A
Best budget PC case
Specifications
Motherboard:
E-ATX, ATX, microATX, Mini-ITX
Reasons to buy
+
Great design
+
Plenty of fans and radiator mounts
+
Great airflow
+
Supports up to E-ATX motherboards
Reasons to avoid
-
Some materials feel cheap
The Phanteks Eclipse P360A is a PC case that probably should cost more than it does. Whatever you're making, keeping something down to a budget usually involves cutting back, but it's hard to see just where Phanteks might have done that here to make this one of the best budget PC cases on the market.
The P360A is a mid-tower case with RGB, tempered glass, and support for large-scale builds that include E-ATX motherboards and 400mm GPUs. It supports up to five 120mm fans or, if you're going AIO, a 280mm front-mounted radiator. You get trays for two 2.5-inch SSDs included, with space for a third and a pair of 3.5-inch bays at the bottom.
Those are hidden behind the shroud, which is built into the case. This is probably one area Phanteks did manage to keep costs down by only having a 3/4 length glass panel and the PSU shroud just being the bottom of the case. But it works. Your build will look clean, your cables will all be well hidden, and you'll be left with a stunning build that didn't break the bank.
---
Best PC case for water cooling
Specifications
Motherboard:
E-ATX, ATX, microATX, Mini-ITX
Radiators:
up to 560mm radiator
Reasons to buy
+
Gorgeous unique design
+
Plenty of fans and radiator mounts
+
Great airflow
+
Supports up to E-ATX motherboards
+
Amazing water-cooling support
Reasons to avoid
-
Super heavy
-
Top panel isn't magnetic
-
Tricky cable management
You won't find another case that looks like the Thermaltake Tower 900, and it doesn't even cost a lot when considering its massive size. Up close, you'd be forgiven for thinking it was one of those claw machines you find in an arcade. However, if you're looking for a solid platform for a water-cooled behemoth, this case, which comes in black and white, is about as good as it gets.
If you're planning a particularly ambitious, water-cooled build, though, that size is perfect. The Tower 900 accepts up to E-ATX motherboards, over a dozen fans, and a pair of enormous 560mm radiators. The space inside is plentiful for pumps, reservoirs, pipes, and the layout of your dreams.
It's been around for a little while now; as such, you won't find USB-C on the front, nor anything newer than USB 3.0. And you will need a pretty sturdy place to keep it since on its own; it weighs 54 pounds (24.5kg). But in either black or white and trimmed with glass on three sides, this case is going to lead to one killer build.
This is the case to get if you want to build a custom water-cooling loop. And if you don't quite know where to start with a custom loop, we've put together a comprehensive PC water-cooling beginner's guide. That'll run you through all the parts you'll be able to cram inside the Tower 900 with plenty of room to spare.
---
Thermaltake Core P3
Best PC case as an open bench
Specifications
Motherboard:
ATX, microATX, Mini-ITX
Radiators:
up to 420mm radiator
Reasons to buy
+
Gorgeous unique design
+
Good fan and radiator mounts
+
Unmatched access to air
+
Supports up to ATX motherboards
+
Amazing water-cooling support
Reasons to avoid
-
Dust
-
Dust
-
Dust
-
Dust
-
Did I mention dust?
The Thermaltake Core P3 is something special. This open-air case is unique because it doesn't actually have front, top, bottom, or rear panels. The side panel is plastic and can be removed by unscrewing it from the main chassis. This provides unmatched access to your PC internals. It also creates quite the aesthetic. The Thermaltake Core P3 is available in black, white, and red.
Because everything is bolted onto the side of the Core P3, you're able to get away with up to a 420mm radiator for water-cooling builds (and this case screams out loud to have a custom loop build). You can only have three 120/140mm fans installed on the rad, limiting the airflow passing over the motherboard and other components.
Still, the barebones nature of the Core P3 makes it ideal for modders who want to push the boundaries of PC building or who prefer a blank canvas to work with. Being able to fit up to ATX motherboards is also a bonus, so too is the three-year warranty and steel construction. It's a sturdy case that can even be hung from your wall, because why not?
My favorite part of the case is how you can install a GPU vertically with the included bracket and PCIe riser card. This is completely optional but does provide additional support to even the heaviest, yet best graphics card. Overall, it's a dream to build a PC on.
---
Best PC case design
Specifications
Motherboard:
ATX, microATX, Mini-ITX
Reasons to buy
+
Gorgeous unique design
+
Excellent fan and radiator mounts
+
Great airflow
+
Supports up to ATX motherboards
Reasons to avoid
-
Some wonky cable management with certain builds
A good PC case needs to be an attractive chassis for you to build a PC inside, but it shouldn't come at a thermal performance cost. Thankfully, Corsair managed to score big on both fronts with the Corsair iCUE 5000X RGB. It's a case for those who want a great-looking foundation for a PC build without needing to go all out. It's available in black or white.
Because Corsair decided to throw in some side fan mounts, it's possible to install up to three radiators inside the iCUE 5000X RGB. Up to a 3600mm can be installed in the front, up top, or side, depending on preference. Up to three 120mm fans can be installed in all three locations, with a total of 10 fans (120mm).
The rest of this case is brilliant too. The tempered glass outer design is gorgeous, and so is the cable management and ability to install up to ATX motherboards. There's a two-year warranty just in case anything happens. You should be fine since this is a rather expensive case compared to other options in our round-up.
It's best suited for custom or AIO water cooling, thanks to the sheer amount of space available inside. If you like the look of the Corsair 1000D but don't have that much budget available for just the case alone, this Corsair chassis is worth considering.
---
Corsair Obsidian 1000D
Best enthusiast PC case
Specifications
Motherboard:
ATX, microATX, Mini-ITX
Radiators:
up to 480mm radiator
Reasons to buy
+
Gorgeous unique design
+
Excellent fan and radiator mounts
+
Great airflow
+
Supports up to ATX motherboards
+
Incredible internal space
Reasons to avoid
-
HUGE size
-
Overkill for most PC builds
-
No fans included
It's not often we come across a case that's more than large enough to house two PCs inside, and that's precisely what the Corsair Obsidian 1000D can do. You can build two separate computers inside, and I'm talking two motherboards, two PCUs, and more. It truly is a marvel of PC engineering.
And the insane specifications don't end there. You could (if you really wanted) install up to two 480mm radiators on the front, with a further 420mm radiator on the top, and a 240mm on the rear. Who requires that much cooling, you ask? Well, someone with two PCs inside a single chassis, of course!
Up to 10 120mm fans can be installed, as well as a further three 140mm blowers for the top-mounted radiator. The GPU clearance is good, too, coming in at a massive 400mm. However, there is a drawback to all this metal, space, and capabilities, and that's the weight. The Corsair Obsidian 1000D comes in at 29.5kg.
But, seriously, who could need a case that holds two PCs? Think of it this way. You could build a PC with plenty of space inside for airflow or go all-out with two PCs, one for gaming and another for streaming. There are plenty of scenarios where two computers make sense, and having them in a single box just makes it more user-friendly.
---
What about all other PC cases?
There are so many PC cases out there, so you will find plenty that takes to your liking. It's impossible for us to expand this guide to cover more PC cases and keep it updated with all the latest models. We feel this collection of PC cases reflects the very best available on the market.
We're regularly reviewing PC cases from various vendors. Should we come across new cases that deserve a spot in our best PC case collection, we'll consider replacing an existing listing or creating a new category altogether. PC cases come in all shapes and sizes, but the best part is (so long as you make sure everything fits) there's no wrong choice since it's all down to what you prefer your PC to look like.
What to look for in a new PC case
While you can technically choose any case you want for a PC build, it's best to bear a few important factors in mind. Here are a few things we like to consider when shopping for (and reviewing) PC cases:
Motherboard support.
Support for AIO and water-cooling radiators.
Front I/O.
Dimensions if you have tight desk space.
Effective cable management support.
Number of SSDs and HDDs that can be installed.
Dust filters.
Motherboard support is important if the case is the last part you're buying for a PC build. Larger PC cases like mid- and full-towers will be able to support all sizes of motherboards (ATX down to Mini-ITX), but smaller cases will likely only support Mini-ITX and microATX, so bear this in mind.
Not all cases offer support for AIO and custom water-loop radiators. Even if you can bolt a 360mm radiator to the inside of the chassis, does it allow you to mount a pump and provide enough space for the necessary tubing? Front I/O is a minor consideration since most cases come with USB 3.0 ports and audio jacks.
If you have a tight space where the PC will lay rest, dimensions will play a major part in your decision-making. And if you want the insides of your case to look neat and tidy, effective cable management is a must with grommets, ties, and other useful features. Finally, you're going to want to consider dust filtering to keep it clean and any SSDs or HDDs that need to be installed.
Our recommendations are a great place to start. We rounded up the very best PC cases for a variety of builds.
Get the Windows Central Newsletter
All the latest news, reviews, and guides for Windows and Xbox diehards.
Rich Edmonds was formerly a Senior Editor of PC hardware at Windows Central, covering everything related to PC components and NAS. He's been involved in technology for more than a decade and knows a thing or two about the magic inside a PC chassis. You can follow him on Twitter at @RichEdmonds.