Best Presentation Remotes for Windows PCs in 2022
What are the best wireless presentation remotes for PC? These are.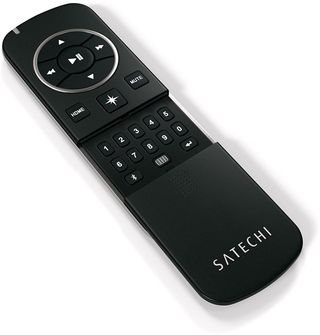 If you're giving a big presentation, the ability to move and interact more with your audience is incredibly valuable. If you have to awkwardly stand up behind your laptop the whole time, it's nowhere near as engaging.
You need a reliable presentation remote that connects easily and travels well. Here are our recommendations for the best options for PCs.
Satechi Bluetooth Smart Pointer
Why you can trust Windows Central Our expert reviewers spend hours testing and comparing products and services so you can choose the best for you. Find out more about how we test.
I work for a well-traveled magician on the side, and we never go anywhere without our Satechi Bluetooth Smart Pointers. He's gone through three brands, and Satechi has always stood out as the best. The remote connects via Bluetooth and has a fantastic range. (We've generally had great luck between 20 and 30 feet).
If you're clicking through a slideshow and need to go back to a specific slide, there's a handy number pad hidden behind a little slide-out door. If you enter the number of the slide, it'll go back for you, which is incredibly handy when music misfires for a magic trick and you need to try to recapture the wonder.
You can also control music playback, skip tracks and slides, and control the volume of your device, so you don't need to be anywhere near your computer to do what you need to. These remotes are $45 on Amazon and come in black or silver.
See at Amazon (opens in new tab)
Logitech R800
The Logitech R800 features a bright green laser pointer that's easy to see in any room, and the USB wireless receiver should allay any worries you might feel using a Bluetooth remote. With a 100-foot range, you're free to move about as you please without worrying about losing your connection.
The R800 has an LCD display that features a timer, which delivers silent vibrational alerts, so you can keep track of time without having to disengage from your audience. The large buttons are easy to navigate without having to look, and you'll get solid battery life from just two AAA batteries. Pricing starts around $50.
See at Amazon (opens in new tab)
Doosl
Doosl's presentation remote is a little thicker than a pen, but it'll still fit comfortably in your pocket, and its hook helps it stay in place so you always know where it is. It features a laser pointer, so you can get the whole room focused on what matters, and it has great page-up and page-down support, as well as play, pause, and black screen controls for PowerPoint presentations.
The universal receiver means you can just plug in and go — no driver or pairing is required. Just in case you forget to turn off your Doosl, it features auto standby and "deep sleep" modes to conserve battery. Pricing starts at only $15.
See at Amazon (opens in new tab)
Kensington K33374USA
Kensington's $30-ish wireless presenter is designed to be ergonomic, with a comfortable in-hand feel and a simple button layout that allows you to switch back and forth between slides and use the laser pointer without needing to constantly look down at your hand.
The mini USB receiver fits in the remote's housing, so it never gets lost, and you don't need to pair the remote with your computer or install a driver — just plug it in and away you go. The receiver has a 60-foot range, so you'll be able to move about the room with confidence, knowing you'll stay connected.
See at Amazon (opens in new tab)
DinoFire
Aside from its wicked cool name, the DinoFire presentation remote is an awesome, pen-sized device that uses an RF receiver to communicate with your computer. It can control PowerPoint, the whole iWork suite, Word, and Excel, so if you're giving any sort of business presentation, you're covered. And at only around $14, you can grab a couple for the road.
This remote runs on one AAA battery, and that's either convenient because you don't need to remember to charge it, or it's a little inconvenient because you can't just recharge it on the go. The RF receiver has a 98-foot range, so whether you're in a conference room or an auditorium, you're connected and in control.
See at Amazon (opens in new tab)
Beboncool
This wireless presentation remote features a USB receiver, a 39-foot range, and an excellent button layout for presentations where full engagement is key. The forward and back buttons are defined by raised bumps, so you know exactly which way your presentation is going at all times. There's also a blackout mode, so you can cut to black at the end or while you prepare your presentation.
For $15, this remote isn't exactly feature-rich, but according to its Amazon reviews (opens in new tab), it's reliable and a great minimalist option. It supports the Office suite, and it has a red laser pointer. And it takes one AAA battery.
See at Amazon (opens in new tab)
What say you?
Do you have a favorite presentation remote? Let us know in the comments below.
Updated February 2018: Added the Beboncool budget option and swapped in the Logitech R800 in place of the R400, since its LCD display is perfect for timed presentations and total control. Also added pricing for each remote.
Mike is a staff writer at Mobile Nations and fancies himself a musician and comedian. Keep dreaming, Mike.
Or just use your Windows phones. It just works.

Can you explain how did you do with your windows phone ?

Office Remote App. Works great.

No, it doesn't work so well in Windows 10 and Office 365. And sometimes I would need something easier to hold in the hand. Personally I would love to see the Surface stylus bluetooth button be able to do a back/foward in Word/PowerPoint

I've never had a problem with Win10 PC or Mobile. I could see how a 950xl would not be comfortable but the 950 works for me. I agree the Surface pen would feel more natural in the hand.

Sorry for the commercial, but we just released application called KeyPenX exactly for that: controlling PowerPoin from Surface Pen top button. Unlike similar applications and scripting solutions, KeyPenX can configure standard secondary actions, when PowerPoint is not running (OneNote etc), so you don't have to reconfigure Pen shortcuts after each presentation. You can try KeyPenX at: http://www.keywebx.com/keypenx/ Hope it helps.

Wireless Continuum doesn't just work.
It works some of the time.
You can't arrive at a board meeting and think you'll just miracast your presentation... Microsoft will embarrass you and hurt your bottom line.
Stick to a PC and a mouse. Is best.

I prefer the Logitech R700 as it has a display for visual checks. Plus cats prefer green lasers :D

Can the Satechi be used as a media remote with Win10 for things like Netflix and Groove? I've got a Kangaroo I take with me on my travels and would like to simplify use for when streaming music and movies...

I've used the Kensignton for years. The biggest advantage is you never have to look at it to find buttons. If you switch people presenting, you don't have to explain how it works. It's stupid simple. There's no Bluetooth pairing. The laser is bright enough. The dongle stores inside the presenter. The battery lasts 6 months to a year. The only feature it lacks is a mouse mode to allow you to click on things.

I have the Logitech model. Over the three years I have used it there are two concerns I Note. First, the battery door falls off easily. Second, the batteries themselves are hard to get out. It works well, but needs two AAA batteries and seems to burn them pretty quick.

For price and 'ease of use' I would agree the Office Remote works well. Alas, I don't have my 950XL anymore, but I do have it installed on my android phone. It's free, I can present slides and with the screen on the phone, it comes in handy to preview the slides and check in the notes. Because it is Office remote, I can even forgo a standard presentation and use it preview an Excel sheet - granted not something I've tried to interact with. And it even comes with a faux laser pointer effect, just in case you are missing your old pointers fix. The caveat - (1) you need to install on the host machine, then connect via bluetooth. Not necessarily ideal in every situation, especially if they aren't your machines. (2) hope no one calls during the presentation because I'm not sure if it would interupt the screen display on your phone. So, for something that works fairly well and is free, can view slide order and show notes in your hand so you don't have to read the screen, Office Remote gets my vote.

How come the article is dated "Feb 9, 2018" with comments from 2017? Also, Logitech Spotlight is not reviewed.
Windows Central Newsletter
Thank you for signing up to Windows Central. You will receive a verification email shortly.
There was a problem. Please refresh the page and try again.