Best PSU for Intel Core i9-12900K in 2022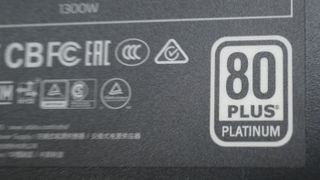 (Image credit: Rich Edmonds / Windows Central)
If you're looking to build a PC around the groundbreaking Intel Core i9-12900K CPU, you'll need a power supply to match the powerhouse chip. The i9-12900K has a 125W base TDP rating, up to 241W max, so you need plenty of power. We've found the best PSU for Intel Core i9-12900K processors to fit every budget.
Choosing the best PSU for Intel Core i9-12900K
Choosing a powerful processor like the Intel Core i9-12900K means considering the total power needed to keep everything running. With a base 125W TDP (thermal design power) rating running up to 241W max, it's a decent draw for the CPU alone. A 700W PSU will suit an i9-12900K build just fine, with the EVGA SuperNOVA P2 offering high efficiency and a fully modular design to avoid cable-related mayhem inside your case.
If high-end gaming is your aim, stick to 750W and above to power some of the best graphics cards in the PC scene. The be quiet! Dark Power Pro 12 can hit up to 1200W of incredibly efficient 80 Plus Titanium-rated power, ready for any GPU you decide to pair with the Core i9-12900K Alder Lake chip. Alternatively, stick to the budget end by using the onboard Intel UHD graphics 770, and the Thermaltake Smart 700W PSU will be perfect until you decide to upgrade.
Ben Wilson is a freelance writer working for Windows Central with technical expertise and a background in electronics retail. Fueling a technology and video game obsession with coffee, you can usually find him behind one screen or another.
Windows Central Newsletter
Get the best of Windows Central in in your inbox, every day!
Thank you for signing up to Windows Central. You will receive a verification email shortly.
There was a problem. Please refresh the page and try again.