Best routers for gaming 2022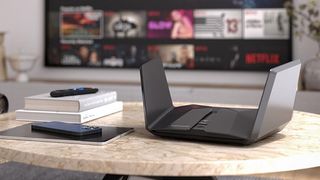 (Image credit: Netgear)
There's nothing worse than lag when you're playing games online, costing you the victory or even suffering disconnection penalties. If gaming is a hobby you take seriously, then it's time to ditch your dusty old router and upgrade to one of the best routers for gaming. This collection covers a range of budgets and specs to make sure you bag those critical wins.
Choosing the best gaming router
Routers designed for gaming will prioritize your multiplayer network traffic and maintain a lag-free experience, critical for enjoying your online play. Plenty of manufacturers claim to offer the best Wi-Fi routers, but the TP-Link Archer AX11000 is the best overall, specifically for gaming performance and value.
It was a close choice next to the Archer GX90 from TP-Link, but the value for money drops ever so slightly. If budgets aren't an issue, then certainly consider the Netgear Nighthawk RAXE500 to take advantage of the latest Wi-Fi 6E tech or the ASUS ROG Rapture GT-AC5300 to connect a broader collection of wired PCs and consoles with Ethernet cables.
Ben Wilson is a freelance writer working for Windows Central with technical expertise and a background in electronics retail. Fueling a technology and video game obsession with coffee, you can usually find him behind one screen or another.
Windows Central Newsletter
Get the best of Windows Central in in your inbox, every day!
Thank you for signing up to Windows Central. You will receive a verification email shortly.
There was a problem. Please refresh the page and try again.