Best AMD Radeon RX 6900 XT Graphics Cards (GPU) 2021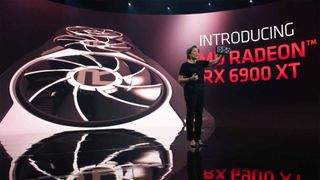 (Image credit: AMD)
The new AMD Radeon RX 6000 graphics cards (GPU) are in high demand for gamers who want serious performance, and there is so far none better than the RX 6900 XT. These cards compete with NVIDIA's RTX 30-series in our best graphics card collection, and just like the Team Green's hardware, these new AMD GPUs are almost impossible to find. That doesn't mean we can't round up the best AMD Radeon RX 6900 XT GPUs to track availability better.
XFX Speedster MERC319 RX 6900 XT
Black And White

These Speedster MERC319 cards from XFX might be the best-looking from this generation. The black shroud has silver accents, with some red on the side for the RX logo. It's a sturdy card with triple-fan cooling and a boost clock up to 2,340MHz. Best part? It's one of the most affordable RX 6900 XT cards out there when it's in stock.
(opens in new tab)
Sapphire Nitro+ RX 6900 XT
Long-Time Favorite

Sapphire and AMD have a long history, and the Nitro+ RX 6900 XT is a top option if you don't mind paying a bit more. Its silver and black shroud has some angled sides and RGB lighting, along with three fans for excellent cooling. The card has a boost clock up to 2,285MHz and a game clock at 2,050MHz.
(opens in new tab)
ASUS TUF Gaming RX 6900 XT
Understated Design

The TUF Gaming line from ASUS is a popular option for anyone who wants a competitive price and sturdy build. This RX 6900 XT has a three-fan design with a full metal backplate with vents for better cooling. It has a boost clock speed up to 2,340MHz in OC mode, dropping down to just a 2,310MHz boost in regular gaming mode.
(opens in new tab)
PowerColor Red Devil RX 6900 XT
Red And Black

PowerColor's RX 6900 XT brings a triple-fan design and robust cooling, a full backplate, and RGB lighting on the bottom, sides, and top for extra style. It brings an OC boost clock up to 2,340MHz with a 2,250MHz clock in silent mode. This card is also available at a competitive price between reference cards and other third-party options.
(opens in new tab)
ASRock Phantom Gaming RX 6900 XT
Stand Out

The ASRock Phantom Gaming version of the RX 6900 XT is on the expensive side, but it does stand out more than any other card, thanks to RGB lighting throughout, including the middle fan. A full backplate adds much-needed rigidity, and it has a boost clock up to 2,340MHz with a core clock sitting at 1,925MHz.
(opens in new tab)
Reference Design

If you're in love with the reference design of the RX 6900 XT chunky black, grey, and silver), Gigabyte's version is a popular option. It's understated with just a bit of RGB on the side for the Radeon logo, and it's sturdy, thanks to the full shroud. It hits a boost clock of 2,250MHz and a base clock of 2,015MHz.
If we're making some suggestions
Stock shortages have been persistent since the release of AMD's RX 6000 GPUs, and the RX 6900 XT is sold out practically everywhere. There are a bunch available at obscene prices, but those are posted by scalpers and are best avoided unless you absolutely need a new card today. Our guide on where to buy AMD Radeon RX 6000 GPUs has more information on when and where to find the cards.
If we're making some suggestions, in stock or not, the XFX Speedster MERC319 RX 6900 XT (opens in new tab) is perhaps the best looking card out there, available at a lower price compared to plenty of the third-party options. The black and white design should fit in with most cases out there, and its three fans help keep it cool under load. It manages a boost clock up to 2,340MHz, and the core clock hits 1,925MHz. Have a bit more room in your budget? The Sapphire Nitro+ RX 6900 XT (opens in new tab) is a reliable option that's built well and able to deliver a high-end gaming experience.
Those who don't quite need the RX 6900 XT performance but still want to stick with AMD can check out our best AMD Radeon RX 6800 graphics cards roundup for more options.
Cale Hunt is a Senior Editor at Windows Central. He focuses mainly on laptop reviews, news, and accessory coverage. He's been reviewing laptops and accessories full time since 2016, with hundreds of reviews published for Windows Central. He is an avid PC gamer and multi-platform user, and spends most of his time either tinkering with or writing about tech.
Windows Central Newsletter
Get the best of Windows Central in in your inbox, every day!
Thank you for signing up to Windows Central. You will receive a verification email shortly.
There was a problem. Please refresh the page and try again.