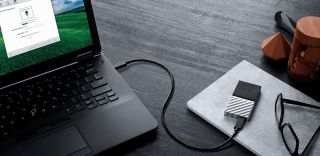 (Image credit: Western Digital)
The biggest frustration with electronics is running out of space almost as soon as you get it out of the box. Even 1TB of internal storage doesn't cut it these days. A solid-state drive (SSD) is designed to easily increase your device storage. Our guide gives you a few options, both internal and external, to mull over before you buy. Our top pick is the SanDisk Extreme Portable SSD (opens in new tab). It's fast, compact, and both water and fall-resistant making it an easy choice to take anywhere. It's also compatible with several devices, including cameras, game systems, and tablets.
Best Overall: SanDisk Extreme Portable SSD
SanDisk Extreme Portable SSD
Pocket sized power
Reasons to buy
+
Compatible with most devices
+
Shock and water-resistant
+
Compact and portable
+
Impressive read speeds
Reasons to avoid
-
Not as fast as internal SSDs
The SanDisk SSD drive is compact and designed to clip on a backpack to easily take anywhere. It comes with storage space ranging from 250GB to 2TB and is compatible with both PCs and Macs. Plus, the entire drive is encased with a coating that makes it both shock absorbent and water-resistant. What sets the SanDisk apart from other SSD drives is it's compatible with several devices including cameras and game consoles.
For a portable SSD, the SanDisk has an impressive read speed of 550MB/s. This is much slower than an internal drive, however, which can boast speeds of over 1000MB/s. However, the SanDisk is much more versatile than an internal SSD drive.
Best Value: WD My Passport External SSD
WD My Passport External SSD
Cheaper than the rest
Reasons to buy
+
Budget-friendly
+
Shock absorbant
+
Decent read speeds
Reasons to avoid
-
Connected USB cord
-
Short cord
The Western Digital (WD) My Passport SSD drive is designed to connect and work with your PC from the outside. It has read speeds of over 400MB/s and doesn't cost as much as other portable drives we looked at. The smallest SSD WD offers is 500GB, but it also has a 2TB drive available. The outside shell is designed to absorb shock if it is accidentally dropped.
The biggest complaint from users who have bought this WD external drive is the USB 2/3 lead cord length. A lot of people are frustrated with how short it is, which doesn't allow them to more easily position the drive out of their way while working. Also, because the cord is always attached to the drive, it makes this SSD bulkier to put away. There is also a risk of not being able to use the drive at all if the cord breaks.
Best Internal SSD: Samsung 970 EVO Plus
Samsung 970 EVO Plus
Plug it in and forget about it
Reasons to buy
+
1TB of storage
+
Fast read and write speeds
Reasons to avoid
-
M.2 slot required
-
Not portable
This internal SSD drive simply slips into place and gives 1TB of additional space, though you can choose drives with as much as 2TB or a little as 250GB. The Samsung 970 EVO Plus reads and writes with impressive speeds, 3500 MB/s and 3300 MB/s, respectively. It's also very secure using AES 256-bit encryption, which is the same level used for securing financial institutions and military data. Samsung includes a five-year warranty with this SSD storage drive.
Because this is an internal SSD drive, an M.2 slot is required. While most newer computers and notebooks have this extra slot on the motherboard, you should double-check to make sure your device does before purchasing.
Best for Gaming: Samsung T5 Portable SSD
Samsung T5 Portable SSD
Storage to save game progress
Reasons to buy
+
Compatible with XBOX
+
Compact
+
Portable
Reasons to avoid
-
Slower read speeds than internal drives
The Samsung T5 portable drive is compatible with most gaming systems, including XBOX. Plugging this drive into your console gives you 1TB of storage to save multiple games and transport saved data to other consoles. The T5 has other drives available up to 2TB for even more space for more gaming data. This Samsung portable SSD is compatible with computers, too, so it isn't solely a gaming drive.
Because it is an external drive, the T5 doesn't have the same speed as an internal SSD. However, this Samsung portable drive has a read speed of 540 MB/s, which is fast for an external storage device.
Bottom line
The SanDisk Extreme Portable SSD (opens in new tab) drive is designed to go anywhere and withstand anything. It's encased to absorb shock if it is accidentally dropped and is water-resistant, so you can connect it to a camera or other outdoor devices and not worry about a little rain. The SanDisk is the most versatile SSD we looked at because it is compatible with so many devices, including tablets and game consoles. It has read speeds of 550MB/s, the highest of any external drive on our list while remaining compact enough to easily pop into your backpack or slip into your pocket. It's designed to hook onto your backpack or key ring using a carabiner clip.
If you are looking for a way to increase your PC's storage and don't want to mess with lugging an external drive around, we suggest the Samsung 970 EVO Plus drive. This internal SSD requires an M.2 slot in your computer's motherboard to work. Once plugged in you don't have to worry about ever removing it and enjoy read speeds that are early six times faster than any external drive.
Nicole writes for multiple Future Publishing brands covering topics from antivirus to kitchen appliances to SAS. She has over 15 years of research and writing experience, including eight years of testing and reviewing consumer products. Nicole earned bachelor's degrees in both English and Political Science with a focus on empirical research. In her spare time, Nicole serves as a member of several school councils and volunteers for a local arts board.
Windows Central Newsletter
Get the best of Windows Central in in your inbox, every day!
Thank you for signing up to Windows Central. You will receive a verification email shortly.
There was a problem. Please refresh the page and try again.