Best Storage and Mounting Options for Oculus Rift of 2017
When Rift isn't on your face, it takes up a lot of space on your desk.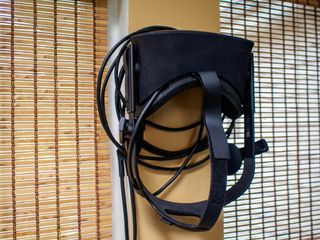 Since you can't really use its sensors as a convenient holding mechanism for Oculus Rift, a lot of folks look for ways to store the headset and Touch controllers when they're not in use. The hybrid fresnel lenses are precious, the fabric is difficult to clean, and you just spent a lot of money on these motion controllers. You need to take care of everything, and for most people that means finding some way to store or keep it all off of your desk. The good news is that there are several great options, and we've got them all right here for you.
Mount everything on your wall
Why you can trust Windows Central Our expert reviewers spend hours testing and comparing products and services so you can choose the best for you. Find out more about how we test.
This particular hook has been 3D printed thanks to a clever design discovered on Thingiverse, but any broad hook that you can rest the nosepiece on will do just fine. The important thing here is being able to hold the headset with the lenses down so dust doesn't ever lay on the lenses, and keeps the cable neatly wound around the headset. This solution is perfect if you know you're going to be regularly using Rift but don't always want or need the headset connected to your PC.
While you're on the 3D printing run, you can also print an Xbox controller and Oculus remote mount, Touch controller mounts, and even sensor mounts for your walls if you're looking at a room-scale setup.
If you don't have a 3D printer to create your own mounting solutions, you can always grab some OdiySurveil mounting brackets from Amazon. Each costs about $7 and make great semi-permanent mounts that you can easily screw your sensor onto or off of when you're taking your Rift on the road.
Furthermore, if you'd like to keep everything in the same spot on your wall, Rubbermaid makes a rail and hook system that can be used to hang up pretty much anything, including your Rift headset and Touch controllers. It starts at about $46, but although it's more expensive than other options, it is something that will last.
A portable solution to Rift sensor mounting
No, this isn't exactly a storage option, but it definitely deserves mention. Drilling holes in your walls to mount your Rift sensors is one thing, but what about if you often move around with your setup? Hyperkin makes an awesome sensor clamp mount that gives you those extra options if you don't have enough flat surfaces or high enough surfaces in your VR room.
Just screw your sensor on the threaded mount, clamp it to something nearby, and use the ball joint swivel to set the view just right. For one clamp, expect to pay about $16.
Hang your Touch controllers with The Anchor
If the Touch controllers seem a little out of place on your wall, you can mount them instead under your desk or on the bottom of a shelf next to your VR space. The Anchor (about $11) from ElevationLab is designed for headphones, but its dual-hook system is perfect for both of your Touch controllers.
It sticks to pretty much any flat surface with 3M adhesive, so you can be sure your Touch controllers are safe as they hang out of sight.
The Box Conversion
One of the more amazing things Oculus did with Rift shipments is package the headset in an ultra-convenient travel case. If you haven't thrown away your Oculus Rift box, a quick notch out of the back will let you store the headset even while it is connected to your PC, which means it's protected from everything and ready to use at a moment's notice. This solution only works if you have a space near your desk for the box to sit, but it's sturdy enough that you can set the box pretty much anywhere.
It's also guaranteed to keep the sun away from the Rift's lenses; some users have seen burn marks where the sun's rays were focused for too long. As a bonus, you can grab a 50-pack of desiccant dehumidifying packs from Amazon (about $10) and toss them in there with the Rift to ensure no moisture stays on the headset after a lengthy play session.
IKEA to the Rescue
If you've already trashed your Rift box, or you find it a little too large for your needs, IKEA sells a shoe box with a mesh siding that your Rift fits perfectly inside. The SKUBB box will protect your headset from dust and dings, and seeing the high-tech headset through the mesh is a neat feature in your VR space.
When not in use, the shoe box folds down flat just by opening a zipper on the bottom. Like everything IKEA, the SKUBB describes a whole bunch of different boxes, so make sure you're grabbing the size that fits your needs! A four-pack of these boxes starts at about $8.
Show off your gear
If you'd like to show off your Oculus Rift headset and Touch controllers, there are some elegant solutions available for relatively cheap.
Snakebyte makes a storage stand that vaguely resembles a mannequin's head (about $30) for your headset, effectively helping keep dust and sunlight off your lenses. It's heavy enough that it won't tip over, but it's also easily moved when you redecorate.
Likewise, your Touch controllers can be shown off with this stand from TreeCloud (about $39). It's built specifically for these controllers and will keep them upright at all times thanks to a smart, minimalistic design. If a mannequin's head isn't up your alley, TreeCloud also makes a Rift headset stand (about $39) to match.
More resources
What are you doing to store your Oculus Rift when it's not delivering entirely surreal VR experiences? Sound off in the comments! Also, be sure to have a look at our Rift accessory guide and our ultimate guide for far more information.
See our Oculus Rift Ultimate Guide
Updated December 26, 2017: We've refreshed this list to ensure you're still getting the absolute best mounting and storage options for your Oculus Rift.
Get the Windows Central Newsletter
All the latest news, reviews, and guides for Windows and Xbox diehards.
Senior Editor, Laptop Reviews
Cale Hunt is formerly a Senior Editor at Windows Central. He focuses mainly on laptop reviews, news, and accessory coverage. He's been reviewing laptops and accessories full-time since 2016, with hundreds of reviews published for Windows Central. He is an avid PC gamer and multi-platform user, and spends most of his time either tinkering with or writing about tech.