Best Tempered Glass Screen Protectors for Surface Book and Surface Book 2 in 2022
Protect your Surface Book 2's screen from scratches and dings.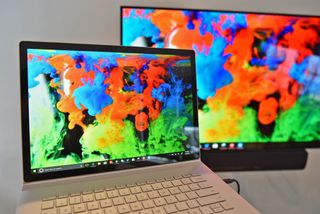 (Image credit: Windows Central)
Tempered glass is four times harder than regular glass, so using it as a screen protector for your Surface Book or Surface Book 2 seems like a no brainer. If you're wondering where to start, I've rounded up the best of the best right here.
See Surface Book 2 at Microsoft (opens in new tab)
Megoo
Why you can trust Windows Central Our expert reviewers spend hours testing and comparing products and services so you can choose the best for you. Find out more about how we test.
Megoo's tempered glass screen protector (from about $23) (opens in new tab) comes with everything you need for bubble-free application, and the protector has cutouts for the speakers, microphone, and IR camera.
It's so thin you'll hardly be able to tell it's there, and an oleophobic coating will cut down on smudges and smears from your fingers. There are options for the 13.5-inch and 15-inch Surface Book models, so be sure to select the right one at checkout.
See at Amazon (opens in new tab)
ZAGG InvisibleShield
If you plan on keeping your Surface Book or Surface Book 2 around for awhile, this screen protector from ZAGG (about $65) (opens in new tab) comes with a limited lifetime warranty. If you break it, ZAGG will send you a new one as well as a return envelope for the old one.
It repels the oil from your fingers to cut down on smudges, and it comes with the tools needed for a bubble-free installation. Note that this works with 13.5-inch models only.
See at Amazon (opens in new tab)
Spigen
Compatible with the 13.5-inch Surface Book and Surface Book 2, Spigen's tempered glass protector (about $15) (opens in new tab) is a cheaper option that nevertheless has cutouts for the webcam and speakers.
There's an oleophobic coating to reduce fingerprints, and everything needed for a bubble-free installation is included in the kit. It also comes with a lifetime replacement warranty; if you break it, Spigen will send you a new one without a hassle.
See at Amazon (opens in new tab)
More resources
Updated June 12, 2018: I've refreshed this list to ensure these are still the best tempered glass screen protectors for both Surface Book and Surface Book 2.
Mike is a staff writer at Mobile Nations and fancies himself a musician and comedian. Keep dreaming, Mike.
Never understood screen protectors. Seems like wasted money.

Glass screen protectors act as cushion when dropped. They work very well.

Yup, was a life-saver for my 950XL a few mths ago, when a sales rep dropped it while trying to install a new SIM. Protector was demolished completely in a certain area, that same area (& everywhere else) was fine on the actual display. Plus, it actually felt waaay better, not sure why but usability def. improved (tempered glass screen protector). And I swear even the display clarity/IQ improved just a tad, though it could've been a placebo effect... Before that I was always quite skeptical of screen protectors, more that I found them so tedious to apply, so they just sat unused. For larger devices like SP & SB not sure I'd bother, bought 1 for my SP3 yrs ago (phantom glass), still haven't put-it-on!

I agree with lippidp, plus I use take notes and draw with my pen

While I haven't used one of these on my SP2 or SP3, I do use the Skinomi TechGlass on my L950 and my Kindle. The TechGlass, in my experience, provides a more slick surface than the device glass, resulting in a better overall touch experience. Plus being oleophobic I am far less likely to need to regularly clean the glass surface. I am not one to put my devices in cases or add unnecessary elements to them, I am quite particular about that - I am also rather careful with the devices and haven't yet broken one, but I am glad I have chosen to use the Skinomi TechGlass as it has prevented my 950 screen from getting scratched once. The glass screen protector hasn't gotten the way of use of any of my devices. While I probably wouldn't add one to any of my Surfaces, on smaller devices, that are more likely to get high volume mobile use and more prone to an accident, I wouldn't think twice about spending the money on one of these - they are worth it.

I wish. My 950's have no issue with the tech glass. The 950xl is a different story. They will not seal at the corners. I've tried a couple and have decided that the screen obviously has a slight drop on corners :-(

Glass screen protectors are now a must for me. I only started using it recently. I have it on a 950 and Surface 3. I dropped my 950 from a lifted truck on concrete and watched it hit face down. The protector got cracked on a couple corners. Took it off, and the device screen is good as new. As for my Surface 3, writing on it with the pen seems much better as it does feel more slippery.. Posted via the Windows Central App for Android

I have to agree with you on writing on the surface 3. It feels so much better with it on and almost seems like a writing with much more ease on it.

Can't see adding these to my SP4 but I use Skinomi's screen protector for my L920.

I have IQ Shield on mine. Works flawlessly, no bubbles or lifted corners.

Unless u walk around a lot with clip board or draw mode, in a factory, on location etc., no need for a screen protector.
Windows Central Newsletter
Thank you for signing up to Windows Central. You will receive a verification email shortly.
There was a problem. Please refresh the page and try again.