Best Thermaltake PC cases 2022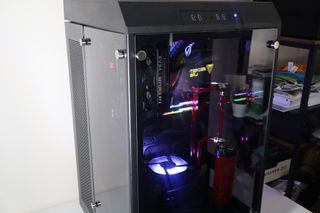 (Image credit: Rich Edmonds / Windows Central)
When it comes to the best Thermaltake PC cases, there's a lot to choose from. But only a few of them offer the right combination of size, customization, and affordability that make them an incredible choice for your next PC build. Cases like the Thermaltake Core P3 or even the Thermaltake S100 offer the kinds of things you'd only get in more expensive cases for a fraction of the price.
Best overall: Thermaltake Core P3
Why you can trust Windows Central Our expert reviewers spend hours testing and comparing products and services so you can choose the best for you. Find out more about how we test.
Thermaltake Core P3
A sleek case that shows off your PC components
Reasons to buy
+
A sleek-looking open design
+
Wall-mountable
+
Strong cable management options
Reasons to avoid
-
Likely a dust magnet
-
Doesn't support case fans at all
-
Big radiators can block drive bays
Whether you're an experienced PC builder or a new one, the best Thermaltake PC case to look at is the Thermaltake Core P3. This case comes in either black or white and looks smooth even without any PC components. It's a case designed for looks but with strong usability too. It's the kind of case you won't have to fuss with, and you'll be able to look at it to admire your pretty build.
The Thermaltake Core P3 rivals some of the best PC cases out there. Its open-air design makes it so you don't have to spend extra on cooling fans. Plus, it's built to show off your components, which could be a boon for anyone deep into RGB. The case supports all three types of motherboards too, so there's no worry about it not working with your system. And with GPUs looking a lot more fancy these days, the case's mounting system can help you show that off.
Although the case may become a dust magnet if you live in an area particularly prone to that. It's not a big downside considering you can keep all of your cables out of the way and nearly invisible. A little maintenance for a clean look is more than worth it, especially when you'd be doing that with any other case anyway.
Best value: Thermaltake S100
Thermaltake S100
An affordable case for enthusiast PC builders
Reasons to buy
+
Comes in stylish black or white
+
Lots of cable management room
+
Magnetic dust filters
Reasons to avoid
-
Doesn't support full ATX motherboards
-
Only one USB 3.0 port
-
Heavy
The best Thermaltake PC case for someone budget-minded is easily the S100. While the company does have cheaper options, the additions in this case put it at the top if you're willing to spend around $20 more. The case is small, but comes with the kind of additions you'll want for handling any maintenance or upgrades in the future.
The Thermaltake S100 looks great and comes with a lot of room for anyone with a spacious build. It even has a cover for the PSU that can also hide your cables should you want to make it as tidy as possible. But what really makes this case the best is it has magnetic dust filters, a glass door, and the overall discreet look. These are the kind of things that you'll thank yourself for investing in when it comes to having to tinker with your case later. It's the rare PC case where if you spend just a tiny bit more, you'll see no reason to replace it should an upgrade ever come up.
Best mini-ITX case: Thermaltake Core V1
Thermaltake Core V1
A smart choice for mini-ITX PC builders.
Reasons to buy
+
Affordable price
+
A lot of room for a small size
+
Removable drive bays and floor
Reasons to avoid
-
Limited cooling options
-
Not particularly sleek-looking
If you're someone looking to make a compact PC, the best Thermaltake PC case is the Thermaltake Core V1. This thing might not look super pretty, but it locks everything in like Tetris blocks if done right. With some tinkering, you can get this case outfitted to hold in a lot of power.
The Thermaltake Core V1 offers a lot for its price too. It has enough room for the current market's massive GPUs, room for a 140mm CPU cooler, and an included 200mm fan. The best part? You can easily get to all of that with easy-to-remove side panels. This is a case that won't let you down if you're trying to keep everything discreet.
Best premium: Thermaltake View 91
Thermaltake View 91
A powerful case for a price
Reasons to buy
+
Massive interior space
+
Supports up to 20 fans
+
Ideal for dual-CPU or dual-GPU builds
Reasons to avoid
-
Very expensive
-
Plastic panels
If you have the cash, the best Thermaltake PC case for people who want to throw everything at it is the Thermaltake View 91. This case has enough room for 20 fans and four radiators. You could probably fit a second case inside of it. It's what lots of money can buy you, and thankfully it's actually good.
The Thermaltake View 91 is made for people who want to run multi-CPU or multi-GPU builds with extensive water cooling. It's for the person that doesn't want to be limited by their case. It has a tool-less design, removable drive cages, and three tempered glass walls. This case has it all when you need it all.
Best unique case: Thermaltake AH T600
Thermaltake AH T600
A killer-looking case that works great too
Reasons to buy
+
It looks like a helicopter
+
Big glass side panels
+
Potentially a dust magnet
Reasons to avoid
-
Doesn't look very subtle
-
Cooling can be hit or miss
-
Pricey
If you were looking for the best Thermaltake PC case to look the most threatening, you should be eyeing the Thermaltake AH T600. This thing looks like it'd chase you at five stars in Grand Theft Auto. It's a completely unique case that is hard to stop looking at. It's also a solid case for practical reasons too.
The Thermaltake AH T200 comes in black, pink, and white, but none of the colors change the fact that it looks like a helicopter that's going to take you out. Aside from the looks though, the case has two tempered glass panels, a modular design, and a good set of ports on its front I/O panel.
Best RGB mid-tower case: Thermaltake Level 20 MT
Thermaltake Level 20 MT
A solid mid-tower case with a bit of RGB.
Reasons to buy
+
Three pre-installed RGB fans
+
Spacious inside
+
Side dust filters
Reasons to avoid
-
No front dust filter
-
Light, cheap design
If you're looking for a mid-tower case that has a little bit of extra RGB, look no further than the Thermaltake Level 20 MT. This case is a bit cheaper than the company's other models, but still offers a great design for anyone looking for a modest PC build. The case itself comes with three RGB fans and a controller so you can sync the lighting together. It also has a glass panel on the side if you want to see all of your components light up.
The Thermaltake Level 20 MT lacks an air filter on the front like some of its brothers, but it maintains an accommodating interior that should fit up to 10 120mm fans, and two radiators. Overall, it's a pretty standard case that might save you a bit of money when it comes to RGB fans. If you need something that'll get the job done, the Thermaltake Level 20 MT is the best Thermaltake PC case for you.
Best water-cooled case: Thermaltake Tower 900
Thermaltake Tower 900
A massive case fit for water-cooling needs.
Reasons to buy
+
Huge internal space
+
Great thermals
+
Glass panels
Reasons to avoid
-
Bulky
-
Tricky cable management
The Thermaltake Tower 900 is an incredible case for water-cooling performance. It has a giant amount of inside space, glass panels, and supports for up to 480mm and 560mm radiators. We also found it has fantastic thermal performance in our review.
The Thermaltake Tower 900 is a bit wonky to use, and can be a fairly bulky case compared to others. But if you're looking for something that specifically supports all of the necessary space for water-cooling loops, this is it.
Bottom line
When it comes down to the overall best Thermaltake PC case, it's easily the Thermaltake Core P3. It's a case that might not have it all compared to the other cases in this guide, but it has exactly what you'd want for a standard PC build. Thermaltake did an outstanding job in terms of aesthetics and build quality.
Even when you compare it to other modern PC cases, the Thermaltake Core P3 stands tall. It's simply the case to get if you don't have extravagant needs.
Get the Windows Central Newsletter
All the latest news, reviews, and guides for Windows and Xbox diehards.
Tyler Colp is a freelance writer for Windows Central. He's written about tech, games, and the culture around them across the internet. Ask him anything about Dark Souls or just follow him on Twitter.