Best Webcams for Twitch in 2022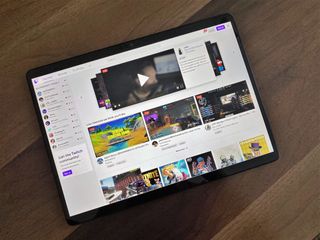 (Image credit: Windows Central)
When it comes to webcams, there are tons of options out there from which people can choose. If you're a streamer, the choices become even more complicated, as broadcasters might be looking at a few different criteria, and with so many webcams to choose from, it can be tough to narrow down the choices. With that in mind, we've rounded up some of our favorite webcams for streaming on Twitch.
Due to current world events, item listings may come and go, depending on stock levels.
Logitech StreamCam
Best overall

Logitech's StreamCam is the top of the line webcam option for those looking to start streaming. With a 1080p/60 FPS resolution and excellent low-light quality, it's hard to find a better option. Not only does the camera sport some superb quality, but it's also easy to use, and comes with the ability to rotate from Portrait to Landscape mode by just turning the camera, which could be incredibly useful for streamers.
Logitech C922 HD Pro
A close second

The Logitech C922 HD Pro is probably the second-best option when it comes to streaming webcams. It's a more enhanced version of the C922, and sports a 1080p/30 FPS recording resolution while also equipped with dual microphones. At just $100, it also represents likely one of the best value options you'll find on the market.
Elgato Facecam
Built for streamers

Elgato is a streaming-focused brand, so it's no wonder that its first product in this category is aimed at content creators. The Facecam has a Sony Starvis camera sensor that's ideal for streaming; it works exceedingly well in low-light situations, giving it a distinct edge. The camera uses a fixed-focus lens to ensure you're always in focus, and Elgato's software gives you granular control over ISO levels, white balance, field-of-view and more. In short, the Facecam is a high-quality option that's fantastic for streamers.
Logitech C310
A solid contender

The Logitech C310 is another reliable, affordable option for those just looking to dive into streaming. It offers 720p resolution with 30 FPS, and has a fairly compact and minimalistic design so that it won't take up much space either. Best yet, at just around $50, this marks one of the most affordable, yet still viable options at webcam for any streamer.
Razer Kiyo
A bright light

The Kiyo is part of Razer's streamer certified range, and it has one essential feature: a big ring light on the front. If you don't have a huge studio or place to record, the Kiyo can solve the issue of being seen while you're broadcasting, with a simple twist adjusting the brightness. This key feature boosts the Kiyo above some of its competition, and with its support of 1080p resolution at either 30 FPS or 60 FPS, this could be an excellent fit for any streamer.
Logitech C615
A budget buy

Logitech's C615 manages to deliver some fairly nice features into a surprisingly affordable package. Although its live video capabilities are capped at just 720p, the differences might not be so noticeable for most, and with it being priced at just $70, it's a perfect companion for any streamer looking to make their first jump into the hobby.
Logitech BRIO
The highest standard

4K isn't the standard across the board just yet, but Logitech still has folks who want it covered. The Logitech BRIO is going to deliver the greatest looks on a webcam by far, packing a 4K display resolution into its small frame. The BRIO also supports 4K recording resolutions at 30 FPS, which makes it one of the best buys a streamer could make. Be aware, however, that the BRIO comes at a premium price, and might not be made for a beginner.
Which should you choose?
Thankfully for streamers looking to pick up some quality cameras, there's a lot to choose from. Our best pick, the Logitech StreamCam, is perfect for people who want to broadcast games, as it's high-quality image and ability to swap between Portrait and Landscape offer an easy for streamers to manage their look on the fly. It also supports up to 1080p, as well as both 30 FPS and 60 FPS, so you'll look crystal clear for all your followers.
If you're looking for a more premium product, the Logitech BRIO is hard to deny. Not only does it support 4K in both recording and display resolution, but it offers some incredible performance in the low-light and white balance departments. It might be the best webcam out right now, but it does come at a price, which might drive away some.
On the more affordable side, the Razer Kiyo is built with streamers in mind, as it comes with a built-in lighting ring that users can adjust easily. If you don't have a huge studio or place to record, this could be just the thing for you. Finally, Elgato's Facecam is a solid alternative that excels in low-light situations, and you get a ton of customizability.
No matter what you end up picking up in the webcam department, just knowing there are so many options is a great tool. Whether you're ready to pounce on the most premium camera or just looking for something to get you started, there's a ton of options.
Anthony Nash has been writing about games and the gaming industry for nearly a decade. When he's not writing about games, he's usually playing them. You can find him on Twitter talking about games or sports at @_anthonynash.
Windows Central Newsletter
Get the best of Windows Central in in your inbox, every day!
Thank you for signing up to Windows Central. You will receive a verification email shortly.
There was a problem. Please refresh the page and try again.