Best Xbox One, Series X, Series S Online Co-op Games 2020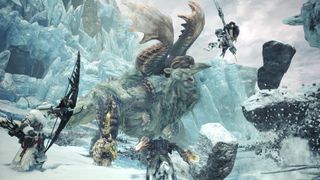 (Image credit: Capcom)
Taking down big bosses in games solo is fun, but overcoming the odds with friends in online co-op is even better. With the advent of the internet, we can enjoy co-operative gaming with friends worldwide, no matter where they are. So, we have put together a list of some online co-op games that represent the genre in our best Xbox One games and best Xbox Series X, Series S games roundups. Indeed, note that all Xbox One games can work for Xbox Series X and Xbox Series S via backwards compatibility, save for Kinect-only titles.
Featured Favourite
(opens in new tab)
Monster Hunter World: Iceborne
Following up on Capcom's Action RPG juggernaut, Monster Hunter World, comes Monster Hunter World: Iceborne. The Research Commission has tasked you to journey to the Hinterlands region to investigate what has caused the New World's ecosystem to be thrown into chaos. This massive expansion has new areas to explore, new gear to grab, and new monsters to hunt alone or in 4-player hunting parties online.
Top picks
Why you can trust Windows Central Our expert reviewers spend hours testing and comparing products and services so you can choose the best for you. Find out more about how we test.
There are so many games out there to enjoy with friends and family via the internet. Here are some of our top picks.
Monster Hunter World was already an amazing game, jam-packed with seemingly bottomless amounts of content. Monster Hunter World: Iceborne (opens in new tab) somehow manages to improve everything the previous game did. A wider variety of new, challenging monsters to hunt, new moves for your weapon classes to pull off stunts previously thought only possible through cinematic cutscenes, and a metric ton of cool looking armor and weapons to grind for and show off to your friends. There is a good reason why this became Capcom's best-selling game of all time.
Streets of Rage 4's (opens in new tab) announcement stirred the hearts of those who grew up on the Sega Genesis, thinking this was too good to be true. Thankfully with its tight combat system, quality of life improvements, gorgeous hand-drawn visuals, and addictive soundtrack. Not only did it live up to the original Streets of Rage trilogy, but it also excelled, bringing in a new generation of fans itching to beat up bad guys.
Remnant: From the Ashes (opens in new tab) is an under-appreciated gem that captures the essence of Souls-like games while being accessible enough to attract newcomers to the challenging sub-genre. It has a massive, desolate world to explore, terrifying monsters to slay, and immensely fun weapons to craft from their remains or find in the world.
Windows Central Newsletter
Get the best of Windows Central in in your inbox, every day!
Alexander Cope is a writer for Windows Central and iMore that has been gaming since the 16-bit era.
Windows Central Newsletter
Thank you for signing up to Windows Central. You will receive a verification email shortly.
There was a problem. Please refresh the page and try again.