Broadway musical 'Nerds' will feature Bill Gates as a character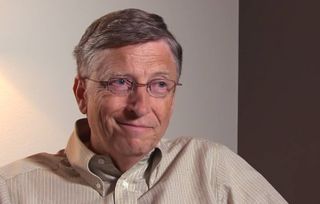 One of Broadway's next big-budget musicals will center on the rise of Microsoft and Apple, and feature founders Bill Gates and Steve Jobs as characters. The musical, Nerds, will officially premiere on April 21 at the Longacre Theatre, with previews set to begin on March 31.
According to Rolling Stone:
The musical was written by Jordan Allen-Dutton and Erik Weiner, who previously wrote for the Adult Swim series Robot Chicken. Nerds actually debuted in Philadelphia way back in 2005. The director for the Broadway version will be Casey Hushion, who previously worked for musicals like Elf, In the Heights and Aladdin. Casting for Nerds has yet to be announced.
If you are wondering why this musical is even making it to Broadway in the first place, you are not alone. iMore's Serenity Caldwell has written about her own concerns about Nerds.
Source: Rolling Stone
Windows Central Newsletter
Get the best of Windows Central in in your inbox, every day!
It should be more about Gates and Wozniak. Don't you think? .. Those are the real nerds!

Yes. Steve Jobs was just an amazing marketeer. He did not know code.

This is bill.
Be like bill. ;-)

Bill is rich, Bill is philanthropic, Bill ****** Apple and IBM once. This is Bill be like Bill.

Bill saved Apple...you do know that, right?

****** and Saved. Be Like Bill DJCBS it makes u rich :p

That sounds most delightful. A wonderful Broadway play about the rise of awkward characters to success. Hmm, yes. (I mean, that's cool a play about famous geeks)

I wonder if there will be an app for Windows

At least cancer got it right

"If you are wondering why this musical is even making it to Broadway in the first place, you are not alone." However, if you like musicals or know anything about Broadway, it won't surprise you at all. But for those who can be surprised this reached Broadway... Broadway is the place where Spider-Man, turn off the dark was staged. That thing was a financial fiasco, the show was absolute sh*t and the only thing that was keeping it afloat was the fact that Bono and The Edge wrote the songs. Songs which, on CD, play as if they were a U2 album, but on the stage were just downright atrocious. Broadway is the place where Frank Wildhorn's Wonderland was staged. The music by Wildhorn was, as always, great. But that was it. The story made zero sense, it was a mess from beginning to end, the sets were like a drug trip, the staging was terrible and the main actress a disaster. Broadway is the place where Michael Crawford (the first actor to play the iconic role of Phantom in Phantom of the Opera) was allowed to stage Dance of the Vampires, a show that WAS supposed to be a staging of the original German version Tanz der Vampire (based on the Polanski film "the Fearless Vampire Killers" with music by Jim Steinman)...but that Michael Crawford was allowed to rape from the first to the last page. Broadway is the place where Carrie was not only staged once (becoming Broadway's biggest flop to date) but also revived. So yeah. I'm not surprised AT ALL that this is getting staged.

That made me smile. Definitely one I'd like to see.

Hey yo, open the Gates for the bill to pass through.

Imagine that. Bill Gates singing

If Bill Gates doesn't jump over a chair in this then they've failed.

Because jumping chairs is Gates´s finest skill. Is in youtube, look it up.
Windows Central Newsletter
Thank you for signing up to Windows Central. You will receive a verification email shortly.
There was a problem. Please refresh the page and try again.