Bing UK starting to roll out search engine design refresh?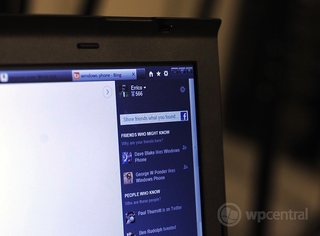 Is the Bing Social sidebar finally coming to the UK?
It seems that the Bing UK team are beginning to (or are testing a potential) rollout of the design refresh we've seen in the US. Unfortunately, while we can clearly see a familiar login element, we are not receiving the actual sidebar itself. Once Bing UK was loaded, we could login via Windows Live and subsequently connect to Facebook.
After logging in was achieved, and Facebook accounts were connected, once loading search results we were presented with a new look, as well as our name (with drop down arrow for menu options) accompanied by a settings icon. Rewind back to the release of the Bing US design refresh and you'll see something similar (see below screencap) to what we currently have with Bing UK.
We could well be on the verge of an identical design refresh with further social integration, which the US has enjoyed for some time. Have you noticed anything changing on Bing UK? Let us know in the comments.
Thanks, Louis, for the heads up!
Rich Edmonds is Senior Editor of PC hardware at Windows Central, covering everything related to PC components and NAS. He's been involved in technology for more than a decade and knows a thing or two about the magic inside a PC chassis. You can follow him over on Twitter at @RichEdmonds.
In Germany the New design stated a few weeks ago too.

I been using Bing only now. Has that old Google look.

Australia just changed today as well

Bing Ireland has new layout without sidebar. It also displays 'bing beta'

I am in Canada, just changed with the last hour.

Yes! Finally in Canada too! I can finally use Bing as my primary search engine. I've wanted to for a while since I'm such a big Microsoft fan but I told myself I would only use it if they brought the new design the US Bing has to Canada since it looks very good.

today they changed layout to the new layout but without Social Bar nor bing maps nor videos nor movies nor editor picks even if i search for movies
i've been using Bing for a year now


In Czech Republic is also new layout without Social Bar.

sometimes, when I don't know what to do, I just go to Bing just to see how beautiful it is.

i'm guilty of doing that, too

i start my browser with bing :P

Yeap, i can also confirm Canada's has also updated. however, canada's image search has not fully updated yet to the the US style, so im staying in the US region.

I would never use Bing. Google is so much better.

How long has US had this?
Sweden does not have a social sidebar yet, I guess we get it when no one cares anymore.
I wish Bing had better search results.

I saw it with thw new sidebar in sweden yesterday. But suddenly it disappeared when i reloaded the page.

Saw the new sidebar last week in the UK, then it went

new bing design in india too

It changed in Portugal exactly at midnight. I was searching something and saw it refresh and update! But we still have Beta written under Bing...

Its not only about the look. The Google data seems to be more relevant whenever I search. Though Google must drop some of the ads from the search page. Regards,
Web Design Abu Dhabi

The Bing UK in its blog announced new ways to experience Bing Desktop. It says - "Now Bing Desktop lets you check your news feed and friends' photos without launching a browser". I think shrotly Bing makes roads in a big way into UK's search engine business. Thanks for the Blog.
__________________________________________________________
We at Web Design Bournemouth strives hard to improve search engine rakings in all major search engines like Google, Bing and Yahoo UK, for this we have to get lot of business from SEO Bournemouth. Recently we optimized iPad Mini Cases website
Windows Central Newsletter
Thank you for signing up to Windows Central. You will receive a verification email shortly.
There was a problem. Please refresh the page and try again.