Television apps for your Windows Phone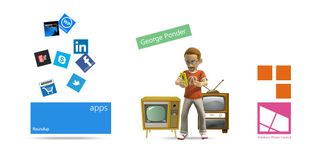 Windows Phone Central App Roundup: Television Apps
A little change of pace with this week's Windows Phone Central roundup. This being the day after a holiday for many, we picked a more relaxing topic and week focus on television apps. Just in case anyone's in the mood for being a couch potato today or are stuck in the office and want to catch up on their favorite shows.
These are Windows Phone apps that deliver the network news to your Windows Phone, that streams programming to your device, and others that delivers schedules, episode information, and other tidbits about what's on the tube. There's a wide variety of television apps in the Windows Phone Store and we plucked a few out off the shelves that may come in handy.
Discovery (free): The Discovery Channel is an entertaining and educational stop on your television dial and the Discovery app pulls it all to your Windows Phone 8 device.
With the Discovery app you can check out the channel's show schedule, read up on your favorite shows (MythBusters, Fast and Loud, MoonShiners, etc.), view clips and full episodes of various shows, and catch behind the scenes action and aftershows.
You can share episodes with friends, pin your favorites to your Windows Phone Start Screen and there is lockscreen support that will display the Discovery Channel lineup for the evening.
If you're fan of the Discovery Channel, the Discovery Windows Phone 8 app is a must have. It is a free app and you can find the Discovery app here in the (opens in new tab) Windows Phone Store.
TVShow (free/$1.29): Need to keep track of a wide range of television shows? Check out TVShow for Windows Phone 8 and 7.x.
TVShow provides a quick overview of upcoming episodes, screen captures, YouTube videos, ratings, schedules and more on all your favorite television shows. It's like TV Guide (opens in new tab) on steroids.
There are two versions available, TVShow Free (opens in new tab) and TVShow (opens in new tab) ($1.29).
The Free or Lite version does not include live tile support, notifications of show times, cloud back-up of your data (viewed shows, favorites, etc.), or the ability to use your Windows Phone as a remote screen for subtitles. TVShow Free is also ad supported.
Just follow the above links to the Windows Phone Store for either version of TVShow. It is a well rounded, comprehensive app if you need to stay on top of all your television shows.
NBC News (free): Okay... there are tons of network news apps for our Windows Phones (ABC News, Fox News, CNN, etc.) but we tapped NBC News for this roundup because of the features the most recent update brought to the table.
With NBC News you have pages dedicated to the top stories of the day, videos, slide shows, full episodes of your favorite NBC News shows, topical content, toast notifications on breaking news and live tile support.
You also get voice commands to help navigate around the app and launch searches as well as closed-caption support and audio playback for printed news stories.
NBC News is one of the more well rounded news app amongst many quality news apps for our Windows Phone. There is a Windows Phone 7.x version but it lacks many of the features the Windows Phone 8 version has (voice commands, close caption support, etc.).
NBC News is a free app that you can find here in the (opens in new tab) Windows Phone Store.
Hulu Plus (free/monthly subscription): Hulu Plus is a very popular service that delivers streaming episodes of your favorite television shows and movies to your computer. With the Hulu Plus Windows Phone 8 app you get the same streaming entertainment delivered to your Windows Phone.
Content ranges from classic television shows to the current crop of hits. Hulu Plus spreads everything out nicely with pages for trending shows, popular shows and a category page to let you do your own channel surfing of sorts.
Shows can be pinned to your Start Screen for easy access and if added to your Windows Phone Kid's Corner, you children will only have access to the kid's collection of television shows and movies.
While Hulu Plus is a free app for your Windows Phone 8 device the service will run you $7.99 a month. There is a free, 14-day trial for the subscription to let you get a feel for things before the monthly fee kicks in.
Hulu Plus is available for Windows Phone 8 devices and you can download it here (opens in new tab) in the Windows Phone Store.
While there are more television oriented apps available in the Windows Phone Store, these four jumped off the shelves at us. If we missed your favorite boob tube app, we promise there's no conspiracy a foot.
As with other roundups, feel free to share your recommendation in the comments below.
Get the Windows Central Newsletter
All the latest news, reviews, and guides for Windows and Xbox diehards.
George is the Reviews Editor at Windows Central, concentrating on Windows 10 PC and Mobile apps. He's been a supporter of the platform since the days of Windows CE and uses his current Windows 10 Mobile phone daily to keep up with life and enjoy a game during down time.
I swear the title is just wrong

I agree... I came to looks for apps with boobs and well.. *sigh* no boobs.

I know, that title means something else entirely to alot of non Americans.

I saw "boob" and within a tenth of a second I was reading the article. Then I found out it's a different kinda boob :/

This is deceiving lol, I was hopping fir 'boobs"

Not cool at all. The title says boobs but this is some TV apps. What gives :(

Go check at app store "rate my cleavage" its the closest :D

Class action suit. Who is with me!?

So it wasn't just me! Lmao

Damn that title changed quick.

I know I complained about it but I like the previous title :P

Me too =D
Anyone else say "Finally!" when they first saw the title? lol

YOU are all the boobs, lol! =P

DirecTV and HBO is all that's missing from the store for me.

Agreed on the dtv. I feel like they could make a stellar offering to the WP community. All the features and things they offer all packaged nice in a smooth UI, marvelous.

Wish there was a Dish Network app.... Please people bother dish network for one like I have !!!

There is a very simple DTV app that lets you schedule DVR recordings remotely - it's been around since the WP7 days - I would link to it but the comment system decided that was evil.
The app doesn't do any of the Whole Home DVR / Genie stuff but it took them forever to get that on Android so I wouldn't hold my breath on WP anytime soon.

Nice if you are USA based, but how about a round up for other locales?

Is there a joke in there that I didn't understand? I'm a little suspicious because English isn't my first language.

'Boob tube' is American slang for a TV. This is how YouTube got its name, I believe.

You get it? We are the boob's watching the tube.

Sorry, I'm gay. Not interested.

Gay people don't like tv first I've heard of that.

No, gay people don't like boobs ;)

If you were a woman, you WOULD be...lol ;)

Bah. boobs and tubes are overrated.

Come on Dish remote access! This is a key one for me that we are missing.

Hell yea !! I want a dish network sling app !!!!!

This is extremely disappointing!!!! I was expecting boobs!!! I want boobies!!!

boobies!!!! oh wait its not... FUUUUUUUUUUUUUUUUUUUUUUUUU

disappointing article given the promising title

BTW i need YOUTUBE original for windowsphone !!! GOOGLE fuck

Why????
Metrotube is soooooooooooooooooooooooooooooooooo (auch, broke a finger)
better...

you can hold the hotkey O on your jeyboard.

Who still calls TV "boob tube"? Come on man

I don't understand the boob part ???

The "boob" tube was created as the size of a CRT picture Tube, if you look at one from the back side pulled out from a TV, it could ALMOST look like a "boob". This is almost void today because most people's (at least that I know)primary TV is a flatscreen.

The same people who call a remote, "the clicker"

Okay guys, here is what you came for: (o)(o)

Wtf !! Not cool i thought there were boobie apps :( not cool george

Well atleast its good to know there are still some boobs fans out there ;)

Fyi there is a rate me application were girls send pics of their cleavage very nice app :P but nonude :/

The application is rate my cleavage but its mostly non nude im not entirely sure ;) so go get it :P

Lol I thought this was going to be an article on like Tube8 apps

Check rate my cleavage app ;)

The Tube8 app is not just a little cleavage...TRUST ME, I checked it out

Only avaiable to side load as I understand...(Unlocked device NEEDED)

For those of you who thought this article was about apps to view pornography, you should know that the guidelines for submitting apps to the Windows (Phone) app store require that apps are free of all sexual content. From the guidelines:

"Your app must not contain any of the following: Sex / Nudity – Images that are sexually suggestive or provocative (e.g. sexually provocative touching, bondage, masturbation); provocative images that reveal nipples, genitals, buttocks, or pubic hair. Content that a reasonable person would consider to be adult or borderline adult content (images, text, video or audio). Content that generally falls under the category of pornography. Content that depicts or suggests prostitution. Content depicting sexual fetishes. Content of a sexual nature depicting children or animals."

@George you missed one appearance of b00b.. near the end of article

I thought boob tube was a kind of ladies top. Nothing to do with TV!

Where are the boobs? I was promised boobs!

Oh people, GROW UP! (Now, which app let's me watch Sofia Vergara on Modern Family?)

Haha. The title has been changed. Anyone new who reads the comments is gonna be so confused now

Yeah, like why a majority of the readers are such pervs... =/

TVShow is one of my faves, have it pinned to my home screen with a double wide tile. Just add the shows you watch and it reminds me of the date n time plus gotta love the lock screen pics of the shows n if you leave the app open the lock screen pics just keeps changing. Great App.

So why is Netflix not on the list? And we really really some way to watch amazon content.

I use Prime Tv instead of Tv Show. Like that it allows me to sort list by view date.

Bloomberg has live streaming news

Hmmm...my main TV apps aren't listed:
*BuddyTV Guide - the only app I know of with listings and not just following specific shows like TVShow
*IMDb - I look stuff up with this app all the time
*Netflix - it really is more about TV that movies these days

I would really appreciate if AT&T would provide the same type of app for it's Windows Phone, Uverse subscribers as it does for it's iphone and android, Uverse subscribers. That sucky WP app that makes you pay for content, that you already pay for with your Uverse subscription. IOS and android have Uverse apps that let you stream and download video content (including your DVR recordings), control your DVR, and pull up schedule and channel information included in the cost of the Uverse subscription!

TV Show, what a wonderful app.

fgs discovery must just be a USA app :( not much else to say... perhaps sort it out guys!!!

Need HBO Go! Make it so!!!

ABC News has live broadcast streaming during major breaking stories, along with on-demand segments archived from previous shows in the day. Also a little surprised that neither Netflix or Slingplayer were mentioned. Both apps show TV content and at least for me, are pinned to my START page on my Nokia 928 Windows Phone.

I personally like Series Fan way better than TVShow.

Yes, TVShow is a great app, BUT I will keep saying this until the developer finally does something about it (or I find a valid alternative app): Implement the option to turn off automatic time adjustment for Non-US viewers!!!
This is the single biggest drawback for using this app. If a show is broadcast on a Tuesday in the US, I do not want the app telling me that it will be shown on Wednesday, just because of a 6 hour time difference.
When asked about it, the developer of TVShow has repatedly stated "just wait for the next update", but nothing ever happened. By now, he is not responding to inquiries anymore, so I have pretty much given up to ask him directly.
PrimeTV would be my first alternative choice, but unfortunately it does not get updated anymore, the developer having most likely abandoned the project.