Bookmark this: Starting Windows Phone game development with Unity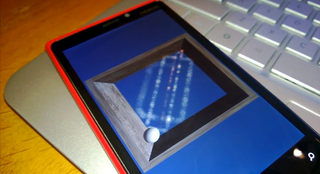 One of the bigger news coming out from last summer's Windows Phone 8 reveal was support for game engines – like Unity. It allows game developers to easily target multiple platforms if their particular engine is supported there. Unity is one of the more popular engines at the moment, with support for nearly any platform you can think of. Right now game developers can get early access to the beta of the Windows 8 and Windows Phone 8 versions of Unity.
Want to jumpstart to Windows Phone 8 and Unity?
There are a handful of games in both the Windows Phone and Windows Store that take advantage of Unity. On Windows Phone you have games like Drift Mania Championship, Temple Run, and Orcs Must Survive. So what do you do if you have no experience with Unity but want to develop a game using it? Easy, jump into Windows Phone 8 and Unity with the help of our old pal Matt from RogueCode.
Matt was on a 12 hour flight from Amsterdam back to South Africa and decided to do an introductory how-to for starting out with Unity for Windows Phone. The quick start was so good that it has been cross-published to the Nokia Developer Wiki. It's a post to bookmark if you plan on doing anything with Unity and don't have much prior experience. He also gives an early look at an upcoming game he's working on - Viscous Attack Llama Apocalypse. The video trailer is below, he also stresses that it's super early into the development and is pre-alpha. It's rough, but it will be fun to see how the game progresses over time.
Links below to join the early Unity program for both Windows Phone and Windows 8. If you have any questions about development reach out to Matt through Twitter at @RogueCode. Anybody out there planning on developing games using Unity for either Windows Phone or Windows 8?
Join the Unity 4 Beta program for Windows Phone 8
Join the Unity 4 Beta program for Windows Store
Source: RogueCode
Get the Windows Central Newsletter
All the latest news, reviews, and guides for Windows and Xbox diehards.