'Brothers In Arms 3: Sons of War' will finally be released in December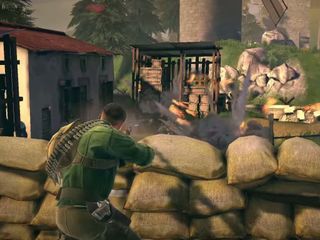 You may remember that back at CES 2014 in January, we got a live demo of Brothers In Arms 3: Sons of War from the folks at Gameloft. At the time, the World War II-themed game was supposed to be released later that quarter. That date came and went with no such launch but this week Gameloft has confirmed that Brothers In Arms 3 will finally be released later in December for Windows Phone and other platforms.
Gameloft has also released a new trailer for the game, based on the popular Gearbox Software franchise. Originally, Brothers In Arms 3 was supposed to be an on-rails, third-person squad shooter but now it will allow the player to freely move their character, which might explain the delay in the game's launch. There will be 12 "brothers" to pick from in the game, each with their own special abilities.
The trailer looks very cool so hopefully the long wait will be worth it.
Source: Gameloft (YouTube)
Can we expect 512 mb ram support?

gameloft will come back with Xbox live when windows 10 launches and gains momentum.

Oh, is this something that's been discussed before? Wasn't aware of that.

Xbox live title makes games even more fun

No a 512 ram support is not supported I can assure u that

Yep, I'll be getting this as well...

That's great news but I hope they dont use "online gameplay" because that is irritating. Offline gameplay should be given otherwise a big no. Modern combat 5 screwed up. ​

I just hope for two things: 1-512mb ram 2-And I hope that it's paid with no IAPs

I've played this game on my old Java phone...

I still play Brothers In Arms: Hells Highway on my PC. I have the collectors edition that came with a figurine of the main character with weapons, poster and more. Great game and a gripping story with a very cinematic presentation all those years ago. http://youtu.be/YSp7zcub60s

Can I play this in my Lumia 625

Common how do you expect such a classy game to run on 512 MB device #logic..duh

yay. But, what I would reeeaally appriciate is a continuation from the BiA Road to Hill 30/Hell's Highway games. Loved BiA Hell's Highway!

Will buy it on first day!!!! Been waiting for new high graphics shooter! December ain't gonna be bad for me at all!

superb.........game plz launch also shadowgun and dead trigger2..............I AM WAITING
Windows Central Newsletter
Get the best of Windows Central in in your inbox, every day!
Thank you for signing up to Windows Central. You will receive a verification email shortly.
There was a problem. Please refresh the page and try again.