Brothers in Arms 3: Sons of War for Windows Phone now available for free from Gameloft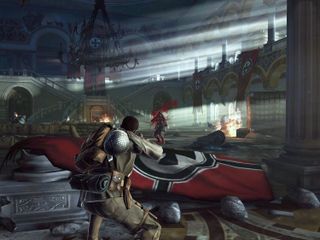 Sons of War is now available for Windows Phone from Gameloft. The game was announced for Windows Phone earlier this month and can be yours today free. Ready for combat, soldier?
Here's what you get with the first release for Brothers in Arms 3 on Windows Phone:
EXPERIENCE UNIQUE SQUAD-BASED COMBAT
Utilize your brothers to gain a tactical advantage!
Employ their diverse abilities: Air Strike, Molotov Cocktail, Rocket Blast, Mortar Fire and many more.
Unlock new allies. Upgrade them into seasoned soldiers: damage output, ability cooldown, HP pool, AoE ability damage and more!
DIVE INTO EXHILARATING ACTION GAMEPLAY
Smooth cover-based 3rd-person action with free movement.
Various types of missions such as Assault, Sniper, Siege and Stealth.
Impressive killcam zooms.
PICK YOUR FAVOURITE WEAPON
Unlock new weapons and turn them into the ultimate arsenal with fire rate, recoil, reload speed and clip size upgrades!
Discover the game-changing power of experimental weapons!
Wreak havoc with their cool abilities: triple or infinite bullets, electric discharges and more!
ENJOY EYE-CATCHING VISUAL EFFECTS
Stunning indoor and outdoor settings.
Weather and time-of-day variations.
Console-like graphics for a AAA gaming experience.
WIN AWESOME REWARDS IN SPECIAL EVENTS
Ladder challenge with gradually more difficult missions for better prizes.
Limited-time events with exclusive drops.hide details
Interestingly enough, there's no Xbox support in this game right now. We're still expected to see more games from Gameloft in the future with Xbox support, as noted in our report last week, but it looks like Brothers in Arms 3 didn't make the cut this time around.
Brothers in Arms 3: Sons of War is available for free, but doesn't have support for 512 MB devices right now. If you have 1 GB of RAM or more, download the game and let us know what you think!
Thanks for the tip Igor J!
Yes! This makes up for the late denim coming to the US... Lol! Waiting on the new HALO!!!

I can't get it on my 521. I need to upgrade to the 1520. I'm sick of this

730 much ? Lol Am angrily going to buy a 730.

It actually seems to have Xbox Live features. One of the permissions required, as noted bellow by another commenter, is to access Xbox. Gameloft probably forgot to put the correct logo.

That's right, I see that permission too. Can someone who's downloaded the game, please confirm if you see the "Achievements" button in the game menu? They can't forget to put that too, at any case, can they?

Don't buy it bro, no Xbox no but. /s

Not a huge fan of playing quite intensive games on phone (heating, performance problems) but since I've got the 930 I'll give this a go

Yeah...if you have the 930, it will fry potatoe chips with this game. And you can kiss your battery goodbye.

Unless, you've a phone with a case to prevent the heat (which you've to use during high-end gaming) and a habit of plugging in the charger in every few hours or so... (you know, if you have a 930) :P

Combine the two! Put slices of raw potato into the case with the phone, and get chips for later!

It's even laggly on the 1520

What's the matter with YOUR 1520? Running nice and smooth on mine...

There is something wrong with your L1520...

Runs smoothly on my Lumia 925

Is this game mere 29mb in size? :0

It requires a content download but I'm not sure how much is the size since its just started downloading without mentioning the size of the data

512mb data download required

Hope it's not having the same issues like on ios and android

Being installed on IOS or Android.

I've just had the best laugh indeed.good one ,still laughing.

Lol I can't stop laughing

Burn!!! That was perfect!

Actually guys there is some rumours that note4 and iPhone 6+ cant handle the graphics. It seems ok with my L1520 so far except maybe a little mess with slow connection. All gameloft pieces are like that these days....connection problem...sigh

not available for 512MB device. f.u Gameloft /s

Wow, you wanna play Call of Duty on your old rusty PC with 512MB of RAM, onboard graphics card and outdated Intel Celeron, don't you?

Come on, some great games run properly on 512mb ram, no need to be that harsh

GTA V ran with 480MB of ram

Looks pretty graphic intensive so I understand no 512 support....

Note: When someone types "/s" it means it is a sarcastic comment.

It also means that they're really clever. /s

It's saying that I'm having connectivity issues and the game content is having problems downloading... I'm on Wi-Fi and my connection is good.

This is the very same reason why I purchased GTA san Andreas and I haven't played it since then because I keep on getting connectivity errors,they should've made it the old way, download once!

Agree. I hate downloading after downloading.

Meh, I'll wait until they patch in XBL support. Good to see more games coming out though!

Never heard of this one. So, which franchise does this GameLoft release blatantly rip off?

Brothers in arms was originally a WWII console game. Many of the entries were pretty fun, but it seems now it's been delegated to mobile.

Ahh, it's the other half of GameLoft: Established brands they milk for their own gain, despite the fact that the brand's value was built by others.

THE GAME IS XBOX !!! LOOK AT "REQUIRES" SECTION IN THE STORE !!! GAMELOFT FORGET THE BANNER

Wait for FREE!! Alrighty!!

Will it be for windows soon? Like tablets and PC and stuff.

waiting for it to come to windows 8.1

You know what I hate? When WWII games are forced to use the Iron Cross in the place of the swastika just to appease Germany and Austria's insane censorship laws...

I guess they still can't get over what they did in the WWII as swastika serves as reminder to anyone who knows at least something about it.

does it have Xbox? cuz in requires section it says Xbox is required.

After installing, no. Not yet. The permission is there probably for an update that will bring the Xbox achievements.

512MB fellas will have to wait for windowsphone hub's mercy otherwise am getting what I paid for now....

Released one day after the iOS & android versions shows how gameloft is still hurt by the iPhone first marketing scheme...there is no reason for the late release!

Better to be late a day than late two years...

How much is size of data???

Can't connect to server error :'(

Wait... Where's the Xbox banner?! Gameloft, say it ain't so!

Looking forward to a new Brothers in Arms game for the Xbox One... maybe?

Exactly what I was thinking.

you still need to download 512MB of Data..

If the Lumia 920 and HTC 8X can play this game without problems, my HTC One M8 should be able to play any game that comes out for the next 3 years. GTA IV on phone, anyone?

Hopefully, the Live integration will come later like some of the other games.

Just 29mb they y not for 512mb ram

Because disk storage and memory usage have nothing to do with each other. A 1 MB game could require 2 GB memory if it was sufficiently crap

What's the content size that's to be downloaded???

How did they make the download size 29MB but Asphalt is at least a Gig?

@EmoSyndicate:
Because in Asphalt you go by car, in this one by foot.

The installer is 29 megs. It downloads additional 300 or something megs of data before starting.

I should wait and buy 730ds than this 630ds..ohh..what can I do now on 512mb...sad..

Dammit, and i just bought MC5 in the RSD from the store. Ohwel, its Christmas, time to indulge. No xbl but at least we release parity with other platforms, xbl can come later as we have seen with other GL games

No support for 512mb phones. Goodbye

So laggy... But welcome new games !

Ya it runs smooth even on Lumia 820.good job gameloft.

The game size 379 MB tested with WiFi hotspot in my android.Good game guys enjoy.

Does this game have in-app purchases? If so, what are they like?

Does this need internet connection to play?

Am I the only one who experience the game on lag at Lumia 820?

<p>nice game worked smooth on both L525 and L1520. My L525 was heating at first while download the 280 mb additional file so i placed my phone ove my laptop cooler lol

Is it required a internet connection??

No Windows Store version?

Like every Gameloft game, it errors and lags, what's wrong with those dudes.

You guys still haven't fixed the obvious typo in the 512 not supported graphic... it should be "support" not "supports"

They chose to use that impossible-to-read font colour for a reason you know :D

A quick review for 735, installed to SD: Don't bother.
Laggy. I could live with that but what bothers me is that even the start menus lag like there's no tomorrow. Music cuts and is jagged and highly irritating, and I must say the visuals aren't doing any better either. The game itself is fun but I highly recommend smoking weed in beforehand because it tends to lag. But as the game is rather gfx-intense, it is more or less acceptable. Update the game to have softly writing menus and I give it another shot.

Same on my Prestigio 8500 DUO (similar specs like the 735). But still it's a fun game.

works? https://www.youtube.com/watch?v=0x3xC_3w4rA

just found this new hack more info and download here: http://andoidisohackscheats.blogspot.com/2015/04/brothers-in-arms-3-apk-hacked-download.html

check out some new android/iso hack and cheats here: http://andoidisohackscheats.blogspot.com/
Windows Central Newsletter
Thank you for signing up to Windows Central. You will receive a verification email shortly.
There was a problem. Please refresh the page and try again.