Brydge 12.3 keyboard turns your Surface Pro into a Surface Book ... sort of
The Brydge 12.3 can turn your Surface Pro into a "real" laptop. The design gets a lot right, but there a few hiccups.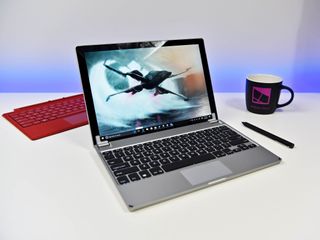 Microsoft's Surface product line has grown over the years to meet the various demands of consumers. For those who own a Surface Pro 3, Pro 4, or new Surface Pro however, you may be interested in innovative ways to expand its form factor. Or maybe you just really want a Surface Book, but can't afford it now.
The Brydge 12.3 Bluetooth keyboard is one possible solution that turns your Surface Pro into more or a laptop. I was skeptical of such a device, but after spending a few weeks with it, I'm (mostly) impressed. Here is what I like, and what I don't.
See at Amazon (opens in new tab)
How it works
The Brydge 12.3 is a standalone Bluetooth 4.0 keyboard that has its own battery and costs $150. Micro USB charges it, and it should last around three months on a single charge. Obviously, that can vary, but the Brydge 12.3 should last at the very least weeks even with extreme usage.
You just pair the Brydge 12.3 to the Surface Pro 3 or 4 using Windows 10 and the Bluetooth configuration.
Next, you slip the Surface Pro into the shims at the edge. They are quite firm, and it requires pressure to slide in the Surface Pro. The good news is that means the Surface Pro will not slip out. The unwelcome news is this is not something you want to have to do repeatedly, so the setup presumes you'll leave the Surface Pro in the Brydge for extended durations. If you must separate them, you just tug.
Image 1 of 2
Once paired the Brydge 12.3 acts just as a keyboard, and it makes the Surface Pro feel like a laptop.
Brydge 12.3 features and quality
Made from an all-aluminum chassis, the build quality is excellent on the Brydge 12.3.
Out of the box, the Brydge 12.3 is configured for the Surface Pro 4/Surface Pro, but there are extra shims in the box that fit the Surface Pro 3.
The Brydge 12.3 works with the all-new Surface Pro (2017), as well.
Everyone I showed it too was impressed with how durable and stable it feels. Part of that is the weight, which is 1.4 pounds (652 grams). That means you are effectively doubling the weight of your Surface Pro.
The reason for the weight is just physics. To prop the 1.7lb Surface Pro up into a laptop mode without the kickstand, you need similar weight to offset it. The Brydge 12.3 opens to a maximum of 160 degrees much like a "real" laptop.
The Brydge 12.3 is also the same diameter as the Surface Pro. It feels like squishing two Surface Pros together.
To be fair, it all feels very dense, robust, and even rugged. But your light Surface Pro becomes a heavy laptop weighing 3.41 pounds (1.55 kg). That's a significant tradeoff.
The Brydge 12.3 keys are chicklet-style with plenty of travel. I enjoy the way they depress and feel. They also support three-stage backlighting, which is a very nice touch. Part of the extra weight of the Brydge 12.3 goes to an internal battery for the Bluetooth and to also power the backlighting.
The Brydge trackpad is smaller than that of the Surface Type Cover. It's glass and while not Precision (so it doesn't support all Windows 10 gestures) it is better than average.
However, when you close the Surface Pro on to the Brydge, you need to hit the power button the Surface Pro to turn it off. There is no way for the Brydge to know your Surface is off because unlike the Type Cover, it is not physically connected.
If you open the Surface Pro and hit the power button, the Brydge automatically pairs again. The process is fluid and fast requiring no wait times so you can dive into work.
Unfortunately, you cannot use the Brydge 12.3 to charge the Surface Pro as an extended battery.
Overall, I was way more impressed with the Brydge 12.3 than I was expecting to be. The build quality is fantastic, the Bluetooth worked, the keyboard feels right, the backlighting is great, and the trackpad is OK.
Some issues with typing
My biggest complaint with the Brydge 12.3 is with typing. While it felt great, I often missed keystrokes. That may be related to how fast I type – average around 60 words per minute – because typing more slowly seemed fine.
The issue is likely to do with the Bluetooth, and the keyboard may be bad at keystroke-timing crossover so that the key needs to fully "clear" the movement before it registers. On average, it happened about every ten or twenty words, which while not awful, was enough to make me frustrated on occasion.
Brydge 12.3 Pro 128 adds optional SSD to your Surface Pro
In another oversion - Brydge 12.3 Pro 128 – you can get 128GB high-speed (600mbps) SSD storage built into the keyboard. That option will double the cost of the Brydge 12.3 to $299.
It connects via the micro USB port to the Surface Pro's USB Type-A one through an included mini-cable. While perhaps a bit clumsy, I must admit the idea is intriguing.
Conclusion: Almost worth it
I expected to dislike the Brydge 12.3 for Surface Pro but came away awestruck. The overall quality is fantastic, and Brydge gets a lot right with the device.
The added weight and size is something to note, but it at least feels good to carry and use.
The typing experience is great even though I missed a keystroke on occasion, which is the real bummer here. I think slower typists will be OK, but those who type like pros will get frustrated quickly. I also don't love the smaller trackpad.
The $150 price is a bit high, too. Considering, however, that a new Surface Type Cover (non-Alcantara) costs $129, I think Brydge is in the ballpark. At the very least, the packaging and build quality all make it feel premium and worth the money. Nothing feels cheap about the Brydge 12.3.
Brydge 12.3 is worth checking out if you want this setup, but you may want to wait until the next version. With a few refinements, this could be a killer accessory.
See at Amazon (opens in new tab)
Pros:
Excellent build quality and design.
Really nice keyboard response and feel.
Backlit keys look great.
Makes the Surface Pro more laptop-like.
Cons:
Doubles the weight and size of Surface Pro.
Occasional missed keystrokes when typing fast.
Trackpad is a bit too small.
Windows Central Newsletter
Get the best of Windows Central in in your inbox, every day!
Daniel Rubino is the Editor-in-chief of Windows Central, head reviewer, podcast co-host, and analyst. He has been covering Microsoft since 2007 when this site was called WMExperts (and later Windows Phone Central). His interests include Windows, laptops, next-gen computing, and for some reason, watches. Before all this tech stuff, he worked on a Ph.D. in linguistics, watched people sleep (for medical purposes!), and ran the projectors at movie theaters because it was fun.
will it scratch the surface pro over time?

I can't see how. The shims are silicone layered.

That should be cloud SSD over Wifi not usb

This thing is pretty cool. It would be awesome if MS released a version of this using the magnets and connectors so bluetooth is not needed. I am not sure if the connector on the bottom of the surface carrys power and data, but that would be a killer option, extra battery and storage in the keyboard base.

Of course, it sends data through it otherwise how it will communicate gestures and keystrokes.😑

NO...i mean file data, like photos, docs etc...can that be sent through the connector?

If you could, I would imagine it would transfer very slowly. As far as I would imagine, that keyboard connection provides power to lights and key input. I would be surprised if MS planned ahead and designed the connectors for massive data transfer.

I wonder if it will hold any similar sized tablet, besides the surface line?

In theory, maybe, but those shims are pretty fitted for each device, which is why they have ones for SP3 and ones for SP4/2017

Hinge location is not good. It looks very annoying. Hinge could be located at the edge. Imagine the old Surface Dock.

off topic. Where did you get the skin for your Surface?

Not to mention the x-wing wallpaper! Would love that too please!

>Keyboard that misses keystrokes >Rating it anything other than 0/5 Uhh.....

I agree Brydge got it almost right. I think with the improvements below they have a great accessory competitor to the type cover. 1. make the base functionally heavy by incorporating a reserve battery that can also charge the surface pro (much like the once sold power cover).
2. Add the surface port connector to the device.
2. Add a usb c port. Then it would already be future proof and it would already outcompete the upcoming microsoft's solution for their dongle for the surface port for usb c. It would also be a great aftermarket solution for all surface 2-in-1 devices. The usb c port preferebly charging and data port.
3. add an sd cardslot, due to popular demand (and not a slow one, a fast data transfer sd cardslot).
4.keep in the bluetooth support, this could be convenient for those occasions when screen and keyboard need off-setting, perhaps in certain lapability situations or for example wireless function controls when consuming media from the screen from a distance, such as controling the music or movie app with keyboard controls (and perhaps the trackpad)
5.not compulsary, but a nice option: add support for a fingerprint reader
6.surface type cover type keyboard design
7. keep the option for an 128 Gb internal storage. Acces will likely be better via the surface connector port and saves up the awkward engeneerd solution of a wire connection the Brydge to the surface (and all the potential mishaps of snapping of the cable or damaging the surface usb port when the surface is accidentally removed from the Brydge keyboard)
8. Accessible slots under the base to be able to swap out the ssd and a worn out battery (for future proofing and upgradability). I think with these modifications for the Brydge 2 would be a great follow-up.

You totally nailed it. Unfortunately it doesn't look like Microsoft is interested in opening up the connector pins on the bottom.

It's a shame MS hasn't released more keyboards such as this one. The SP3+ is now 3 generations of compatable keyboards.

More a shame microsoft doesnt allow third parties to use the surface connector.

Is that true? I read the article wondering why they didn't use the connector port. I was unaware that it isn't allowed, just figuring it was lazy.

It is true, or they're just not licensing it. My guess is they want "official" Surface products to be just that. Not sure if they even have a license for that connector that is available to OEMs, but there aren't any third-party KBs that use that port AFAIK.

I can't see how that would help. Like the old "Licensed by Nintendo" sticker you found on games, I don't see why Microsoft couldn't license the use of those ports and approve something before it's released. Sigh.

The thing is they do for other things. Mozo cases and the Brenthaven bag I reviewed are both have a "Made for Surface" badge. It just doesn't seem to extended to the keyboard/connector.

I wonder if they were wary given all the issues around sleep/hibernation and "hot bagging" they had with Skylake.

With that much weight, there should be plenty of battery for extended range on the Surface.

I had one of these and ended up returning it. Here are the concerns I had with it: - It is heavy. Dan mentioned this and is spot on with why it needs to counter balance the weight of the Surface, and while the keyboard made the device much more "lap-able", it also made the overall package simply too heavy to justify for me. The type cover experience is the best compromise IMO - The hinges put pressure on the front of the screen that cause "pressure ripples" on the screen everytime you pull the screen forward. When I reached out to them, they said they do not expect any issues long-term based on their usage experience, but this caused me concern. This was the deal breaker for me. I can't help but feel they should have moved the front portion of the hinge (that touches the screen) closer to the outer frame of the surface so that the frame received the pressure and not the screen. That being said... it is very well made and if those issues do not concern you, then it is a great keyboard. At that price, it would be even better if you could pair with multiple devices and toggle between them like the Logitech keyboards. I know it is meant to be attached to the surface, but I think that would have been a nice addition given the price.

I'm looking to upgrade my Type Cover 3 for my SP3 to something that will type better; I have to type a 50+ page research paper on it, and I want something more comfortable than the TC3. I was gonna go with the Brydge, but now I'm not so sure. Suggestions? Oh and a dedicated number pad would be nice.

Is "lap-ability" a need? If not, I love the bluetooth logitech keyboards (like K811). I use it with my surface when I am at a desk and love the experience of that with a mouse.

well i was working with my surface on my lap and as is top heavy it went down to the floor and broke the screen... sooo yeah sometimes is important lol (still works and the screen works what I would consider perfectly fine)

The type cover 4 is a great keyboard

Some people like to chill on their bed or couch and watch movies on it. Lapability is important in that sense.

If people want lapability, I recommend the ProCase Surface Pro case available on Amazon. It works with the type cover as well.

If you make much use of the pen for art, Cad of StaffPad, the Surface keybord is in the way. Detaching and using the BT keyoard seperatly is good. Of course this can be done with any BT keyboard,

No precision trackpad... sigh. There is always a tradeoff. Always. There is no such thing as a perfect device. No matter what device.
Windows Central Newsletter
Thank you for signing up to Windows Central. You will receive a verification email shortly.
There was a problem. Please refresh the page and try again.