Buy the Linx 101B Windows 10 tablet and get a free keyboard dock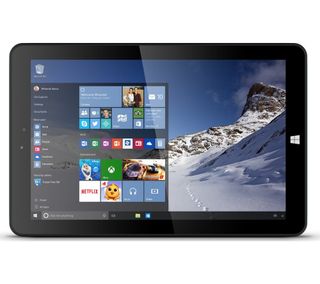 Should you purchase the 10-inch Linx 101B Windows 10 tablet before March 2016 in the UK, you'll be eligible to receive a free keyboard dock accessory. Linx has made it so new owners of the tablet can claim their free keyboard dock directly from the manufacturer.
The £159 tablet is powered by an Intel Atom Processor (Z3735F), has 32GB of internal storage, 1GB of RAM, 2MP webcam and a battery that provides up to 7 hours of use. The offer is valid between October 1 and March 31 2016. Hit the store links below to make a purchase and then submit your claim to Linx.
Buy the Linx 101B from Currys (opens in new tab)
Buy the Linx 101B from PC World
Source: Linx; thanks, Robin Y., for the heads up!
Windows Central Newsletter
Get the best of Windows Central in your inbox, every day!
Rich Edmonds was formerly a Senior Editor of PC hardware at Windows Central, covering everything related to PC components and NAS. He's been involved in technology for more than a decade and knows a thing or two about the magic inside a PC chassis. You can follow him on Twitter at @RichEdmonds.
Blahhh Posted via the Windows Central App for Android

Where can we get this mountain wallpaper?

At first I thought they were talking about Linux. Need to read second time.

Linux is a great Os. Have been a Ubuntu user back in my days. Today i use Windows tho

I'm a MS fan but lets admit it - Linux is the real deal.

Linux is a great Os that's just works all the time! And it's only 700mb big! Love Ubuntu. I used Ubuntu when windows Vista/7 was the current windows version and I didn't like that at all. But windows 8 changed everything for me and today i hmkust love Windows 10!:D

Linux is no more (or less) the real deal than OSX or Windows. The reality is that Linux suffers from limited, easily installable, corporate normal apps, fragmentation of user base, and overly obtuse control systems (command line is powerful but frankly it shouldn't be needed for almost all users).

Have you ever used Ubuntu? It's no harder than to install in windows

Don't be a fanboy saying,Linux sucks.

David Cooltions did you know that the Android OS is based on Linux OS?

I also had to read it twice as I've never heard of the brand before. (ha ha!)

Linux is quite useless outside networking and academic use, it has less than wp marketshare ;)

I have the 7 inch and it is a nice little tablet. Might have to have a look at this

I've had a 7" linx window's tablet that I got new for £60 on offer, came with office 365, it wasn't bad for the money.

1 GB of ram ? Very slow !

Depends completely on your usage

Perfect device for my 1 year old son to bash around instead of him trying to eat my phone or laptop or anything else he can get his hands on! Will have to look up the smaller one sounds good.

Yes.... And the rounded corners makes it safe for toddlers (heh heh)

Ram doesn't mean speed, it's the amount it can cache live. The more there is, the more things that are able to be open without burning up your pc.
1gb on Windows 8/10 is quite good.

Finally! someone with sense has spoken :)

That's a mistake, its actually got 2gb ram.

I've got the Linx 8, picked it up for £70 in the black Friday sale last November. Nice little tablet for the money. Feels very much like the Nexus 7 2013 to me in terms of build and I got 12 months free Office and unlimited One Drive thrown in. Sure it's not the most powerful machine but it's great for browsing, email, music and video. I've got no complaints. Posted via the Windows Central App for Android

I've got the 7" and thinking about upgrading to either the 101B or the Surface 3. While the tablet I have is good for the price, the 10" tablets are still quite attractive.

Its called a '1010B' not a 101B. Also it has 2GB RAM, not 1GB. I own one of these and they are FANTASTIC tablets for the money. 2 Full size USB ports which are on the tablet NOT the keyboard dock. Superb

I've got the previous version (Linx 10) and thought that was excellent value for money, but was a little disappointed with the keyboard... Is the updated version as good as it looks, or still quite flimsy?

I will let you know once I claim my free keyboard dock, but from all the reviews its a huge improvement. No more origami folding, just snap on and the dock has its own hinged mechanism.

Store/Universal apps are important. Without them, these wouldn't be tablets, because you can't use standard Windows apps with your fingers.

The Linx tablets line just sucks.....

Any indications as to why?

I disagree, I have a Linx 10 with the origami case and it is a great device when I'm on the move. It does what I want it too and it hasn't let me down. I might consider an upgrade to the newer one.

I disagree too... I bought one of the last gen Linx 10's and was so impressed for the money, I bought 2 more for my family last Christmas... One of which was for my 90 year old grandmother, who absolutely loves it!

Also disagree, I have the earlier 10" version and have been very pleased with it.

Hey guys....this tab...what kind of an aspect ratio does it have? Is it like the SP3/4 which is 3:2?

Its got 2GB, that was a mistake by Windows Central.

I've got the linx 10and a couple of weeks ago the battery ran out and now it won't charge. Has anyone else had this problem and if so how did you sort it?...thanks.

Try the linx forums over at http://www.linxtablet.co.uk - someone there might be able to help...?

Make it available every where

I have the 10" previous version for Window 8.1 , which i upgraded to Win 10. Its a nice little machine, and i now use it as my primary tablet. I understand that the keyboard is better on this new version. With the USB break out I can add mice, HDD etc and it runs full windows 10. Great for a machine on the move for the money..

Thanks for the heads up. Wonder if black friday or cyber monday will have better prices on these Hmmmmm...

Also on sale today is the ASUS T100 Transformer Book 2-In-1 Tablet (Refurbished) $110

Never ever consider buying a tablet with 1gb of ram ever!!!

I PURCHASED A LINX 101B FROM CURRYS ON THE 19 FEB 2016 AND EVERY TIME I TRY TO CLAIM THE FREE KEYBOARD I GET A SILLY MESSAGE SAY ITS TO EARLY TO CLAIM SO IS THIS YET AGAIN ANOTHER SCAM????