Coc Coc Browser for Windows 10 Mobile adds support for extensions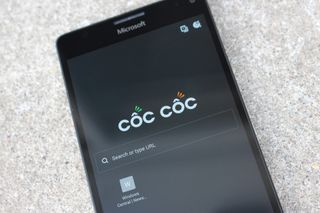 Coc Coc Browser, a popular third-party web browser for Windows 10 Mobile has today received an update (via Windows United) that adds extensions support to the app, making it the first web browser on Windows 10 Mobile to support extensions. Right now, the only extension available for the app is by its developer, but it's a start.
The apps first extension allows users to download media from the likes of YouTube, Facebook and more. You can find the extension in the apps Extensions area, where you have the option to install it via the Windows Store.
For those who may not have heard of Coc Coc Browser, it's a pretty featured web browser for Windows 10 Mobile. It also has a desktop version, which you can download at this link. Coc Coc Browser on Windows 10 Mobile has support for Swipe Gestures, tabs, a transparent live tile, and even a dark mode.
You can grab Coc Coc Browser from the Windows Store on Windows 10 Mobile right now. It's free, too.
Download Coc Coc Browser (opens in new tab)
Zac Bowden is a Senior Editor at Windows Central. Bringing you exclusive coverage into the world of Windows 10 on PCs, tablets, phones, and more. Also an avid collector of rare Microsoft prototype devices! Keep in touch on Twitter: @zacbowden.
HAHA!! They beat Windows's own developers. Cool!
Also, the dark mode is much better to use. Wish Edge (on PC and Mobile) had that natively.

everyone beats them. Windows has never created any DECENT app. Their apps and their system is a trash. Have you seen telegram for windows? It's a masterpiece. How can anyone be better in creating apps for certain system than the actual creators of that system? looks like windows developers even don't know this system, I think they hire chimpanzees which all they can do is **** and do crap

I like all the apps MSFT makes except SKYPE (UWP) for Win10. It's really bad because of one issue - contact duplication. Then there is the lack of features such as deleting conversations (crazy right!!).

You're an idiot. First: "Windows" doesn't create apps, Microsoft does. Windows is just an OS. And moreover, Windows is the most advanced consumer facing OS you can buy today, hands down. In addition, Microsoft makes some of the best software in the world--at least, business facing software. For some reason they keep dropping the ball on consumer facing software. And marketing. And phones. Now, if you'd been more specific and said "Windows 10 mobile is awful", then you'd be right.

When did I say Windows creates apps? You're an idiot. Windows's developers vs Windows developers. There's a difference.
And wait what? Microsoft creates apps?!!? Lol. Microsoft's Windows developing team does.

"Windows has never created any decent apps" Your claim is that Windows makes apps and they're all bad. Stupid, cheap, lazy troll.

I guess you're the troll here. I didn't even make that comment!! @Corban did.
.
What an idiot.

You've lost it. OneNote, Groove, Office, all terrific apps. What dimension are you in?

I agree. So pissed off about the photo app UI. It has gone to complete garbage. I'm switching back to the old photo viewer.

Agree to disagree. I like the new photos app better than the old one.

Agree to disagree. I like the new photos app better than the old one.

I have to disagree about telegram. The third party app UniGram has more features and is noticeably faster...and in my opinion looks better.

Dan Rubino...... We're not dead yet, despite your dreams.

I don't know if i can bring myself to use a web browser called Coc Coc

In English, unless it's pronounced like "Coke Coke," it's phonetically a name that's not really fit for work. Sounds like it refers to a certain piece of male-specific anatomy... I assume that's what @digitaladd means.

"what's that? let me search for a sec. Whoops. I can't open that with my Coc. Let me try from desktop." Jokes aside. Besides Monument Browser it's the only other decent option for a browser.

I posted about this in reddit windowsphone from excitement.
Hopefully they implement ad blocking and other useful extensions.
Shame that Edge hasn't got that yet.

First I've heard of it. Definite download

Never heard of it before, but looks like a very well written ago. I'm going to give it a try

I subscribe to a Scandinavian streaming service (Viaplay) that only supports Firefox and Chrome and all of their apps - so I cannot watch the service on my phone...
Any chance Coccoc could add an extension for Silverlight or is that completely gone from Windows 10?

Isn't Silverlight dying a slow and painful death like Flash is.

Sure, and they have also added HTML5 support, but still only for Chrome amd Firefox, which is why there might be a work around with a plug-in in Coccoc. But I can see the list of extensions is limited to just 1 as of now

Yeah! They're Vietnamese developers!

What kind of extension API did they implement? Is it the standard WebExtensions API? If not they'll get very little interest.

The extension on Mobile download as a separate app in the app list

So, not the Web Extensions API like every other major browser is moving to?

It has a nice clean interface, ill give it a try. First problem though is that there doesn't seem to be a way to import bookmarks on mobile.

This one is from Vietnamese developer. Coc Coc is what we say the sound of knocking on the door in Vietnam. "Knock Knock"

As noted by others, doesn't translate very will to English (culturally /linguistically) :)

Just to put into perspective... You got to becareful, on the store there are a couple of Coc Coc browsers that are not this one. I already reported them to Microsoft. With that aside, this browser, published by Cóc Cóc Inc, is really something, I download it yesterday and tried it. Really smooth and fast, love the included tools like QR Code reader, since this tool has been removed from the camera app since 8.1 and also the extension, for now only one available, hopefully they get more on the way. As an avid Edge user, have to say, this is an improvement on the Windows 10 Phone environment. Don't get me wrong, I love Edge, and I'm sure they going on the right path. But worth giving this app a try. Now, I thought the light and dark theme was a preference option, I love the dark theme, but its actually only when your are in a dark environment, it dims out the brightness accordingly. Meaning, if you select dark mode, you will not get bright screen. For brighter screen you have to turn dark mode off. Other than that, it is a great browser.

Actually, you can change theme in settings without turning on night mode.
Windows Central Newsletter
Thank you for signing up to Windows Central. You will receive a verification email shortly.
There was a problem. Please refresh the page and try again.