Call of Duty: Black Ops 2 is currently the most requested Xbox One backwards compatibility game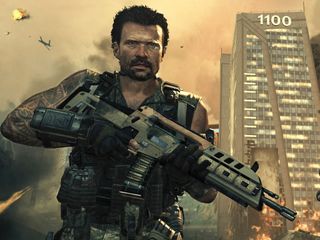 Xbox One owners who are excited to see Microsoft officially launch support for Xbox 360 backwards compatible games have a new favorite. The The official Xbox UserVoice page shows that Activision's highly popular first person shooter Call of Duty: Black Ops 2 has now overtaken Rockstar Games' open world Western title Red Dead Redemption to become the most requested game they want to see made backwards compatible with the Xbox One.
Indeed, there are a ton of Call of Duty fans who are making their opinions known on Xbox UserVoice, as many of those games in the series are in the top 10 list of ones they want to see playable on the Xbox One. Here' the current list, but be aware this is just what fans want, and does not reflect any current plans Microsoft, or the third party publishers, have to bring these games to the Xbox One.
Call of Duty: Black Ops II
Red Dead Redemption
The Elder Scrolls V: Skyrim
Call of Duty: Modern Warfare 2
Halo: Reach
Call of Duty: Black Ops
Gears of War 3
Fallout 3
Call of Duty 4: Modern Warfare
Mass Effect 3
Which Xbox 360 game do you want most to play on the Xbox One? Let us know in the comments.
Source: Xbox UserVoice
My favorite COD game, since then they have all been garbage.

The sad reality is few of these publishers will allow backwards compatibility. Why would they, when they could just re-release a "remastered" edition and make buckets of money all over again? I suspect ATVI will be one of the worst for this. The problem is too many gaming consumers just bend over and take it, Instead of not buying Posted via the Windows Central App for Android

They could sell old game without any modification. Then sell remastered version again.

Waste. Bring back other games than old cods! They make a new one each year, bringing old ones back would be stupid. And I think world at war would be the best to bring back if any.

I thought it was only me...

Exactly my thoughts Posted via the Windows Central App for Android

I have nothing wrong with bringing back the old cods. By old cods I mean MW1, World at War, and MW2... THOSE games are universal game classics. Before Call of Duty when down the crapper... They definitely do not need to bring any of the newer CoDs like Black Ops 2.

Of that list? I'd like skyrim and reach the most.
I'd also like to see GTA V (despite the re-release, as I didn't get the newer version) and bioshock infinite.

Bioshock Infinite for sure. I lost my PS3 copy before I finished it. I'd totally pick it up again for a few bucks.

Yep I still haven't finished it on my 360 - would love to do so on my One :) also it's a proper classic, not like most of the updated-every-year franchises on that list.

I really wish better games would be at the top of the list like Battlefield 3, MW2 and COD 4 are good games but why are there so many COD games in the top of the list?

I would like to see bf3 ??

What makes those games "better"? If they were actually "better", they would surely be higher up the list, no? It's almost like better is subjective....

I like how he says better games should be there on the list. And the says BF3 and two Call of Duty games. Not to mention that the the CoD games he mentioned are in the list anyways. I never played Fable but I sure as he'll that's a good game. Or what about the Bioshock series. Or heck I don't know the old Tomb Raider games.

The prob is most of those people, I'm going to assume who voted for bo2 are new to cod and started there..... Almost everyone I talk to who played earlier cods ( and quite frankly) the better cod people say cod4 and waw is the best

Sales don't exclusively note what is better, just what bandwagon people jumped on - annual franchises are a prime example of this. Minimal innovation to keep the bar low so anything new is seen as "spectaular advancement" and maintain sales quotas. Better is not always the most popular, and popular isn't always a good game. While any of this can be subjective, there are plent of truly innovative, fun, and unique experiences that if given the chance would give any of the popular annuals a run for their money.

They're only give a damn until Black Ops III comes out. Whatever, they can get that game if they want, just bring L4D2 over! There isn't going to be a L4D3, so we need it!

Ugh, so fed up of COD, so fed up seeing that it's the most requested. Why are there not other games that should be at the top? In my opinion, I think COD is a bit overrated nowadays. Many people won't agree with me, but as I said, its my opinion.

Many people agree with you lol

Yep this is one of those situations where your believed unpopular opinion is popular. I personally love (older) COD. I would love to see cod 4 and mw2 but that's it. Skyrim is definitely most deserving of #1 request, but there's too many fan boys out there :-/

I want Blur, one of the best fun racing games every made...it brings that old Nintendo fun racing to project Gotham style cars and game play.

MW1, WaW, and MW2 are beloved classics. It's the newer Call Of Duties which won't ever reach classic game status. They were actually innovative. It's obvious now Call of Duty just caters to the 10-year-old whiners...

Blobs 2 -Since its The best cod, best console mp game and the most fun to play with firends #NukeTownWIthBots or #NukeTownZombies
Also yeah The list looks looks decent. All the good cods are there plus halo reach. So: All the good xbox shooters are there plus the best other console games ( fallout, mass effect 3 and rdr ). Except skyrim. Don't know why console players still play that game.

Why not make requests for game developers instead of individual games? Activision for example may give permission to make COD BO2 backwards compatible, but wouldn't it be easier at that point to have Activision select some of its other developed games to support the feature as well?

All-pro 2k8 is a classic I'd like to see get some love

MW2 Should be the only COD coming back. Everything After that was garbage & Skyrim is a great pick for me. Until Bethesda decides to make another single player Elder Scrolls

Good luck getting permission from Activision.

Of the do this and modern warfare 2, it'll be a big poke in the eye for Sony!

Rage anarchy edition!! Because it's The Best game i've played!

Gross Cod... At least Reach and Mass Effect 3 are there! :D

Why can't people request more unique games than COD? I mean BOPS II was a decent game but come on, there's a new one coming this year and a COD every year. Red Dead should have stayed at the top. A damn shame.

I really don't understand why want old gen games back on current gen. Then don't buy a current gen console. Oh how great old games and remasters on our new consoles! Not

You sound like a troll but I'll answer you. There are a lot of fantastic prev gen games and people don't want the hassle of dealing with two game consoles. Give us ONE console that plays ALL prev gen and current gen games, and everybody's happy. That's what the masses want. There are many older games out there that have great reply value. Also, graphics-wise, many previous gen games are still almost on par with current gen games because developers still haven't mastered programming for the XBox One/PS4 (you NEVER see the best looking games for any console until 3-4 years after console launch). It'll be another year or two before we see current gen games that REALLY take advantage of their respective consoles power. So why not play prev gen games that still look and play ok today??

Cutting the amount of cables and console space in half is nice.

I only have my 360 connected for 2 things. Media Center Extender, and Civilization Revolution. Windows 10 is taking Media Center away from me. If Civ Rev gets put on the compatability list, I can donate my 360 to someone in need.

Halo reach! And halo wars

Another vote for Halo Wars.

All the games on my 360, thank you, then I can get rid of my 360 ;)

L4d, l4d2, wwe all stars, ilomilo, child of Eden, ghost recon future soldier, splinter cell double agent

Fable 3, COD MW series, Batman AA & AC. I missed out on the last generation so basically a whole ton of games I'd like to invest in without having to buy a separate console.

Great time to hit up ebay

If I had to pick a CoD, I'd pick MW2. The rest don't need to be ported. Personally I'd like to see the Left 4 Dead games, BioShock games, Dead Rising games and Mortal Kombat be ported

Isn't MW1 the best of the bunch? I do only remember MW2 as being broken af.

Modern warfares 1-3 are all the best.

They joke is they probably will release the CoD games for BC. Because we haven't had a new one in ages

First party, so it should be on no matter what. Looking forward to playing it again and the dlc I bought but never played.

Everyone who voted for Fallout 3 needs their voting privilidges revoked.

I know I'm in a huge minority, but I'd like to see AFL Live 2 given the nod for backwards compatibility. As a fan of the game I'd be very happy to see it added. I agree with Reach too, would be good to have it if there are no plans to add it to MCC as they did with ODST. As for COD, if any were brought back I'd rather MW or MW2, they were the best IMO, then BLOPS II as it still has a big online following. It's easy to get a game on the 360 if I can't get on my One.

I actually would like to see Halo ODST being backwards compatible, too. Since they did not port the firefight mode which was / is totally awesome!

Oh, and Bio Shock Infinite 4 sure

Amen, would love to have BOII and MW2/3

I'm just happy that any game I can think of for backward compatibility are all first party titles. Crackdown, Alan wake to name two. Why is Halo:Reach on the list? That's a first party game....

Why are people begging for cod if you played one you played them all..if any of them I will have to go for cod 4

Castlevania: Symphony of the Night is my top pick. I'd like to see everything from Xbox Live Arcade, such as X-Men Arcade, Simpsons Arcade, various Mega Man's, Street Figher 2 HD remix, etc. These are the types of simple old school emulation games that the Xbox One lacks, that I purchased a lot of on the 360, and can't play because I've unhooked the 360 from my home theatre in favour of the XB1.

You nailed it. These games are missed greatly.

Such a waste of resources on a game that has virtually remains the same. And on top of it, they release it every year!!!

Must be talking about Madden.

All on that list but COD.

Ugh! Is that it? The gaming world already has hundreds of FPS! If all the games in XBox360 library and in Xbox One we certainly do not need 7/8 FPS shooters. I have no care for backward compatibility if this is what we are going to see.

Assassin's Creed Rogue. Fell in between the gap of Black Flag and Unity.

Castle Crashers is the only game on the list I care about. Honestly its a waste that there's even a new CoD every year, bring some good games back!

I know no one will vote for this.. But I want Lara croft temple of Orasis to be "Upward"compatible with my Xbox 360..

I still feel that this game had one of the best endings to any video game ever. Gameplay wise, they've gotten meh, though.

Well if these Company's won't let Microsoft make their old games backwards compatible then we need to stop buy there new games

Only game we need is NCAA 14

Because its amazing. Duh. I wish they'd make more like it. Advanced warfare was a joke

Alan Wake is topping my list.

I want guitar hero. It was amazing guitar simulator.

Well that's a complete waste.

When the one was first announced, I was excited that there seemed to be a good selection on non FPS games planned.
I find it kind of disheartening that again everything is about shooters.
I understand that everyone has different tastes, but a little variety would be nice

Civilization Revolution. Simple turn based game should be easy to validate with studio approval oh, wait....
Windows Central Newsletter
Thank you for signing up to Windows Central. You will receive a verification email shortly.
There was a problem. Please refresh the page and try again.