Call of Duty Windows Phone companion app now available, let the campaign begin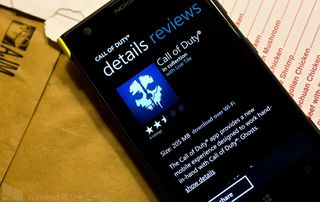 With the release of the latest installment of the Call of Duty series over on the Xbox console, we are also seeing a Call of Duty companion Windows Phone app lurking in the shadows.
The official Call of Duty app hopes to provide a new mobile experience designed to work hand in hand with Call of Duty Ghosts (opens in new tab). The app does require Call of Duty registration (can be done through the app) and you have to play your first Call of Duty Ghosts multiplayer match before you can start using the app.
Once active, the Call of Duty Windows Phone app will keep you up to date with all the latest Call of Duty news and events, let you track your COD career stats, as well as create/join a Call of Duty Ghosts Clan. Once a part of a Clan you can coordinate game times, strategies and chat with other Clan members.
You can also compete against other Clans in Call of Duty Clan Wars to earn exclusive in-game bonuses. Second screen support is in development and is listed as "coming soon" and look for the Clan Wars features to being later this month.
Call of Duty is a free app for Windows Phone 8 devices and can be picked up here (opens in new tab) in the Windows Phone Store.
Thanks, everyone, for the tips!
George is the Reviews Editor at Windows Central, concentrating on Windows 10 PC and Mobile apps. He's been a supporter of the platform since the days of Windows CE and uses his current Windows 10 Mobile phone daily to keep up with life and enjoy a game during down time.
I don't play CoD but it's nice to see the support.

EA are you paying attention?

Yes!!! We need a battlelog app

I remember a dev responding on Reddit saying that they barely have the resources to make the Android one, and that a WP one wasn't even on the table. Or something like that.

The comment was that for BF3, they had "one guy" building the battlelog apps for iOS. For BF4, they actually have an entire team working on "Frostbite Go", designed for iOS and Android in mind. They say they don't see the value in Windows Phone and Windows 8 considering the low market share. It's really disappointing that BF4 Commander won't be available for Windows 8.1 or RT.

The battlelog apps code is mostly shared between Android and iOS as it's a HTML5 app in a wrapper. No reason they can't just add in IE support and make a simple wrapper.

Yeah its the basically the same code between platforms but they'll still ignore windows and go with blackberry and the excuses will that its the same code as android, EA @$$holes.

It's not about building an app. WPCentral covered it before, it's about supporting it.

Exactly where is our app rockstar!

Right! I'm a Battlefield 4 player.. Come on EA!

Seriously. Need battlelog on my lumia. Also Can't believe their isn't even a Battlelog app for Windows 8 (EA can't even make up BS about marketshare with how many copies have sold already through OEMs and directly)

+1000! Seriously EA. We need battlelog for our phones (and commander mode for Windows 8.1)

Sweet, I'll see how it is later tonight. Good coverage! Was curious about this as I finally played until MP level 2 and then went back to battlefield. Downloading now!

Requires 1gb of ram and the 4 reviews mention connection issues. Should have gotten a L925. :-\

The Madden of shooters... no thanks.

Yep. Same game for the past 5 years basically but with a new title and more Michael Bay effects. I want even get started on the people whining about 720p. First. World. Problems. :P

I'll give this game a few more tries, but something about this version isn't fun. Horrible map design, minimally.

I want battlefield app. Please EA make it happen

Lumia 520 doesn't meet minimum specifications. Can't imagine why though. Usually it's because it requires 1gb of ram but I can't imagine some silly little stat tracking app would require that.

Any news on the gta companion apps

Looks like the Android community is unhappy with the iFruit app http://www.neowin.net/news/gta-v-ifruit-app-finally-launches-for-some-an...

I don't play CoD either but I appreciate them doing things right and releasing their app on their game's release date. See that, Rockstar??

2.5 stars for the app on article's picture. Shit app..

The game is also a big pile of crap.

Sadly it's extremely popular. :'( I mean it isn't AWFUL, but not as good as other games.

I hate COD but I am happy to see the support. Now if they can update Halo Waypoint and get the GTAV iFruit app that would be fantastic.

Pity they haven't made the companion available for Assassins Creed 4: Black Flag. I got bored of CoD years ago.

So we need the battle log and the GTA companion app!

This app won't run on 1080p screens. But your phone will upscale it nicely.

Lol I've been waiting for a GTA V app for months.

Same here. GTAV even gave the best character a Windows Phone to use, yet we don't have the official apps yet.

I saw call of duty and I was like woooooooowwwww! Then I saw companion and I was like I have to finish studying .-.

Yeah we need one for Battlefield 4.. They have one for BF3!!

You need to say in your article it won't work on the Lumia 520

And 620, 720... Etc.. 1Gb RAM WTF?!

Off topic, how and why are the words "reviews", "with Live Tile" and "download over WI-FI" colored in blue? I'm curious to know.

Still no companion app for GTA V tho

The one time I don't buy the game on day one they release the app on time...

It's pretty sad that we get a Ghosts app day one (although I have no idea why they didn't just update Elite), but the Halo Waypoint app only got a web link added to the Halo site for Halo 4.

Great news! Wasn't it supposed to be a GTA V companion app too?

CoD4 was the first and last good CoD. Should have stopped with MW2. Oh well. Gotta milk that cow. Oh and create fanboy flame wars over resolution. Avoiding these games like the plague BUT glad to see the WP8 support. :P

Hey, Black ops 1 wasn't bad enough

This app's not available for my country :(

same here :( i'm in Malta

Optimized app, yes sir... Who's the genius that made this app? 1Gb RAM just to see a stats bar and my class? GG WP Infinity Ward, that's why I only play treyarch's CoDs and BF

There's also the CoD Elite app too, best to just get rid of this one or will it be updated too?

Elite doesn't track ghosts, which is really lame. They could have just revamped that app and had it optimized for all devices and not just those with 1gb of ram. And of course, their twitter support knows nothing regarding 512mb devices. If anyone has it, does it actually show any challenges like the elite app?

Wish it worked on my Lumia 800!

Can't use app on my phone

Not available for Indian region wtf activision sucks :X

The most softcore shooter ever. Gameplay feels so cheap bah

I got excited until I saw the word "companion". I'm sick of these stupid "companion" apps. Give us a real CoD game!

Any time I find out that a new app available on iOS/Android AND WP8 of this magnitude, I'm happy. Yes, COD is a very arcadey shooter - tell that to my friends who had a tough time adjusting to BF3. I'd rather play BF, but I digress. This is a big deal - I downloaded it on the iPod last night, and silently cursed at the fact I wasn't able to do this on my phone, only to find out it IS available. Great! I mean, XBOX is known for shooters, so it only makes sense that the blockbuster title apps show up on WP. On a side note, I've installed it, but it won't launch. Has anyone else run into this issue? There was a message about needing to run the game once first, but I already have. On PS3. Don't tell me it only hooks to XB games - that would absolutely suck.

I got the app to work right after I logged into the official Call of Duty website with my CoD login and "linked" my systems to my profile. Soon as I did that, the very next time I launched the app it loaded with my info and worked as intended.

I have both XBOX and PSN linked. I'm only on playing on the PS3. Are you playing XB? I logged into Activision's site, and it all seems ok, but still no go on the app.

WP 7.x ???!!!!!!, Hello!!!!!! Do wi get anything???! The answer is NO!!

1GB of RAM for a [stupid] stat tracking app!!? :(
Windows Central Newsletter
Thank you for signing up to Windows Central. You will receive a verification email shortly.
There was a problem. Please refresh the page and try again.