Everything we know so far about Call of Duty: WW2 – Multiplayer, Zombies, release date, and more
Call of Duty is making the jump back in time to the Second World War – this is what we've learned so far.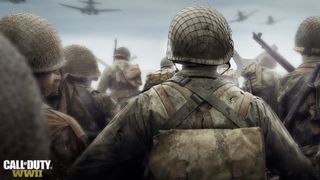 The Call of Duty series has seen its fair share of criticism over the past decade, by finding a formula to follow and sticking to its successes. Although these games never failed to be comprehensive experiences, there was little sense of innovation in recent entries to the series.
Now, with the recent reveal of this year's Call of Duty title, the series set to see one of its most significant changes in franchise history. The latest iteration of shooter promises to explore a more realistic portrayal of World War 2, across its single-player campaign, competitive multiplayer and cooperative modes. We've brought together everything we've learned about Call of Duty: WW2 so far, ahead of its debut this November.
A band of brothers
After pursuing near-future warfare for some time, Call of Duty: WW2 marks a major turning point for the franchise. Visiting an era unexplored by the series since 2008's World at War, this should give Sledgehammer Games the opportunity to offer a fresh angle on the conflict.
Following the US 1st Infantry Division, Call of Duty: WW2's campaign puts players in the shoes of Private Red Daniels – a young recruit thrown into the horrors of the European theater. Although the Call of Duty games have never been known for their deep narratives, we can expect the campaign to touch on themes and values commonly associated with the Second World War.
Single-player marketing up until this point appears to be largely centered around the idea of companionship and brotherhood, built through a relationship between your squad mates. As to be expected from a Call of Duty campaign, we'll likely see the daring operations carried out by the Infantry Division, with odd emotional scenes interlaced throughout. Although these tales of camaraderie in the Second World War aren't exactly groundbreaking material, they've grown to be an iconic aspect of storytelling for the era in media.
This focus on teamwork will also extend to gameplay, where both you and your AI-controlled teammates will supposedly depend on one another. Health packs and ammunition resupplies can be exchanged between the squad, with smarter and more natural companion behavior.
Call of Duty: WW2 also promises to revisit "iconic World War II battles" throughout its story, from the anarchic events of D-Day at Normandy to the long and brutal battles at Hürtgen Forest. Although we're yet to hear much about the experiences on offer, they clearly look to encompass a wide range of conflicts across the whole of Europe.
Boots on the ground, straight into the action
While its reveal focused heavily on the period change, we've also come to learn some early details on the multiplayer portion of Call of Duty: WW2. Promising "boots on the ground" gameplay, multiplayer aims to bring back the simplicity of earlier Call of Duty titles. With games like Battlefield 1 having already proven the desire for change in the genre, Call of Duty: WW2 is a prime position to bring back these franchise roots. Although we won't be seeing the exo-suits and advanced gadgets, we can still expect some of the more recent additions to Call of Duty multiplayer to also make a return.
As a part of Activision's E3 2017 offerings, the publisher unveiled a majority of the major changes coming to multiplayer this time around. New multiplayer modes, maps, and features were all showcased, alongside an in-depth breakdown of the new "Divisions" class system.
One of the biggest additions to multiplayer this time around is a story-driven competitive experience named War Mode, which "brings a gripping new layer of excitement to Axis vs Allies team play." Adding context to conflicts, War Mode centers around objective-based gameplay with a historical edge.
Activision has also detailed the new "Divisions" system, which essentially replaces the existing "create-a-class" approach to weapon and player customization. Instead of finely tweaking your loadout from the game's entire arsenal, you'll now choose between pre-made divisions (classes). Five divisions will be available at launch, each with their own style of gameplay and associated weapon classes. While there will be customizations within each division, the options will be limited to correspond with the intended style of play. Here's a breakdown of the five divisions and their intended play styles.
Infantry is a traditional front-lines soldier, packing a semi-automatic rifle and self-loading pistol. This is a generally well-rounded class but excels in offensive situations.
Expeditionary is an aggressive scout class, best suited for when situations get up close and personal. While the class' shotgun provides heavy stopping power, the addition of incendiary shells can add extra heat to the battle.
Airborne soldiers gain access to a submachine gun with an optional suppressor, allowing for a more strategic and tactical angle to gameplay. This class can also bring smoke grenades into combat, adding a new edge to encounters.
Armored is a tank class, with heavy weapons, heavy armor, and unrivaled power. Although you'll be losing the agility of a traditional soldier, the LMG and Bazooka can be a deadly combination.
Mountain is the long-range class of Call of Duty: WW2, with access to sniper rifles for precise, sharp shooting. As one of the stealthier classes available, enemies won't what hit them from afar.
A new social space is also debuting in Call of Duty: WW2, providing a central hub for customization, interacting with other players and other features outside of the core gameplay. As seen in various other multiplayer-centric titles, providing such a location completes the package, tying together both game content and personal progression. While we're yet to see an in-depth breakdown of the "Headquarters" mode, influence is clearly being taken from Activision's other flagship shooter, Destiny.
Waking the undead
Call of Duty: WW2 will also bring back one of the franchise's most popular modes – Zombies. With a return to the Second World War, this was all but inevitable, allowing the mode to travel back to its true Nazi roots.
Like previous games, Nazi Zombies in Call of Duty: WW2 will be a cooperative experience where players fight hordes of the undead, in set waves. Over time players will earn new equipment and power-ups, which can be used for a remainder of the match to combat the increasingly challenging onslaught of demonic creatures.
In an alternate reality, the basis for Nazi Zombies takes place after Axis powers gain the ability to revive the undead. With players set to recover artwork stolen by Nazi forces during the war, the invincible undead army is unleashed into the Mittelburg, Germany. Like recent revisions of the mode, Nazi Zombies will also have a narrative attached to it, featuring notable actors such as David Tennant, Elodie Yung, Katheryn Winnick and more.
How to get hands-on with Call of Duty: WW2
Call of Duty: WW2 is set to release on Xbox One, PlayStation 4 and PC on November 3, 2017. Both physical and digital versions of the game are now available to pre-order, with special editions for those who want to full experience. Here's a breakdown of the various editions of Call of Duty: WW2 currently available to purchase.
Those who pre-order Call of Duty: WW2 ahead of launch can also gain exclusive access to the Private Beta - an opportunity to get hands-on with multiplayer before the official launch. While earlier access will be provided to those on PlayStation 4, the Private Beta will also be available on the Xbox One. Here's a breakdown of the dates for the beta, between all platforms.
August 25 — PS4 early access Private Beta commences.
August 28 — PS4 early access Private Beta ends.
September 1 — Xbox One and PS4 Private Beta commences.
September 4 — Private Beta ends for all platforms.
Sadly, it appears that players on PC won't be getting a multiplayer beta and will have to wait until release to get hands-on.
Scoping out what's to come
While we still have some time until the launch of Call of Duty: WW2, it won't be long until we discover more about the title. With more showcases expected over the coming months, we can expect to find out more information surrounding each of the modes running up to release. As always, we'll make sure to update this article when new details drop. For all future news on Call of Duty: WW2, keep an eye on Windows Central in the months ahead.
Updated July 21, 2017: Updated with all the information on Call of Duty: WW2's newly announced mode, Nazi Zombies.
Get the Windows Central Newsletter
All the latest news, reviews, and guides for Windows and Xbox diehards.
Matt Brown was formerly a Windows Central's Senior Editor, Xbox & PC, at Future. Following over seven years of professional consumer technology and gaming coverage, he's focused on the world of Microsoft's gaming efforts. You can follow him on Twitter @mattjbrown.