Can't download apps from the Windows Store or on Xbox? You're not alone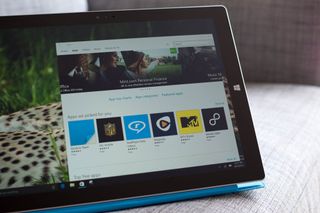 If you're hitting a snag trying to download apps from the Windows Store or making purchases on your Xbox One today, it appears you're not alone. A number of reports of issues have popped up on on Reddit and in the Windows 10 Feedback Hub throughout the day, and Microsoft has confirmed at least part of the issue on the Xbox Live status page (opens in new tab).
Microsoft lists an issue with "buying downloadable items" on Xbox One, Xbox on other devices, and Xbox on Windows 10.
While Xbox is the only platform mentioned on the status page, it's clear the Windows Store downloads are currently experiencing problems for at least some. We've seen downloads timing out on PCs based in the UK, but couldn't replicate the problem on a couple of machines based in the U.S. and Canada. If you are having trouble with the Windows 10 Store in particular, however, give our guide to fixing pending or stuck apps a shot.
How to fix pending or stuck apps in the Windows 10 Store
Dan Thorp-Lancaster is the former Editor-in-Chief of Windows Central. He began working with Windows Central, Android Central, and iMore as a news writer in 2014 and is obsessed with tech of all sorts. You can follow Dan on Twitter @DthorpL and Instagram @heyitsdtl.
I didn't see this until now, but I definitely experienced this problem with my Windows 10 work PC. I tried downloading the Remote Desktop app from the Store, but couldn't. Timed out, repeatedly.

Phantom Dust came from so far back in time, it brought the Store-less Past with it!!! Publishing an original Xbox game to the Xbox One and Windows 10 Store ripped a hole in the Xbox-Time Continuum!!!

I went to the Windows Store to download some new apps and then my computer restarted. Now my Surface Pro 4 is running Windows XP :'(

And picked up WannaCry on the way.

Had problems in the UK trying to reinstall Instagram on my PC...mobile had 5 apps stuck but I just tried again and now working

No problems with the Store in The Netherlands. Just downloaded WhatsApp beta update. Also Windows View 3D, Xbox and 3D Builder.

Couldn't install Virgin TV App in Ireland on Linx 8 tablet earlier from the store.

I couldn't download anything minutes ago but now I can. I think they've fixed it (they're so quick!). For me, at least.

The most puzzling thing here is how did anyone notice.

Obviously people have, since it has been reported that people have had trouble. But, as we know, you are just here to do your regular trolling.

Go back to boring mac sites troll.

It was a joke, and actually pretty funny. Lighten up.

The only joke is Order 66...

Actually, if you had seen order_66's posts over the years you would know that his posts are not a joke, but he is a full on troll. A few years ago he made a post on another site saying he was going to leave WP for an iPhone because his WP device broke. When I looked through his post history, I found a post just a few weeks before stating he had already left his WP for android. He stated months before then that he had a Samsung WP, but when the phone that broke that he was going to leave over, it was a Nokia 9 series. During the thread, his 9 series's changed to a 6 series. During the conversation he hadn't an iPhone for months, even though he said he was going to get one for the first time. Over time his story changed multiple times, until he started claiming I was making up lies about him and wanted me banned even though you could see his story change over the period of a few minutes. Eventually he started claiming he was a regular joe, and I was trying to confuse him. He went on to troll like he did here, dropping these little bombs then running away. I haven't been to that other site in a long time, but the last time I was he was continuing with his trolling.

That's quite a story, you wouldn't by chance have a link to back any of that up would you?

Clicking on somebody's avatar opens their profile which also lists their (recent) posts. Just by looking at your recent posts (and those of a year ago) all I can see is you bashing Microsoft (since W10 mostly). I guess its not everybody's cup of tea and everybody has an opinion, but it shouldn't be surprising to you if people stopped taking you seriously a while ago since all you do is complain about the OS. I'm not sure about the story from Nohone since it doesn't list in your recent posts list but it *could* fit your additude. Lighten up and use that energy for something good.

Indeed I have no love for windows 8 part 2 and I'm certainly not going to praise Microsoft for their anti-consumer decisions that negatively affect millions of users

Because 500 million people use it.

Hi there, i reconise that name :)

Not just an outage. Worse of all some essential older apps can't be downloaded supposedly because the device requirements are not met. In fact they were running just before a reset. Also some have to be downloaded from websites because they are not in available in the store. E.g.: Video tuner, Lumia Panorama, etc.

Had to restart myself today. Even resetting the Store app didn't resolve it. Worked right away after that.

Me too! Tried troubleshooting and resetting, nothing worked.

Got a couple of apps from the store getting an error message here, so yep there seems to be a problem with the store too.

Same happned here. I couldn't update windows, update apps. Or just do clean install properly! Microsoft always duck something up.

This is the problem with relying on a store type system, all thne fans saying how great it is and how secure it is, secure maybe, but satill a pain if at that time you want toget some software and the store is down.

Can't update system apps like color profile, gestures.. (Phone). Error says that these apps must be installed on internal drive. I've set the apps storage to Device only. Any help ?

I can't get into feedback hub it just says "something went wrong.....check your connection and try again" on latest fast ring on pc in uk. Dunno if connected or just fluke

Yeah, although for me its resolved now.

Experienced this issue last night both on my Windows 10 PC and Lumia 550. Good thing it's resolved now. Altho i can't see any updates from Instagram even tho Mspoweruser said there was a new update. Hmmmm 😶

I've been having this problem for a few days now. I figured it was a problem with build 16193, but it's only happening on one of my two machines both on the same build. I've basically decided to reinstall Windows from scratch. Even without this problem, I'm long overdue for a clean install. It's something to pass the time at least...

Update: Reinstalled latest fast build and everything is working great again.

cannot download Turn off the lights but was able to update some app. (INDIA)

Looks like they are shutting us out, the last straw would be denial of apps

I experience this from my Surface but not phone. So, Your comment does not hold.

Thanks, that gave a good chuckle :)

It happened yesterday night... But now its good

The windows store have been having problems for months on and off, I know someone who still get an error, from the store, we even restored Windows 10 and he still gets an error..

I'm having this problem with my mobile,apps that I had doesn't want to install,every time I try to re-install an app that I owned,I get a notification saying that it couldn't install and we'll try again shortly,it's two days now

Wouldn't update apps in the UK last night, haven't tested it yet this morning

I cant install or update apps. united state

No problem today, on Windows 10 Mobile. I downloaded updates about at most half an hour ago. It worked well, as expected.

I'm from Italy and I had problems with the store yesterday. Can't update or install any app from the store. It was keeping in download, after a while I was getting an error.

had issue hours ago with Windows Store. Now works fine

Would be nice if I could get fast ring updates working on PC and Cortana working on mobile...but this is just more **** MS fans have to deal with!!!

It won't let me install Facebook Messenger - it says my computer does not meet specifications and a message "This app needs to be installed on your internal hard drive." I am using a laptop and only have a HD installed and apps are set to install to it so I don't know what the problem is.
I am fine to install other apps, even the normal Facebook one.!!

I had problems too downloadings apps on my cellphone, they got stuck in "starting download" status
Windows Central Newsletter
Thank you for signing up to Windows Central. You will receive a verification email shortly.
There was a problem. Please refresh the page and try again.