Captain America: TWS now available on Windows Phone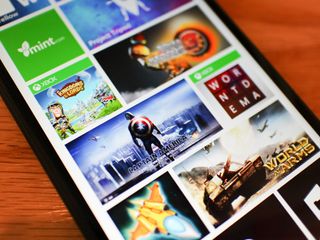 The movie may be a few weeks old at this point, but we're still happy to see Captain America: TWS come to Windows Phone. Gameloft has just released this new game for Windows Phone 8 and Windows Phone 8.1. Play as Captain America and lead a S.H.I.E.L.D. Strike Team that'll save the world.
Captain America: The Winter Soldier came to theaters globally earlier this month, but today he's coming to a Windows Phone near you. Here's what you get with Captain America: TWS on Windows Phone:
INTENSE COMBAT ACTION WITH LOTS OF TACTICAL OPTIONS
Lead your Strike Team of S.H.I.E.L.D. agents
Battle your way through various enemy types using force or guile
Make clever use of your indestructible shield and skills as a Super-Soldier and an Avenger
Call on The Avengers for support
100% MARVEL EXPERIENCE
An absorbing original story co-written by Marvel Comics writer Christos Gage
Face off against iconic villains such as King Cobra, Taskmaster, Puff Adder, the Winter Soldier and more
Art and graphics inspired directly by the comics
PLAY WITH YOUR FRIENDS
Asynchronous multiplayer: Join a Clan and battle rival players!
Climb the league leaderboards
Earn cool rewards in Limited-Time Events
MANAGE YOUR BASE AND GROW IN POWER
Enhance your agents and weapons for optimal performance in the field
Learn new fighting techniques to supercharge Cap's attacks
Unlock and upgrade Captain America's suits
Research skills and items that help you advance faster
We've spent a few minutes 'playing' with the game. So far it's not looking too promising. You require an internet connection to play Captain America: TWS. That's not in itself bad, but we're getting some crashes early on. We might not be alone either, early reviews for the app in the Windows Phone Store show the game averaging two stars.
The game itself is pretty fun, we're hoping for a quick update to address the stability issues. Give the demo a try and let us know how it works out for you.
Captain America: TWS will give you the first two levels free, but then you'll need to pony up $0.99 to play more. It does work on 512 MB devices. Download it from the Windows Phone Store.
Update: Gameloft just pinged us to let us know that the game's unlisted from the Windows Phone Store because it's still in testing. That would explain any poor performance you might be experiencing. In any case, be classy and sit on your 1-star reviews until the game is officially announced by Gameloft and fully patched with the final build.
Thanks for the tip Lance_WPCentral!
Windows Central Newsletter
Get the best of Windows Central in in your inbox, every day!
Great ! Was waiting for it to get released since a long time. Now awaiting the release of The Amazing Spider-Man 2. :)

Amazing spiderman 2 is horrible. Bad graphics, missions, gameplay, crashes. 6 euros and still lot of ads

Darnnn....I was so much looking forward to the game. But now I'm disappointed after reading your feedback. :(


Yeah, game dissapointed me too, gameloft could do a lot better. Well, it looks like our hope is modern combat 5 now :)

I haven't had any problems with Amazing Spiderman 2 on my iPhone 5s. No crashes or network connectivity and the graphics are amazing and the missions are great. I am a gamer from the 80s so I play old school, conquering all of the side missions and putting a lot of time into my games, like in the old days where playing a game was the best. These new young whippersnappers call is "grinding" to play the side missions. I don't mind beating up the bad guys on every corner and rooftop because in the end, I have had fun playing and oogling at the graphics and I have also built a quite a large stash of in game currency. Pro Tip: The longer the combo in a fight, to bigger your reward at the end of the fight. My longest combo so far is 47 hits. I hope Gameloft doesn't dumb down the graphics on Windows Phone like they did with NOVA 3.

I'm a gamer from the 80s too and grinding is grinding. No way to sugar coat it.

Did you call playing a game to unlock or earn things grinding in the 80s? Was it grinding to get the high scores? Games back then didn't have any where near the content that we have now and we played them over and over and over, unlocking only a few things or just the level and character progression or a high score by playing over and over. I never heard it once referred to as grinding. It was simply playing the game. Even in the 90s, playing Super Mario 64 and earning all the stars, unlocking the different caps and finding Yoshi on the castle top, that was simply playing the game as designed and not grinding. Now, doing the same, playing a game as designed, earning, collecting, progressing and unlocking by actually playing the game is considered grinding....I guess times have changed. I remember playing for hours upon hours to unlock upgrade kits in Top Gear 2 and unlocking tracks by playing and playing, saving my progress with passcodes. This new generation would complain of having to "grind" to earn money to buy the upgrades, cars and unlock the tracks when in actually it is the same thing, playing the game to earn and unlock things. People love to complain, when the developer makes a way for you to pay for an old fashioned cheat code (IAP), thus skipping this newfangled "grinding" people complain. What then, shall a developer release their game with everything already unlocked so that we don't have to play...err grind to earn anything or pay our way by skipping the effort it takes to earn and unlock by actually playing the game?

Assassins creed is still releasing!!!

Spiderman 1 was a decent game. I can't wait for this second one. Was supposed to be April 17th...

Hahaha didn't somebody just predict that this would be the next news article :P

He is a time traveller from the future ;)

Haha, but didn't you predict that Daniel would post this? This article was written by Sam. :P

No,I never predicted that.I just said the next article will be about Captain America:TWS :)

Ah, well then kudos, my aspiring young psychic.

Soured you even read the article?

I think it's about time WPC introduced an upvote/downvote system :p

Don't bother reading the article just ask questions instead.lol These people.

Actually its available for installing on my Lumia 620 so there is support??/ :/ but i cant find it in store only i can go through ur link/

Atleast read the article properly once matey. Sam clearly mentioned "It does work on 512 MB devices".

Go read the article...you are lazy

Stupid people be like
' read headline and jump straight to comment'

Sam,I won the bet :D 8| btw,how lond did the "validating data with servers" loading take? :) because I've been waiting for 5mins,and the loading is not even half :(

Took us quite some time to get it up and running. Be patient...and then experience crashes :(

Aww :( Hope Gameloft gets it fixed soon. :) #InGameloftWeTrust :)

I'm only mission 11 and haven't had a single crash yet.

It took ages to fill the bar of validation to servers... Then crashes... 5 star for the crashes

Good only if it plays. keeps crashing while trying to load first stage :( tried 6 times already. Nokia Lumia 520

Same with L620, WP8.1. Uninstalled :|

I uninstalled as well. running WP8.1 I thnik the WP8.1 is just to bad as* and developers cant handle it yet, lol

It did not work on my Lumia 620 with black update. It crashes after loading first level. Deleted.

While I agree and really want it to be an Xbox Live title, I'd rather have this sooner than later also for this lower price too.

I'd rather have Xbox Live. No Xbox, No Download. #SaveXboxWP

To each his own I guess. Your Capt. America will be released w/ Xbox Live just wait around holidays of 2015.

You are not saving anything but the space on your phone and wireless data by not downloading it. Take your #SaveXboxWP movement to the correct people because if you aren't actually doing anything that will actually make a POSITIVE difference on the Windows Phone ecosystem then all you are doing is wasting your time.

Same here no Xbox no download baby.

Yus I is agree no download no xbox live, booo

Did anyone notice most of gameloft titles are free such as assasin's creed, asphalt 7, shark dash ????

Yup. Nokia gives away free Gameloft games to certain Lumia owners - http://www.wpcentral.com/nokia-free-gameloft-games-promotion

Glad to see they're back. They free ones got pulled from the store for awhile.

Yes for a few of the Lumia phones its free. Here is the article you can refer to posted a few days ago. http://www.wpcentral.com/nokia-free-gameloft-games-promotion

Ppl bought expensive lumias nd i bought a cheap L625 nd i get free games from gameloft ????? Am i dreaming !!! Lel

Captain America: the worst soldier?

Oh boy, we already have the WP vs Google vs iOS and Nokia vs Samsung arguments here, can we please avoid the DC vs Marvel ;P

I have to agree because batman

Batman is just a wannabe Iron Man with daddy issues.

ok I guess we're doing it. +920

Ironman is nothing without his suit, Bruce Wayne without his sir can still kick stark halfway across the street :P

Stark has a few thousand swim suit models to patch him up. Bruce has a geriatric butler and he gets laid once every ten years. Besides, Stark's armor would be on him before he landed. Then Bruce will have to go find a broom closet to change.

Hoo boy. Batman would require only casual research to have Iron Man bagged. Tony may be engineer smart, but he's not chess smart like the bat. Bats wouldn't drop by Tony's until he had twenty different ways to beat that suit --and if the fight were popped on him, Bats could improvise five ways to beat Iron Man.

Oh..! That's why they didn't select batman for Avengers and took Iron man as a major lead character for the movie bcoz batman is too powerful than Iron man lol :P ... Avengers film shows the power and sacrifice of Tony stark and Ironman

Batman wasn't selected for Avengers cause he is DC and not Marvel, that's why Batman is part of the Justice League. Let's face it guys, alter egos on Iron Man is better than Batman, alter egos off Stark is way more fun than Wayne.

America! F*ck yeah! Comin' again to save the motherf*cking day, yeah!

they should totally make it the Captain America theme song, who owns the IP to Team America?

It would either be Scott Rubin productions or Paramount. I found this though (;
http://m.youtube.com/watch?v=1M5GjeIeDpk

HA Awesome! Thank you for this!

+1 for the Team America reference ;D And now for Ballmer's Kin/Vista tune "I work rearry hard and make up great prans...But nobody ristens, no one understands..."

What took them so long? Seriously, I think I'll never understand why they can never release it alongside Android and iOS... Just maddening!

Game is not showing in store L625 user based in india !!! ???

Yes its showing.. I m from India and have L625...

Took way too long just to boot up. Uninstalled...

CA: TWS support 512. Subway Surf?

Gameloft has really been putting out crap lately. Between the freemium and the stability issues, and just lousy game play, its getting pretty disappointing. Hopefully they step it up soon.

Meh. See me getting bored quick of this game

Look at the rating of the app... 12 reviews n its 2 star... What went wrong??

The game's still in testing, according to Gameloft. They Store link was supposed to be invisible and unlisted, but here we are. It kind of sucks that they're raking in all of these negative reviews for an unfinished product.

Glad to see that we're no longer waiting months (and sometimes never) for games like this.

Loaded fine and played without glitches in my Icon. At least the first two levels. Not sure I'll play it much, but for 99 cents I bought it just to show support for WP. Played the third level fine too.

Ok so it took a few minutes to load up initially but ran great on my 1520 running 8.1. Ended up buying it.

The first load time is because it's downloading.

Meh.. These games on a phone.. I guess, if you have time. I'd rather spend my free gaming time with my desktop gaming PC.. There's only so many hours in a day for me.

Works on 512mb devices!! Cool

Awesome! Gotta love Gameloft!

The amazing Spiderman 2 work on 512mb devices?

Gameloft_Ryan said : The Amazing Spiderman 2 work for 512 MB device and more

lo instale pero no aparece en mi lista de juegos

What kind of language is that

Spanish, he says that he installed it but it wont appear on the game's hub. Same to me and didnt even load at all blehhhhhghhhhh

Not working in Lumia 520 just had up

Lot of bugs waiting for gsmeloft to fix those

Now Uninstalling...... Takes a looooooooooots of time and then crashes.

Don't call it a game update it gameloft..its crashing always

I think the game is pretty good, as a Marvel fan (a real fan mind you, not just a movie goer and cartoon watcher though the latter is not as bad as the former) I think its the best offering on windows, period. It bodes well when you complete a demo and want to play it again and more. I might purchase it.

Does not load first mission on my 520. Windows phone 8.1 always crashes. First gave to wait for so long to connect to server and then CRASH !!!!!

I forgot I downloaded this last night. lol. Tried loading the game up... Lumia 920. First, I had problems on wi-fi. Turned off wi-fi, and finally got past the splash screen to the validating servers bar. Which takes FOREVER. I literally timed it... it took an actual 5 minutes for this step. Then after validating, it took me to a load screen, a create profile screen, a cut scene, then to another load screen at which point it FROZE. So looks like a force quit and uninstall from me here. JUNK!!! In the film, Black Widow downloaded an entire hard drive of SHIELD secrets to a thumb drive in a fraction of that time! LMAO. I do believe mobile game developers have embraced the "video games based on movies should always suck" philosophy. I wish all those people who keep saying mobile gaming is going to kill dedicated handhelds could be proven right... becaues so far its just a fantastic hypothetical.

So, it turns out the game is still in testing, which is why there hasn't been an official mention from Gameloft about the launch, and that the app is unlisted in the store. It would be fair to cut them a little bit of slack before ripping them a new one about the game.

This game is frustrating me...i hope we hv an update soon
Windows Central Newsletter
Thank you for signing up to Windows Central. You will receive a verification email shortly.
There was a problem. Please refresh the page and try again.