Subscribe to all of the podcasts with Cast for Windows 10 for PC and Mobile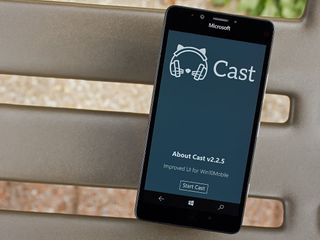 Podcasts have been a popular means of keeping up on current trends and discussions on a wide range of topics. From sports talk to tech talk, podcasts can be an informative way to pass the time. Cast is an app, available for both Windows 10 PC and Mobile, designed to help you manage your podcast library.
The app has options to import your podcast library, search the web for new casts and synchronize your library between PC and mobile devices. In using Cast for just a few days, it comes across as a simple way to manage your podcasts.
Cast is a relatively simple Windows 10 App with a series of navigational controls running down the left edge of the screen and a hamburger button sitting in the top left corner to expand the menu to include the descriptive text.
Menu features include:
Keyword Search: Sift through the thousands of podcasts available online for your favorites or to discover something new
Now Playing
Playlist: Provides access to playlists you create from the podcast episodes listed in your Cast library
Library: This is what I could consider your main or home display for Cast that lists all the podcasts you've categorized and added to your personal library
Download: Here you will find a list of any pending or active podcast downloads
Settings: Options for Cast settings include general appearance options, playback options and library synchronization options.
Your first order of business is to find podcasts to populate your library with or import an existing podcast list. Lists can be imported from local storage, removable storage or your OneDrive account.
As you discover podcasts with the search tool or choose a podcast for playback, a series of controls will appear across the screen's header. For podcast series, you will have the option to add the series to your library. Then for individual podcasts, you can download, play, add the episode to a playlist and mark the episode as played.
When you do choose a podcast to listen to, playback controls will appear at the bottom of the screen with the customary options such as play, pause, fast forward, etc. Podcasts can be streamed or downloaded locally for offline listening.
A Clean, Simple Podcast Organizer
While I don't listen to many podcasts, I can see the appeal Cast will have for those who do. The design is simple and clean and being able to synchronize your podcast library between devices is a plus. Cast has plenty of organizational tools to let you download podcasts for offline use, create playlists from your library and automatically update podcast series when new episodes are added.
The only nit I have with the app is that you cannot hide the playback control panel. This isn't a deal breaker, but it does block the bottom portion of the screen when you are moving around the app while listening to a podcast.
Overall, Cast is an appealing podcast management app for Windows 10 PC and Mobile devices. It is a free app with in-app purchase opportunities to tip the developer.
Download Cast for Windows 10 PC and Mobile (opens in new tab)
Windows Central Newsletter
Get the best of Windows Central in in your inbox, every day!
George is the Reviews Editor at Windows Central, concentrating on Windows 10 PC and Mobile apps. He's been a supporter of the platform since the days of Windows CE and uses his current Windows 10 Mobile phone daily to keep up with life and enjoy a game during down time.
I haven't been able to get the phone client to sync to the desktop client. Looks like it should work but no matter what I do they don't seem to cross.

Yeah it's a nice app but still a bit buggy in it's early stages. I wish it would let me skip forward/back using media controls. I use it on desktop but podcast lounge is still better on phone.

I completley agree. Had to go back to podcast lounge too for WP.

Found the first sync took a bit of time then worked great. In the app settings you can "push" and "pull" a sync. Been using this app for a few weeks now & it's great. Minor issue with the app not playing on opening with mobile client but author is very repsonsive and is updating the app quickly.

Same here. I tried to import an opml that I saved from Podcast lounge to OneDrive. On my 1520 it found it but it didn't do anything (parsing error?). On my laptop it was able to load the opml file just fine. But then using 'send to cloud' and checking on my phone (and 'get from cloud') didn't do anything. In general it looks nice but it could use some explanatory text in the various settings sections (like: what kind of file can I import). And an email address for the developer would be helpful as well.

On 1520 the problem comes from the OS which does not transfer correctly data between apps :(

Are they using same MS account? The sync is done through OS roaming settings

I noticed that my backup got HUGE after installing Cast. Currently Cast is listed as backing up 226 MB of data. I would expect it only backs up stuff like subscription list, read/unread list, etc. Are the actual podcast files being backed up too? If I were to turn off the Cast backup in settings, would the Cast cloud sync take care of my subscription list?

It's a universal app from what it sounds like and it would be nice to have a better podcast client than PodScout. This seems to be OK even if the interface looks like it may need a little tweaking. Still.... it seems to work fairly decently.

Have you tried podcast lounge? That's my go to. My only complaint with it is that it doesn't have a download 5 oldest, unplayed episodes sort of option. So its great on stuff I keep up with, but for stuff I'm behind on I have just been using the MS podcast app.

I use the built in podcast app in Windows Phone and it's pretty good. The only down side is that it's never been available on the desktop, but I've been expecting MS to get around to releasing it on desktop at some point. Does this app do anything the built in app doesn't do, beyond being universal?

Does it support video podcasts

It can download them and play the audio but I can't figure out a way to show the video. This is one feature I'd like to have.

Next update will showcase video support ;)

That's great! Can't wait to check it out.

Looking forward to testing this out - thanks for letting us know about it!

Just grabbed for my pc and 950xl
Looked really slick and found what i wanted to have, and fast.

Still needs work, it won't even let me download any podcast episodes on . I prefer pod.ding for being able to fine tune everything to be just how I like it, just wish they would update it to allow syncing to the cloud.

I've been using it for about a month now. I really like it. It's nice that it syncs between all my W10 devices, although occasionally it syncs incorrectly.

Still Waiting for Windows Central Podcast

Nice review George; always appreciate your posts, thanks.
That said, why wouldn't this review be assigned to someone who is an avid podcast user? Or maybe a tag-team post to provide perspective of a podcast newbie and a grizzled vet.

Still hoping that Podcast Lounge will come out with a W10 app.

The developer has updated the app several times since it's release and it is much better now than it was when first released. It's the best podcast app I have found so far. I switched from Podcast Lounge to Cast because I can use on my PC and phone. I reached out to the developer with ideas and he was quick to respond that he is working on additional improvements.

I'll give this a shot. I've been having to use itunes for podcast. It's buggy as hell on W10, but it works.

Amazing universal app. Give it a shot.

Anyone have any luck with Cast and password protected podcasts on mobile? You can set them up, but it won't save or prompt for a password next time you launch. I want this app to work but I'm about to give up.

Its very buggy, and crashes a lot but LOTS of regular updates. Been "following" this podcast app for a month now, so the future is looking good. Im not liking the UI though...its very "cramped" for my 1520 and the apps takes way too long to load. My go to app is still Casts. Its what PocketCast should have been on Windows Phone/Mobile.

You should give it a try again :) I fixed a lot of perfs and crashes issues (even if some of them are due to the OS itself)

@Daniel Rubino I miss Windows Central Podcasts. Last podcast was in 2014. Do you plan to do them or not?

No support for video Podcasts.

I'm currently working on it. A new release will be out soon!

I use casts. Looks and works great

Looks good, but it couldn't find the podcasts on my internal storage. Still a little buggy I guess. Maybe in a few updates I'll try again.

Podcasts are not read from your internal storage (from another app). you have to search for them using the internal search engine

The article says: "Lists can be imported from local storage, removable storage or your OneDrive account."

Wow, that Windows Phone Central Podcast shot. Good luck waiting for a new episode of that lol

I have been using Cast for a couple of months now. I like it but there are still lots of bugs. Crashes. Long load times every single time you open the app even if it is playing. Lots of trouble (mobile version) trying to set it to save to my microSD card. Bluetooth controls won't allow you to skip forward or back. Phone controls won't allow you to skip forward or back. Podcasts won't always start playing and I sometimes have to reboot my phone. I am using a 950 XL BTW.

Looks good and am now using it, but won't sync between desktop and Lumia 950. Wil give it some time to see if syncing works after a while. Pushing podcasts to other devices did not seem to do the trick. (note: I am signed in to the desktop and the mobile on the same windows account) EDIT : Podcasts now synced. I like this app a lot. One thing that would be helpful is the ability to hide the play controls at the bottom of the screen and also some better text management on mobil edevice (names get cut off if they are too long in the titles...). Great app though!


This app really looks promising, and I have to congratulate the dev for constantly updating the app (I'm an update *****). But I bet there's a better app icon than that.
Windows Central Newsletter
Thank you for signing up to Windows Central. You will receive a verification email shortly.
There was a problem. Please refresh the page and try again.