Castle of Illusion Starring Mickey Mouse will be removed from the Xbox Store on Sept. 2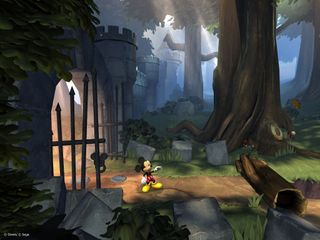 Sega has confirmed that its game Castle of Illusion Starring Mickey Mouse will no longer be available to purchase from the Xbox Store after Friday, Sept. 2. The Xbox 360 side-scroller game was just made available to Xbox One owners, via backwards compatibility, earlier this week.
The game was first released in 2013 and was a remake of the classic 16-bit side scroller that was first made for the Sega Genesis in 1990. In a statement to Polygon, Sega says:
If you want to add this game to your Xbox One collection, you need to move quickly. Castle of Illusion with Mickey Mouse is priced at $14.99 in the Xbox Store.
See at Xbox Store (opens in new tab)
Windows Central Newsletter
Get the best of Windows Central in your inbox, every day!
It's a fun game for the kids.

Fun game on my phone, too.

The controls were terrible.

If we buy it now, we will be able to re-download it later in case of a hardware upgrade ect...

lol well, I mean, technically he didn't state a question either, I see it more as a summary of the article

Ah, missed that. Yes, you can re-download @ any time.

If you were to read the entire article would you find the answer to your question???

I didn't ask any questions. Reading comprehension buddy.

Wtf if the point of your original post them? You just like typing out of context, incomplete quotes?

The statement made perfect sense. Posted via the Windows Central App for Android

What? Lol. You're obviously severely lacking some rudimentary reading comprehension skills. My statement made perfect sense.

I still think you're an idiot.

Didn't they just add this to Xbox One BC a couple days ago? Weird timing...

I suppose it's a last hurrah to celebrate all the people who bought it? Either way, I highly respect this move. They have my $14.99

I thought I bought Castle of Illusion quite a while ago on my 1020, but it's asking me to buy it again, I bought it because my free credit was going to expire but never played it because it would always crash on the 1020, now I can't even play it in here because I'm not going to buy it again!!!!

Same here...currently chatting with MS Support about that...we paid $9.99 for it back then btw...now its $4.99.

I'm going to have to look up the receipt, because I'm sure it would play really well on the 950 XL!!!

I had to spend 20 mins on a call with Billing Support to get this resolved btw...

It's $2.24 at the Humble bundle store right now. It activates on Steam. Just bought it two days ago and I'm enjoying it.

Anyone old enough to have played the original 16-bit version on the Sega Genesis? Those were the days.

Looks like its gone already no option to buy on Xbox, still up in the W10 Store.

And I just opened Steam and its 2.24...

That's too bad. This was a really great game back in the Genesis days.