CBS All Access TV service launches on Windows 10, coming later to Windows 10 Mobile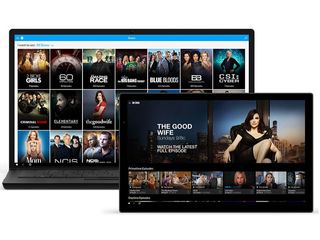 Windows 8 and 8.1 users have had access to the official CBS app in the Windows Store since 2013. Now the CBS network has added support for its recently launched CBS All Access TV service to that app for Windows 10 users.
CBS All Access allows users to watch full seasons of both current and classic shows either owned or broadcast by the network for $5.99 a month in 95 US TV markets. That includes current hits like the three (yes, three) NCIS series on the network, along with The Big Bang Theory, Elementary, and upcoming shows like Supergirl. Classic shows such as all five Star Trek TV series, I Love Lucy, The Twight Zone and more are also available with that subscription.
CBS All Access will be available later this year for Windows 10 Mobile, along with the Xbox 360 console, and it will be launched for the Xbox One in early 2016.
Thanks to Nick for the tip!
Download CBS from the Windows Store (opens in new tab) (Free)
Source: Talking New Media
This is progress!... Windows Mobile will be relevant!....
.......
Now, the only thing we need are Windows versions of high end LG, Asus, Motorola, Samsung, Sony, and HTC devices... That would really help boost adoption.

CBS news is one of my favorite news app. Not necessarily BC of the content but the simplicity and elegance of their app on Windows phone.

MS must be behind some of this... Nobody else pays Windows any attention.

Completely feel the same way, every time I navigate their app I ask myself why every Windows mobile app can't be this elegant!

I can't see the part were you complain about poor marketing strategy of MS. :p

Now that you mention it, that's what will probably ruin the success of the new Lumia's, and WM10.... Thanks for reminding me.

Not sure how well the HTC one M8 for Windows phone sold, but it was definitely high-end at the time.

The question is do they have something in the pipelines for W10M?....
.......
That's really all that matters.

I used to subscribe to this but left because they didn't have a Windows app. It was a good service for cable cutters, so worth looking at. When the mobile app comes I'll take a look again.

Coming to Canada would help. But I do have a question, if I have CBS as part of my TV service, can I alreayd have access to this such as HBO GO?

You have CBS are part of your cable or you just live close enough to the boarder to get an OTA signal? In either case, I think this is completely stand alone as a service. I do not think any of your sign-ins get you access to this (like with Hulu).

Then that would suck. $5.99 US per month may equate to $7.49 CAD if it ever becomes available for a standalone.... seems like a lot for one network.

They're doing this instead of a deal with Hulu to show their content there like the other networks. We don't have cable or a DVR anymore and subscribe to Hulu, so we're not paying CBS separately, they can suck it! But am glad they are doing an app, it still helps the Windows environment over all.

Hulu and CBS All Access are similar but its worth the price for Big Brother live feeds. I only pay for it 3 months out of the year.

if I can watch the show same night it is air w/ or w/o commericals, I'm game. Hate having to wait until the next day to see last night's episode!

That's what I was wondering, if it was commercial free. I already have the CBS app On my phone.

mmm how i meet your mother

I never got how that show is funny haha

Haaaaaaaaaaaaaave you met Ted?

CBS is great TV. I hope CBS Sunday Morning will be available.

I just signed up and loving it! Now, I wonder why they didn't release the phone version together. Is it because the app isn't universal or because Windows 10 for Phones isn't available yet. I hope it's the latter.

Things are getting there. MS banking on people not ignoring Windows 10 and it looks like they'll have made the right bet. Software ftw!

This is good. Seeing an influx of apps being made. Hopefully apps will be made for phone and computer at the same soon

I though it was one os with win10?

This is great, I'm a huge Big Brother fan. Now I can watch the live feeds when away from my computer. Can't wait to BB Canada or BB Australia starts, BBUS was horrible this season.

GREAT........ what a lovely deal!

There is a big time error in this article.. This sentence is wrong: "CBS All Access allows users to watch full seasons of both current and classic shows either owned or broadcast by the network for $5.99 a month in 95 US TV markets." The CBS All Access service allows people in 95 USA TV markets to Stream their local affiliate live, the rest of the service(full episodes) is available for everyone in the USA...
Windows Central Newsletter
Thank you for signing up to Windows Central. You will receive a verification email shortly.
There was a problem. Please refresh the page and try again.