The RAVPower 16750mAh portable power bank and battery charger is down to $17.99 on Amazon today. That price drop comes courtesy of a direct drop to $30.50 from a street price around $36 and a bonus price cut with the code ENJM83H9. You're saving 50%, and this is the lowest price we've seen for this charger.
More Power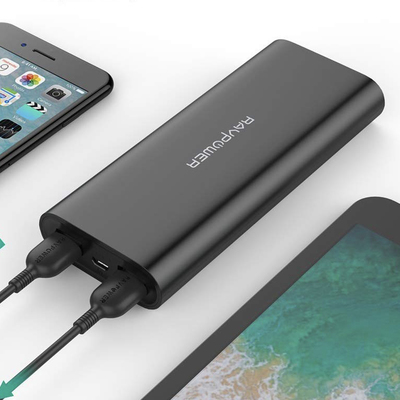 RAVPower 16750mAh portable power bank and battery charger
The power bank is smaller than your smartphone but carries enough juice to recharge it several times. The two USB-A ports have 4.5A output for simultaneous charging.
$17.99 $36.00 $18 off
This RAVPower charger features an upgraded design. It's actually more compact than it used to be with a size that's smaller than your smartphone. Despite being smaller and lightweight, it's still filled with enough power to fully charge your phone. Probably several times over. Whether you're charging while walking to class or dealing with a lengthy meeting you can't just get away from, you'll be able to top off your device all day long.
The charger has a 2A input, which cuts its recharge time in half. You'll be able to get it fully charged and ready to go in no time at all. The two USB-A ports have a 4.5A charging output so you can charge two devices at once and get the full amount of power.
The power bank also has advanced circuit chip protection technology. This helps protect the device and whatever is plugged in from issues that might arise like over-charging, over-heating, short circuits, and more. You don't have to worry about anything going wrong while you're using the RAVPower.
If you're on the move, stick your new power bank inside this backpack that's also on sale right now. It features a USB pass-through port so you can keep the battery charger safe inside the pack while you charge something on the outside. It's the perfect companion.
Need another charging idea? Grab the iPhone XR battery case on sale for $69. The case is specific to that phone, but if you have one you'll definitely appreciate augmenting it with an all-day battery.
We may earn a commission for purchases using our links. Learn more.