Chase Mobile banking app lets you redeem credit card reward points in latest update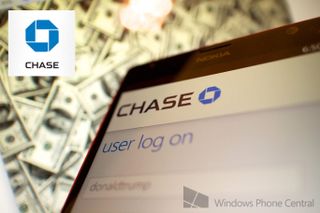 The Chase Mobile app for Windows has just received a minor update. According to the change log, version 1.48 gives you access to their revised online policy, redeem credit card reward points, and edit recurring payments and transfers. Nothing earth-shattering, but we love seeing updates for apps we use.
Chase customers can use this app to view balances, transactions, pay bills, transfer money, find branches and ATMs nearby, and even deposit checks right from your phone.
The Chase Mobile app is free at the Windows Phone Store. It's definitely worth having on your phone if you are one of the millions of consumers served by Chase bank. Are you a happy Chase customer? Let us know in the comments!
Thanks, everyone, for the tips!
Windows Central Newsletter
Get the best of Windows Central in in your inbox, every day!
The weird thing about the Chase banking app is that you can deposit any check using the app except actual Chase Checks.. Lol❕.. I'm serious,, they don't work.. I wonder why....❔❔

Never had any problems...

With Chase specific checks❔

Yep. :) Never had any trouble with checks from my gf's Chase account.

It must be something racist then.. As usual...

Uh, okay... I don't think an inanimate object can be racist, but they do pick on stupid...

It's not even an inanimate object.. It's code.. Is that even matter❔.. It's,, space❕

My only gripe is the ridiculous double exit prompt, but it's generally a great banking app. Haven't had any problems other than occasional maintenance outages, which are usually pre-announced.

That's called security. Most banking app do the same.

LOL... no, security is the appropriate two-form authentication to logon. Security is confirmation prompts. Irritating is being prompted to logoff and then being prompted to exit after being asked to logoff. Logoff prompt is fine, but to exit? That's ridiculous and unnecessary.

I don't mind it at all. Logging out, is just that - logging out of your account. The app still functions even if you aren't logged into your account i.e. ATM/Branch searches So, the app asking me if I want to exit, or rather, if I'm sure I don't need to look up any additional info as it pertains to Chase, is fine with me. I hope they keep that functionality.

No different from a Chase ATM transaction, there's a few steps to end those too. It's great with me.

The only reason you should ever prompt when closing is fear of losing data, like games. Bad user experience otherwise.

Exactly. It's not a big deal, but it's annoying.

I don't mind this feature on a banking app at all.

Great new features. Love this app.

Where is the Citibank app? God is it that hard for them to make one...

There needs to be a US bank app as well.

Capital One as well as I have an account with them as well as Chase.

I use the Capital One 360 webapp. I have it pinned to my Home Screen through "webapps". It works great. Although it appears Capital One updated the site recently which made it harder to find things, but it still works fine. A native app would be welcomed still.

I wish this app would support transfers to external accounts. Still pretty good though.

Here.. Here! I too want to be able to do external xfers within the app. What's the big deal?

Set it up as a bill payee and then it works. I do this all the time.

If only they would make a Windows 8 app >_

Why, they have full browsers?

I just wish damn citi gets their act together and release one... Geez

So can anyone explain hoe to case in your rewards from the app now? I can see my rewards balance, but there is no option from the screen?

I was one of the "everyone" this time haha

I hate how it assumes a check deposited is a duplicate if its for the same amount from the same person.
Windows Central Newsletter
Thank you for signing up to Windows Central. You will receive a verification email shortly.
There was a problem. Please refresh the page and try again.