Chase Mobile banking app updated to 1.47; feels snappier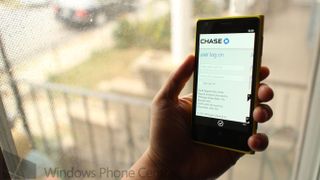 The Chase Mobile app was updated today with system enhancements to improve app performance. No new features are added, but we can confirm that the app feels snappier. Chase customers can use the app to view balances, transactions, pay bills, transfer money, find branches and ATMs nearby, and deposit checks right from your phone.
Chase has over 5,100 branches and 16,100 ATMs in the US with operations in more than 50 countries. They serve millions of consumers so it's great to see this app on the Windows Phone platform.
The Chase Mobile banking app is free. If you're a Chase bank customer and haven't tried it yet, you can find it here in the Windows Phone Store.
Windows Central Newsletter
Get the best of Windows Central in your inbox, every day!
Does this app work for customers with only Chase credit cards???

Yes. I used to only have 2 credit cards with them and the app worked. Now I have those cards, plus two savings and a checking.

After seeung the headline I intentionally opened up the app to get a feel for it pre-update to see if there was any truth to the "snapier" claim. Honestly, it feels exactly the same after update. But, I'm glad Chase keeps putting enegry into the app even if its only just bug fixes.

Yeah it never really lagged. Very good app.

It loads faster. Runs same in app, but before there was a greater delay before you could input password.

@Scienceguy Labs, yes it does. Does anyone know why this app requires permission to read my contacts? For bill pay or...?

Still awaiting landscape support. Holy Christ how difficult can it be? I prefer the mobile site simply because of this.

I hate the mobile app personally. To each his own I guess.

I hope some uses "feels snappier" in the next Facebook update :D

I see what you did there.

It is actually faster now

I use this app quite regularly. Startup at least is faster logging in. General use seems a little snappier but hard to tell. I wish they would add PIN mapping for credentials like BoA. My passwords are really long (for use on websites).

I want the Barclays app in the UK!!!

Waiting for that USBANK app tho :(

It may be good idea t contact the bank, if they receive request from multiple people they may try to create a app. i tried with some they do not respond but its worth a try. MS if slow in it or may be banks do not see a request so they are still waiting

Would be good if this worked with my credit union since they "don't have the resources for Windows Phone ".

But will it add more money to my bank account?

Cant wait for Barclays to be released in December

My only problem with this is that I have to repeat the photo taking process sveral times in order to complete the Quick Deposit process. I keep getting meesages either that the photo is unclear, or that the service is unavailable. I don't deposit that many checks so will have to wait for the next one to test the update.

I would say the issue is with your camera or ;-) the operator, I've never had an issue with deposting checks, did you read the Check Capture info ? tap the camera icon and advice will display.

Why aren't there any damn ATM's in freaking Boston?