Check out all six of Titanfall 2's Titans in battle with new trailers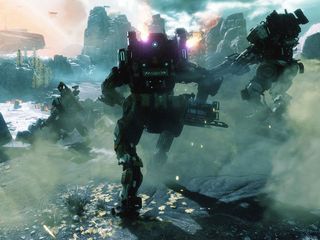 Respawn Entertainment has released trailers showing all six of the mech-like Titans that will be included in the upcoming sci-fi shooter sequel Titanfall 2 for the PC, Xbox One and PlayStation 4.
Image 1 of 6
The six trailers, as posted on YouTube, briefly show off the weapons and special abilities of each Titan. Here's a quick reminder of what each of them can do in the game:
Tone is about accurately laying waste to enemies both efficiently - and explosively.
Northstar is a master of both flight and precision kills.
Legion utilizes an assortment of ballistic abilities focusing on defense and control.
Ronin loves getting up close with it's samurai vibe, and quick to get in and out tactics.
Ion uses it's energy management abilities to divert power between it's three weapons systems.
Scorch manipulates fire as it's primary source of defensive and offensive abilities.
Titanfall 2 will be released for the PC, Xbox One and PlayStation 4 on October 28 by Electronic Arts. As we have previously reported, Titanfall 2 will not have a free trial for EA Access or Origin Access subscribers, nor will they be able to get a discount when paying for the full version.
Windows Central Newsletter
Get the best of Windows Central in your inbox, every day!
Cancelled my pre order, they just made this game COD with mechs

Hopefully there is still time to fix it. As of right now I am very disappointed. Will have to read reviews and watch some streams before I even think about buying. What a let down....

Actually, COD is now Titanfall without mechs.

No thanks. There was a time I didn't read game news. I didn't buy as many games. This game I am sitting out. Unless it hits a good sale. Wasn't all that impressed with the beta. Bf1 has caught my attention. But the full price over 150 for 5 maps and expansions is to much. I may sit it out as well. Recore comes in at under 50. Guess what im buying. It's time I vote with my $ and not pre order what is over priced and inflated. Also maybe all digital was a bad idea? Especially with the price drops on disks that we only see as temporary deals on Xbox store. I dont know. Im just starting to think it may be wise to wait at least a year or I might just play titan fall one if I have a feeling to play a titan. Haven't loaded that game in a year. Played it 2 months and it lost my attention. It might be olim just no longer interested in titan fall.

I'm in. I enjoyed the TF2 beta weekends and have been playing a lot of TF1 the last few weeks. Watching these videos gives me a nice Transformers vibe.

Tone and Ronin look sick!

passing till it either comes to the EA Access Vault or a good sale. Didn't enjoy it nearly as much as the first.

Ditto to what Kevin said. I'll buy standard game after released.

Yea i'm sitting this one out the removal of wall running and the overall change of feel to the game makes me not as interested in picking this up.

Cancelled my preorder. As a Gen 10 Titanfall 1 player with over 700 hours gameplay, they have destroyed it. Titanfall 2 is now just COD rubbish with mechs. Game had lost everything that made it amazing and unique.