Check out Gears of War 4's Guardian multiplayer mode running on Windows 10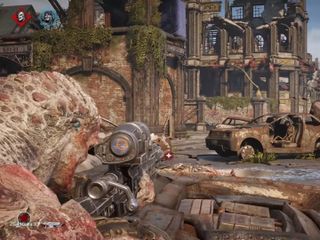 NVIDIA has released the first gameplay footage showing off the Guardian multiplayer mode that will be included in Microsoft's upcoming Xbox One and Windows 10 shooter Gears of War 4.
NVIDIA's gameplay clip (opens in new tab) shows the Guardian mode being played on a Windows 10 PC on a remake of the classic Gears of War map Gridlock. The Guardian mode, which was first introduced in Gears of War 2, features one team designating a player as its "leader" with the opposing team trying to take that leader out.
NVIDIA has also released a trailer showing a flyover of the Gridlock map that was designed for the first Gears of War game, but has received a revamp for Gears of War 4. The game will be released for the people who buy the Ultimate Edition on October 7, and for everyone else on October 11
Pre-order Gears of War 4 at Windows Store (opens in new tab)
Need more? Don't miss our other coverage of Gears of War 4 including:
Gears of War 4 main page
Gears of War 4 October 5th Live Stream
Windows Central Newsletter
Get the best of Windows Central in your inbox, every day!
The screenshot just validated my fears about Gears....it's all brown still.

It's got a wider colour pallete in the new maps and the single player I believe. But this is a remake of an old map so maybe that's a reason it's more brown? I know what you mean though

Nah, no way. It's much brighter. I never liked the dull look of the original Gears, but this one has vibrancy due to Sera's environment growing in the last 25 years since the great war. I played around 8 hours of the game so far and have a good impression.

Yeah the few clips I've seen of the campaign look much nicer than the old games. Plus...they want to take advantage of the HDR capabilities in the Xbox One S - if I had a 4K/HDR compatible TV I'd probably be tempted. Any chance of some sort of comparison of the game on an OG Xbox One @ 1080p next to One S upscaled to 4K w/ HDR? or not something you guys will look to do? Not sure if you can actually show a difference without seeing it in person tbh but was just a thought.

So Xbox One(S) consoles are powered by AMD graphics yet the videos are published by Nvidia? Is this going to be yet another game specifically optimized for Nvidia? If so I dont understand the logic behind making a game for a console running one graphics architecture but yet optimized for a entirely different graphics architecture. And btw the graphics dont look "new and beautiful". Game appears to still be running on the same 6+ year old engine with some tweaks and maybe some higher resolution textures.

The power of DX12 is that you can use hybrid video card solutions. Developing a DX12 game for Xbox ONE and then working with nVidia to optimize their driver on PC sounds like a WIN WIN WIN all over. I don't see how optimizing your resource expenditure like this is escaping you.

Do you do a lot of PC gaming? If so you should know, historically, any game on PC with Nvidias logo on it runs like crap on AMD hardware. As for DX12 I will take the wait and see approach because right now DX12 games are running better on AMD hardware than Nvidia. Once this game hits shelves and sites post up reviews of performance and I see the game is not intentionally gimped on AMD PC hardware then I might buy it.

Pre-ordered Ultimate digital after the Horde 3.0 video came out.