Check out how the Cuphead team brings its animations to life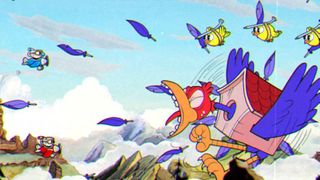 One of the most anticipated games for the Xbox One is Cuphead, a 2D side-scroller that has an art style resembling those of cartoons made in the 1930s. A new report shows how the game's development team at Studio MDHR created the cool and unique look of Cuphead.
Time magazine has posted a video showing some of the character creation process that goes into Cuphead. It also interviews the game's lead artist Chad Moldenhauer, who talks about how the animation is run at 24 frames per second, like an old animated movie, while the gameplay is at 60 frames per second:
Moldenhauer also talks about how Microsoft's backing helped to make Cuphead a more ambitious game than first designed:
Cuphead is due for the Xbox One and PC later this year.
This is one game I'm really looking forward to.

From the first moment I saw this game I wanted it. #Nostalgia

This is a day 1 buy/ preorder for me.

I second all of your opinions.

Same here. this is one I a really looking forward to.

Can't wait! Instant buy Posted via the Windows Central App for Android

I was really intrested last summer. I just feel it is takeing so long. E3 announces games way to early...

Same, feeling like it's dragging.

Still looks magnificent. I'm such a sucker for that art style.

Really looking forward to purchasing this game. The 2D art style is brilliant. Glad to hear that Microsoft has helped make it possible for the game to grow in scope and not simply be a boss rush mode.

Since it will be on Xbox One and PC the Sony fans will just have to get the PC version. OH Well for them

Looks like they bring animation to life like always...standard pencil and paper. Nice though.

Soooooo looking forward to this game!!!!

That Time interview is such a magnificent read. This needs to be supported by as many people possible. Day one.

Love it and they can use Surface pro 4 or Surface book for Design either cuz i change my design from paperbased to Surfacebased :)

I've been looking forward to this game! Can't wait to play it. A day one buy for me.

I want this game....No offical release date ?
Windows Central Newsletter
Get the best of Windows Central in in your inbox, every day!
Thank you for signing up to Windows Central. You will receive a verification email shortly.
There was a problem. Please refresh the page and try again.