Check out Microsoft showing off Bash running on Windows 10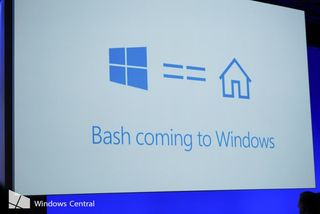 For a lot of developers out there, Microsoft's big ticket announcement at Build 2016 was the Bash shell running on Windows 10. Microsoft has put in the time and effort to make tools that a lot of people will need to use, work on Windows 10, instead of building something else into its own command shell.
There's going to be much to talk about in regards to this, and it's going to take someone much smarter than I. But for now, if you're interested, Microsoft has published a video that shows it off a little. If you're a developer that's excited by this, be sure to drop us your thoughts in the comments below.
Richard Devine is an Editor at Windows Central. A former Project Manager and long-term tech addict, he joined Mobile Nations in 2011 and has been found on Android Central and iMore as well as Windows Central. Currently you'll find him covering all manner of PC hardware and gaming, and you can follow him on Twitter and Instagram.
Please, stop saying coming soon....

Coming soon, coming soon, coming soon, coming soon, coming soon, coming soon, coming soon, coming soon, coming soon, coming soon, coming soon, coming soon, coming soon, coming soon, coming soon, coming soon, coming soon, coming soon, coming soon, coming soon, coming soon, coming soon, coming soon, coming soon, coming soon, coming soon, coming soon, coming soon, coming soon, coming soon, coming soon, coming soon, coming soon, coming soon, coming soon, coming soon, coming soon, coming soon, coming soon, coming soon, coming soon, coming soon, coming soon, coming soon, coming soon, coming soon, coming soon, coming soon, coming soon, coming soon, coming soon, coming soon, coming soon, coming soon, coming soon, coming soon, coming soon, coming soon, coming soon, coming soon, coming soon, coming soon, coming soon, coming soon, coming soon, coming soon, coming soon, coming soon, coming soon. Soon.

In layman's terms, what does this mean? Like, what capabilities does this enable?

It's running usermode Linux on Windows. You can run Linux commands and apps natively through the bash console. As the video shows, you can install light webservers (like WEBrick), compile code, use bash scripts to augment powershell.

More functionality, stuff that was "In Linux for years before Windows did it"; migration of casual Linux users

By 'layman', do you mean non-developers? If yes, then this means nothing. For developers, this is big because native bash on Windows means a better workflow, especially with command-line tools. But if you're a normal user, this shouldn't concern you. If you still want to experience bash anyway, then I suggest getting an actual Linux (Ubuntu is a good one) VM, and play around with it. That way, you get bash in its natural habitat, so to speak, and you'd be able to experience its pros and cons by yourself.

If ithis is your goal I'd go with Lubuntu (a lightweight version of Ubuntu) because you don't have to devote as many resources for it to run smoothly. 512 mbs of RAM and 8 gbs of storage would be enough. - a Lubuntu user for development that will be switching to Bash on Windows!

Agreed. I have never used Lubuntu personally, but I've heard many good things about it, especially about the fact that it's really light on resources. My only gripe with Ubuntu is Unity. It is quite resource-intensive, so pretty much unusable on older machines. I usually use Mint instead of Ubuntu nowadays, but have been somewhat wary of it after the recent attack. Still, before this you either have to use a VM, or dual-boot. Having bash right on Windows would be much preferable than either, despite how comfy VMs have become.

You can practice your pure c coding without having to fire up a VM, very elegant

This is amazing! I'm in physics research, and all of my programming has had to be done on an old, dusty work computer running Ubuntu. To now have all of that same functionality but running on Windows means I'll be able to use my Surface instead, without needing to worry about dual booting or using VM. I can't wait!

I don't know anything about developing and programming, but after reading your comment, i just feel very happy. Perhaps there have been some features in windows 10 that I used to dream of and then they actually happened. And hence i could use my new laptop and phone with full functionality. So you know. Can relate stuff. ;)

Is this going to support graphical interfaces? ... will I be able to ditch cygwin for good and compile & run all my linux based research software on my surface? that'd be sweet.

heard about this "coming soon",,,

#!/bin/bash FCK="Hello pleps" echo $FCK

This is completely blowing my mind. I am so excited for this. WHEN WILL IT BE RELEASED?!

This is interesting news!

Coming soon? Wen in India??? Lol ;-)

Woah!!!! This is ultimate... Can't control my emotions. Let me tell others the significance of this. As dev I always prefer linux over windows for development, unless it is related to development of windows apps. So bash is very handy to get things done. Now bash is super, what is the use of it bringing to windows is 1) For long time devs embraced mac for it being built on unix so getting bash and bash tools run on it is pretty easy. But on the other side windows is totally different. So now making bash available, it is signalling all the devs that they can use windows as all in one device. If people observe carefully, one will see that devs use macbook a lot. The reason is very much the same. So it is targetting every chunk of use cases and attracting them, it will not be long people will see devs floating surface books for the same purpose.( Actually integrating bash with windows is big feat in itself. For years cygwin was trying to perfect it) 2) Devs write bash scripts all the time to automate things, for example, after downloading few files, copy the folder or ssh the folder to some xyz location and start the script, Now if one has to do the same in windows, people need to learn powershell for it. Which is again a no no for a busy dev. So now no need to write a powershell script. 3) "Python" is one of the popular programming language. And when doing shell scripting from it. One has to import the os module. Now underlying code in the os module is specific to OS. As python can run on any os, they have to take care of os specific things at some point. As of now multi threading is windows in not as good as in linux. Now devs of python can take this as an advantage and improve the performance of python in windows, simillarly other programming languages can also do. 4) One of main tool "ssh" is highly used in industries so that people can connect to other machines in a secured area and do secret stuff, for that one needs to use the putty but now it being directly integrated, it's a rejoice for developers. and many more, once it comes out of preview to devs, I can test it. Can't wait.

Why didn't this exist when I used to be a system analyst 10yrs ago... This would have made life so much easier to test stuff of multiple platforms in one place...

So, Windows is becoming more and more like Android with every update. I'm supposed to WANT that?

You are supposed to not comment on things you don't understand.

You must be new here Posted via the Windows Central App for Android

Everything at the build sounds great and all, but the thing that excites me the most is THIS!!. Finally, no more dual booting, no more virtual machines, no need for an ultra expensive mac. Native bash shell and binaries in Windows. This is hugee, I've been waited for years for this. Great work on Microsoft.

Windows central app on Lumia 950 makes video go out of screen. I can see like half of the video.

Microsoft may change their title to "Coming Soon". All the features are coming in to Windows once it is outdated in other platforms.

So what ever happened to Subway Surfers #TeamLumia 950 XL

I dare you, I double dare you, ************, say "wait, so you're actually running [software] ON linux ON windows" one more goddamn time!

Question: if I use Bash on Windows 10 to install and compile some code using e.g. gcc... is the exe file registered in the Registry? Can such programs run in the Windows 10 environment? As far as I remember Unix (waaay back...), you simply delete .exe files to "uninstall" them. How does the Bash handle installing and uninstalling programs? If I e.g. use the Ubuntu tools such as Python, etc., is there an IDE under Windows 10 to run them? Or would it be better to install the programs via Windows (for Python, e.g. the Anaconda or the Canopy distribution)?

Very good stuff, because that's exactly what I did with my new laptop, installing a VM with Lubuntu for development, but this bash integration is just incredible :O
Windows Central Newsletter
Get the best of Windows Central in in your inbox, every day!
Thank you for signing up to Windows Central. You will receive a verification email shortly.
There was a problem. Please refresh the page and try again.