Check out the new The Chemical Brothers album and watch Mr. Robot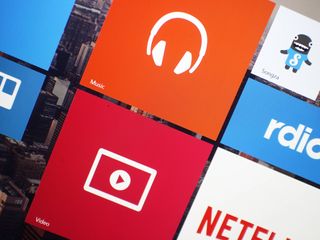 Every week, lots of new stuff drops on Groove Music and Movies & TV, and it becomes hard to keep up. Well, that's where we come in. Every weekend we'll highlight some of the hottest albums and singles on Groove Music.
We'll also let you know what movies and television shows just dropped on Movies & TV for your viewing pleasure. It's the weekend, and we'll help entertain you.
Groove Music
The Chemical Brothers - Born in the Echoes
The Chemical Brothers have been around since 1989 and are considered to be pioneers of bringing big beat music to the masses. Well, they're still doing it big 26 years later and it shows their eighth studio album titled Born in the Echoes.
Some of my favorite songs on the album include Wide Open, Born in the Echoes, and *Sometimes I Feel Deserted. If you want to check out the album for yourself, consider the playlist below.
Listen on Groove Music
Calvin Harris - How Deep is your Love
One of my favorite artists Calvin Harris has been been releasing records non-stop for the past couple of years. How Deep is your Love is his first single of 2015 and the first from his upcoming album. Let us know what you think of it!
Listen on Groove Music
Music & TV
Mr. Robot
My new favorite series of the summer goes to this techno-thriller, Mr. Robot. The series follows a young programmer named Elliot who works for one of the biggest companies in the world, but at night he's a vigilante hacker.
Elliot garners the attention of a new hacker group who believes they have what it takes to start a financial revolution. He struggles between protecting the firm he's paid to secure and following his heart and taking his own company down. The season is only four episodes in, but it definitely worth the $19.99 season pass.
Watch on Movies & TV
Do you have plans to watch or listen to something else this weekend? Let us know in the comments below! Also, if you have any suggestions for next week's post you can always hit me up on Twitter @JonDollison. Have a great weekend!
Mr. Robot is hella good! I recommend it to everyone

Definitely. Junkie schizo hacker.... Hells yeah Humans on USA too

Awesome as hell... Just a mind blowing show to watch...

Thanks for the recommendations guys! I'll check this out.

First few eps were clever and rich but its fading fast, starting to smell like a smart bomb propaganda job, useful idiot homegrown terrorists with no comprehension of central banking, glad I screened

Available on Kodi with Genesis installed

Don't tell me what to do.

He just did! What u gon' do?!

Go - The chemical brother is the song in new nfs gameplay if you guy looking 4 it

I love the Chemical Brothers. I've been a fan since 2000. Let Forever Be is still my favorite album. It's about time I get interested in their new stuff. I'll check it out.

Anyone else see clippy in that chemical brothers' album cover? =P

"one of my favourite artist Calvin Harris" That's what she said !
;
Taylor Swift

Mr.Robot has so far been more about drug use than anything. Close to dropping it, has one more chance before I'm done with it. Very little substance so far. I had high hopes.

Is XBOX Music called Groove on any released operating system? Posted via the Windows Central App for Android
Windows Central Newsletter
Thank you for signing up to Windows Central. You will receive a verification email shortly.
There was a problem. Please refresh the page and try again.